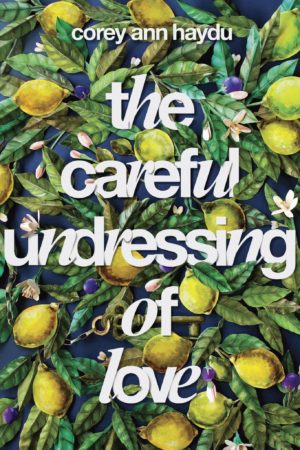 The Careful Undressing of Love
by
Corey Ann Haydu
Published by
Dutton Books for Young Readers
Publication date:
January 31, 2017
Genres:
Romance
,
Young Adult
288 pagesFormat:
ARC
Source:
Publisher
A smart, sexy, and surprising story of love and death set in an eccentric Brooklyn neighborhood where history since 2001 has unfolded differently than we remember.

Everyone who really knows Brooklyn knows Devonairre Street girls are different. They're the ones you shouldn't fall in love with. The ones with the curse. The ones who can get you killed.

Lorna Ryder is a Devonairre Street girl, and for years, paying lip service to the curse has been the small price of living in a neighborhood full of memories of her father, one of the thousands killed five years earlier in the 2001 Times Square Bombing. Then her best friend's boyfriend is killed, and suddenly a city paralyzed by dread of another terrorist attack is obsessed with Devonairre Street and the price of falling in love.

Set in an America where recent history has followed a different path, The Careful Undressing of Love is a love story that will leave readers breathless and unsettled.

Affiliate Disclosure: This post contains affiliate links. In plain English, this means that I may receive a small commission (at no cost to you) if you purchase something through the links provided. This small income goes back into my blog, so I can continue to create fun content for you. I appreciate my readers and make it my goal to be upfront and honest. Thank you for supporting my blog!

THE CAREFUL UNDRESSING OF LOVE is a haunting, atmospheric, and romantic coming-of-age novel with an interesting twist. Haydu's writing is particularly noteworthy, along with the unique backstory and reimagined version of Brooklyn. If Delirium, Station Eleven, and Practical Magic had a book love child, The Careful Undressing of Love would be it.

I want to start off talking about the plot. I don't do this to spoil anything for you or bore you ad nauseum. I think it's important to what I say later on in the review. None of this is a spoiler, as there is so much more depth and exploration left in the novel when you read it.

The girls of Devonairre street have lived under the confines of a supposed Curse for more than 75 years. For the protection of others, the elders on the street have mandated traditions and rituals that residents must abide by, often leading to what others might consider strange behavior and appearance. (i.e. Wool protects your heart, lemons help with grief, honeycake and tea on birthdays, always wear a key around your neck, don't cut your hair, turn the lights on outside at night always, and never ever let Angelika find love on you.)

Lorna, Delilah, Cruz, Isla, and Charlotte think the Curse isn't real—something that's they always been told exists but couldn't possibly be true. Every boy a Devonairre street girl falls for will die. Their beliefs are tested when Delilah's boyfriend dies, who is also someone they all care about. His death rocks them to their core and forces each of them to revaluate what they've always been told. Lorna's refusal to believe in the Curse doesn't change until she starts to fall in love for the first time. Is her own love a weapon and could this person die because of her?

The other interesting aspect of this book is the reimagined world Haydu has created. The novel is set in 2008, seven years after an event called the "Times Square Bombing". What happened and why isn't really explored—and isn't relevant—but the discussion of the After is what's at issue in this book. Usually amidst tragedy, we focus on who died, but here the nation places a lot of emphasis on who's left behind and who this tragedy affected. The family members of the victims are called the Affected, even going as far as teaching children the names of the Affected and their histories. There are thought-provoking questions posted on how we as a society handle grief and loss and also how we copy individually.

Like I mentioned earlier, Haydu's writing is hauntingly beautiful. There were several moments that I just had to pause and read passages again. Haydu effortlessly weaves relevant teen issues into this story was great.

What I really liked about this book—and what I hope teen readers will draw from this book—is the parallel this book draws to growing up. Our main characters have lived their whole life with this belief system imposed on them because of where they live and what they've been told. They haven't really questioned it until now. We have all been there in some capacity. When you reach a certain age, you naturally come into yourself and your own identity by questioning the constructs around you and developing your own belief systems.

I wish we would have gotten a little more background on the Curse, aside from what was given, as well as a little more resolution on that end. Like the characters, the readers are given a lot of information and just asked to believe it and I found myself wanting to know more, just to have a little more foundation.

* I received an advance copy from the publisher in exchange for an honest review. Thanks to Dutton Books for Young Readers for this early copy.