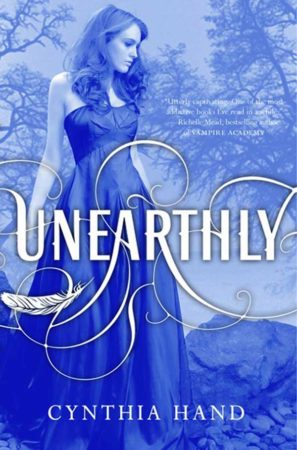 Unearthly
by
Cynthia Hand
Series:
Unearthly #1
Published by
Harper Teen
Publication date:
January 4, 2011
Genres:
Paranormal Romance
,
Young Adult
Narrator:
Samantha Quan
Length:
10 hrs and 33 mins
435 pagesFormat:
Audiobook
Source:
Borrowed
,
Purchased
In the beginning, there's a boy standing in the trees...

Clara Gardner has recently learned that she's part angel. Having angel blood run through her veins not only makes her smarter, stronger, and faster than humans (a word, she realizes, that no longer applies to her), but it means she has a purpose, something she was put on this earth to do. Figuring out what that is, though, isn't easy.

Her visions of a raging forest fire and an alluring stranger lead her to a new school in a new town. When she meets Christian, who turns out to be the boy of her dreams (literally), everything seems to fall into place and out of place at the same time. Because there's another guy, Tucker, who appeals to Clara's less angelic side.

As Clara tries to find her way in a world she no longer understands, she encounters unseen dangers and choices she never thought she'd have to make between honesty and deceit, love and duty, good and evil. When the fire from her vision finally ignites, will Clara be ready to face her destiny?

Unearthly is a moving tale of love and fate, and the struggle between following the rules and following your heart.
Affiliate Disclosure: This post contains affiliate links. In plain English, this means that I may receive a small commission (at no cost to you) if you purchase something through the links provided. This small income goes back into my blog, so I can continue to create fun content for you. I appreciate my readers and make it my goal to be upfront and honest. Thank you for supporting my blog!
Cynthia Hand's world of angel-bloods and cute teen boys has the perfect mix of realistic teenage struggles and family relationships but with a paranormal twist. I haven't read a young adult paranormal series centering around angels since 2012. UNEARTHLY was a really great way to jump back into the subgenre.
Unearthly separates itself from other angel novels in the young adult genre. While many others focus on a normal teenage girl falling in (forbidden) love with an angel, Hand gives the reader something different. This book was a quick read but full of fun. I really loved how Cynthia Hand gradually built the angel lore into this contemporary setting. She wove the world building into the story without it feeling like we were getting a history lesson in the Unearthly world.
Clara is a quarter angel who finds out that her "purpose" is to save a boy from an approaching fire. Her purpose is revealed through a series of visions, each time the vision showing her a little bit more of what's to come. The boy she's supposed to save, and therefore completing her life's purpose, is Christian Prescott from Jackson Hole, Wyoming and one of the most popular and desired boys in school. Her mother and her brother move from California to small-town farm country Wyoming.
At 16, Clara has a lot to balance all at once. She's starting a new school while trying to make friends, come to terms with all the "coming of age" angel stuff, and balance her relationships with her mom and brother. I really liked that the focus in the book wasn't the romantic element, but all of these delicate balances.
Speaking of the romance, I liked that the book didn't delve into a love triangle. I haven't read Hallowed yet but I'm fairly certain it's going to go there. To me, the relationship between Clara, Christian, and the adorable Tucker isn't a love triangle (yet) because Clara is not emotionally torn between her feelings for Christian and Tucker. There is a clear winner there. She's in love with one of them and tells him so. However, her destiny is linked to one of them and I think that's going to make things complicated later on. But right now at the end of Unearthly.
I wasn't blown away by the book like many readers before me, and I don't think it's because I've read too much of the genre either. To me, this book felt more like it was setting the stage for something bigger. I'm looking forward to seeing what happens in Hallowed, especially with Clara's mom. Hand reveals something big at the end of Unearthly and I want to know if my theories are right!
* I own the paperback but borrowed the audiobook from my local library.