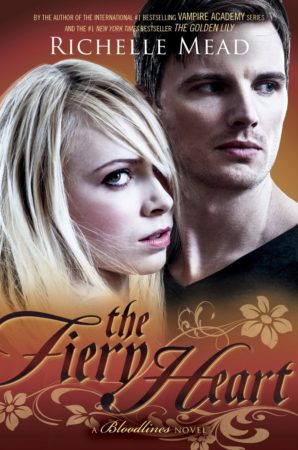 The Fiery Heart
by
Richelle Mead
Series:
Bloodlines #4
Published by
Listening Library
Publication date:
November 19, 2013
Genres:
Paranormal Romance
,
Young Adult
Narrator:
Emily Shaffer
Length:
12 hours and 4 minutes
448 pagesFormat:
Audiobook
,
eBook
Source:
Borrowed
,
Purchased
Pulses will race throughout this thrilling fourth installment in the New York Times bestselling Bloodlines series—where nothing is what it seems.

In The Indigo Spell, Sydney was torn between the Alchemist way of life and what her heart was telling her to do. And in one breathtaking moment that Richelle Mead fans will never forget, she made a decision that shocked even her….

But the struggle isn't over for Sydney. Her sister Zoe has arrived, and while Sydney longs to grow closer to her, there's still so much she must keep secret. Working with Marcus has changed the way she views the Alchemists, and Sydney must tread a careful path—or risk being sent to re-education. Her skill with magic is growing in ways she never imagined—but that doesn't stop the near-constant threat of evil magic users, vampire hunters, and Strigoi.
Affiliate Disclosure: This post contains affiliate links. In plain English, this means that I may receive a small commission (at no cost to you) if you purchase something through the links provided. This small income goes back into my blog, so I can continue to create fun content for you. I appreciate my readers and make it my goal to be upfront and honest. Thank you for supporting my blog!
After the completely romantic ending of The Indigo Spell, I couldn't wait to find out what was next for Adrian, Sydney, and the rest of the Palm Springs gang. As much as it pains me to say, I had such a difficult time getting into THE FIERY HEART on two separate occasions. While the last quarter of the book kept me enthralled, I simply can't say that I was happy with this book overall.
This book focuses a lot on Adrian and his struggle with Spirit. Unlike the previous books, it's told in dual point-of-view: his and Sydney's. On one hand, I liked being in Adrian's head and seeing a more serious side of Adrian. On the other hand, I liked having the mystery of him, with his thoughts filtered solely through Sydney's eyes.
Sydney and Adrian continue to explore their new relationship, keeping it hidden from everyone. But this is complicated by the arrival of Sydney's sister, Zoe, who resembles the moroi- and dhampir-hating Sydney from the Vampire Academy era. With Sydney living double lives, the threat of reeducation is very real, especially if anyone found out about her relationship with Adrian. To fight this, she works tirelessly to develop an ink to seal in her tattoo and prevent reeducation compulsion. She also works with the moroi to create an compound that would deter Strigoi from turning their victims.
I first started reading this book back when it released but ended up putting it down. I always chalked it up to me not being in the mood for this genre. This year, it was one of my goals to reread Vampire Academy and finish this series. When I picked up it up this time around, I had the same experience as I did back in 2013. Every time I picked up this book to read, I lost interest. Honestly, I just felt bored. I ended up getting the audiobook from the library and finishing the last 80% of the book on audio.
Audiobook comments:
Once again, Emily Shaffer narrates Syndey's point-of-view, but we have a new addition in this installment: Alden Ford as Adrian!  I was used to Emily's narration of Adrian through the Vampire Academy audiobooks and this series being in a British accent. So I was a little bit shook when Alden's delivery of Adrian was an American accent. This isn't a criticism, just an observation. I wonder if Richelle Mead meant for him to be British or American. I'm so curious. Anyway, I liked the audiobook performance and am so thankful for the audio production of this one. It helped move me through this book.
* I purchased the ebook myself but borrowed the audiobook from my local library.