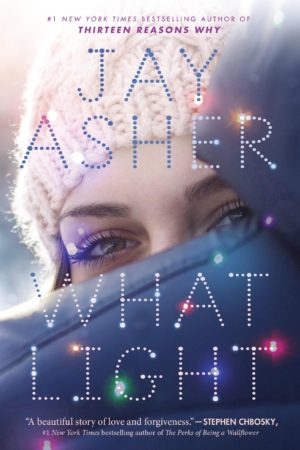 What Light
by
Jay Asher
Published by
Razorbill
Publication date:
October 18, 2016
Genres:
Romance
,
Young Adult
Narrator:
Mandy Siegfried
Length:
6 hrs and 45 mins
272 pagesFormat:
Audiobook
,
Hardcover
Source:
Publisher
Sierra's family runs a Christmas tree farm in Oregon—it's a bucolic setting for a girl to grow up in, except that every year, they pack up and move to California to set up their Christmas tree lot for the season. So Sierra lives two lives: her life in Oregon and her life at Christmas. And leaving one always means missing the other.

Until this particular Christmas, when Sierra meets Caleb, and one life eclipses the other.

By reputation, Caleb is not your perfect guy: years ago, he made an enormous mistake and has been paying for it ever since. But Sierra sees beyond Caleb's past and becomes determined to help him find forgiveness and, maybe, redemption. As disapproval, misconceptions, and suspicions swirl around them, Caleb and Sierra discover the one thing that transcends all else: true love.

What Light is a love story that's moving and life-affirming and completely unforgettable.
Affiliate Disclosure: This post contains affiliate links. In plain English, this means that I may receive a small commission (at no cost to you) if you purchase something through the links provided. This small income goes back into my blog, so I can continue to create fun content for you. I appreciate my readers and make it my goal to be upfront and honest. Thank you for supporting my blog!
Jay Asher's newest novel, WHAT LIGHT, offers a sweet romance about forgiveness and redemption with a charming premise, but it's not one that will be a literary holiday tradition for me.
Every year, Sierra and her family travel from their hometown in Oregon to California to run a Christmas tree business. Sierra has to leave her best friends and high school behind for a whole month and go to her other family and best friends in California. But this year could be the last year her family makes the trip with her family's business in jeopardy. What else makes this year different is Caleb, the cute boy she meets, who has secrets the whole town seems to know about. As their time together winds down, their feelings for each other intensify and neither know what happens after Sierra leaves town.
WHAT LIGHT has a promising premise, but its potential wasn't fully realized. Themes of forgiveness, redemption, and strength of family relationships are woven throughout the story. However, the characters and the plot failed to make any sort of lasting impression, with the author only skimming the surface of the themes employed.
All of the characters felt flat and one-dimensional. I was expecting this to be a lighter young adult romance but had hoped for it to have more depth and life. Upon finishing, however, there wasn't anything that that really resonated with me or stuck with me.
There were several sources of conflict, albeit weak ones—Caleb's secret and subsequent reputation, Sierra's possible last California Christmas, and her impending departure back to Oregon. However, Caleb's secret and reputation seemed very exaggerated and flimsy, as no one gave him any latitude to explain what really happened. I did like his compassion and desire to give back to his community, especially the connection Sierra's family.
If you're looking for a holiday read, this book is a very quick read. I read it in a morning. But it's not one that I will readily recommend.
* I received this book and the audiobook from the publisher in exchange for an honest review. This did not affect my opinion or content of my review.