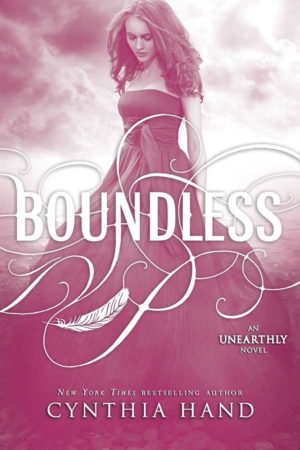 Boundless
by
Cynthia Hand
Series:
Unearthly #3
Published by
HarperCollins
Publication date:
January 22, 2013
Genres:
Paranormal Romance
,
Young Adult
Narrator:
Samantha Quan
Length:
11 hours
448 pagesFormat:
Audiobook
,
eBook
Source:
Borrowed
The past few years held more surprises than part-angel Clara Gardner ever could have anticipated. Yet through the dizzying high of first love to the agonizing low of losing someone close to her, the one thing she could no longer deny was that she was never meant to have a normal life.

Since discovering the special role she plays among the other angel-bloods, Clara has been determined to protect Tucker Avery from the evil that follows her...even if it means breaking both their hearts. Leaving town seemed like the best option, so she's headed back to California - and so is Christian Prescott, the irresistible boy from the vision that started her on this journey in the first place.

As Clara makes her way in a world that is frighteningly new, she discovers that the fallen angel who attacked her is watching her every move. And he's not the only one.... With the battle against the Black Wings looming, Clara knows she must finally fulfill her destiny. But it won't come without sacrifices and betrayal.

In the riveting finale of the Unearthly series, Clara must choose her fate once and for all.
Affiliate Disclosure: This post contains affiliate links. In plain English, this means that I may receive a small commission (at no cost to you) if you purchase something through the links provided. This small income goes back into my blog, so I can continue to create fun content for you. I appreciate my readers and make it my goal to be upfront and honest. Thank you for supporting my blog!
I can measure my enjoyment of a book or series by how much I'm going to miss the characters once I close the book. Clara, Tucker, Christian, and the gang—at the time of writing this review I had just finished it the night before.  I hate that I don't have more time with them. Cynthia Hand's Unearthly trilogy was a well-written, entertaining, and delightful series.
The last two books in this series have way more action that Unearthly. Clara is in the throes of figuring out her purpose but it's already cost her someone she loves dearly. Clara has sacrificed a lot in this series, highlighting just how strong and resilient she is. Gosh, there is so much I want to talk about here: Clara and Christian's working relationship, what happens to Angela, Meg's forethought and plan for Jeremy, and Tucker and Clara.
In BOUNDLESS, Clara, Angela, and Christian leave Jackson Hole behind and head for Stanford. But the angelic trouble follows them. Angela has her own vision to realize and uncover but could hers be connected to Clara new vision? Clara's complicated friendship with Samjeeza gets even more twisted.
I felt so emotional going in to this book after the heartwrenching ending of Hallowed. If you read that book, you know what I'm talking about. Tucker stays behind in Jackson Hole, working on the family farm and training for rodeo competitions. Meanwhile, Christian, Clara, and Angela are off to college
If you're on the hunt for a solid young adult series, I highly recommend that you try this one. This is one of the most solid young adult series I've read. What I mean by that is that the author didn't compromise anything for her audience. It was well-plotted and well-executed. I cared about every single one of the characters. There was nuance and depth to all of them.
* I borrowed the audiobook from my local library.