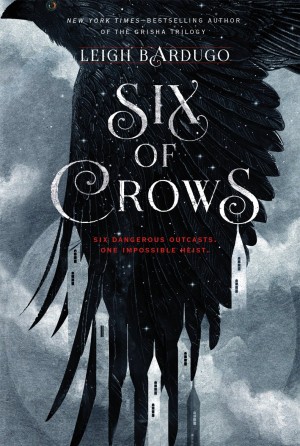 Six of Crows
by
Leigh Bardugo
Series:
Six of Crows #1
Published by
Henry Holt and Company
,
Holt Books for Young Readers
,
Macmillan
Publication date:
September 29, 2015
Genres:
Fantasy
,
Young Adult
480 pagesFormat:
ARC
Source:
ARC via publisher
Ketterdam: a bustling hub of international trade where anything can be had for the right price—and no one knows that better than criminal prodigy Kaz Brekker. Kaz is offered a chance at a deadly heist that could make him rich beyond his wildest dreams. But he can't pull it off alone...

A convict with a thirst for revenge.

A sharpshooter who can't walk away from a wager.

A runaway with a privileged past.

A spy known as the Wraith.

A Heartrender using her magic to survive the slums.

A thief with a gift for unlikely escapes.

Six dangerous outcasts. One impossible heist. Kaz's crew is the only thing that might stand between the world and destruction—if they don't kill each other first.
Affiliate Disclosure: This post contains affiliate links. In plain English, this means that I may receive a small commission (at no cost to you) if you purchase something through the links provided. This small income goes back into my blog, so I can continue to create fun content for you. I appreciate my readers and make it my goal to be upfront and honest. Thank you for supporting my blog!
Book Review:
"Maybe the shears would snap in Wylan's hands. Maybe Inej would fail. Or Nina. Or Kaz.
Or me. Maybe I'll fail.
Six people, but a thousand ways this insane plan could go wrong."
Wow! I am on a book high! Six of Crows is one of my favorite books of the year. Set in the same imaginative world as Leigh Bardugo's Grisha trilogy, this action-packed spin-off left me in an abyss of despair because I need more of these characters! I cannot wait for the next installment!
I read Shadow and Bone last year and then picked up the final two books in the Grisha trilogy in preparation for Six of Crows. I've been on a Grisha whirlwind of epic proportions. This review is going to be long and I'm not sorry about it at all.
Let me start off by telling you that Six of Crows is a book that lives up to the hype. So often you see books being heavily marketed and then you might read it and think "it's okay" but this book is fantastic and deserves all the attention and publicity.
It's told in third person and the story unfolds through multiple points-of-view (I believe there are seven different points-of-view). Don't let that scare you off because it totally works. Leigh Bardugo introduces you to each character in a way that is effortless and engaging. The character development was fantastic! The book is being marketed as Game of Thrones meets Oceans Eleven. Well, I've never seen Game of Thrones but I do know that it's really bloody. Six of Crows is kind of bloody. The Ocean's Eleven comparison is spot-on.
The book is set in city of Ketterdam in Kerch, a small island country west of Shu Han and it is the center of international trade and organized crime. Sprawling with gangs fighting for territory and grappling for power, anything can be bought and bartered for at the right price.
A local merchant approaches Kaz Brekker with a proposition. His job is to kidnap a scientist who created a deadly elixir fatal to Grisha and bring him back. He will get thirty million kruge in return. It sounds simple until he discovers that The Ice Court in Fjerda where the prison is located has high security and nearly impenetrable.
Kaz is the mastermind behind this whole operation. He's a thief from the Barrel, a rundown, dungy, and dangerous part of Ketterdam, known for his sleight of hand tricks and ability to escape any situation. He's the thief who never gets caught and is always two-hundred steps ahead of everyone else.
"He'd heard Brekker's name in prison, and the words associated with him—criminal prodigy, ruthless, amoral. They called him Dirtyhands because there was no sin he would commit for the right price."
Over the course of the novel, you learn where Kaz came from, the tragedy that befell him as a child, and how he built the Dregs from the ground up. I found him to be quite an interesting character.
Kaz gathers up five of his best people for the job. Notice, I didn't say he trusted them. Among them is a Heartrender Grisha who is indentured to a brothel in Kurch, a Grisha hunter who wants the Heartrender dead (but he also wants to kiss her…GAH!), a young spy who is neither seen nor heard before striking, a sharpshooter with many secrets, and a boy who grew up privileged and is now on the run.
"What makes you think we can do this? There will be other teams out there, trained soldiers and spies, people with years of experience."
"This isn't a job for soldiers and spies. It's a job for thugs and thieves. Van Eck knows it, and that's why he brought us in."
One of the things I enjoyed so much was seeing how they all interacted with each other. No one except Kaz really knew the whole plan at any one time. Sometimes, lying and pitting the team members against each other was the way to get things done.
The way Leigh Bardugo introduces you to each of the characters reminded me of the TV Show LOST. Several people are thrown together, who otherwise wouldn't be. At first, you really don't know much about the characters in this book. But through the multiple points-of-view, Leigh Bardugo reveals bits of their pasts, creating characters with full-developed story arcs, characteristics, and motivations. You get to know their strengths, weaknesses, and the secrets they haven't shared with anyone. As the reader, you learn things about them that no one else knows and you understand them so much more.
You're probably wondering if there is romance at all in this book. OH MY GOODNESS, YES THERE IS! There is not one, not two, but three romance storylines in this book, one of which had my heart beating frantically in my chest.
"She wouldn't wish love on anyone. It was the guest you welcomed and then couldn't be rid of."
The relationship between Matthias and Nina is tumultuous and built on shaky ground. Nina is a Heartrender Grisha (a Corporalnik Grisha who can stop someone's heart with the squeeze of her hand) and she has spent the past year trying to right a wrong that brings her tremendous guilt. She betrayed the man she loved. As a result, he's spent a year in prison suffering because of her lie. And get this, the man she loved is a drüskelle, a Fjerdan Grisha hunter. He wants her dead!
"And what did you do, Matthias? What did you do to me in your dreams?"
The ship listed gently. The lanterns swayed. His eyes were blue fire. "Everything," he said, as he turned to go. "Everything."
You have to read the book to find out what happens between them. And let me tell that it is so good!! Do yourself a favor and pick up this book and the Grisha trilogy!
5 stars
* I received a copy from the publisher in exchange for an honest review.
PURCHASE: Amazon: US • UK • CAN | iBooks