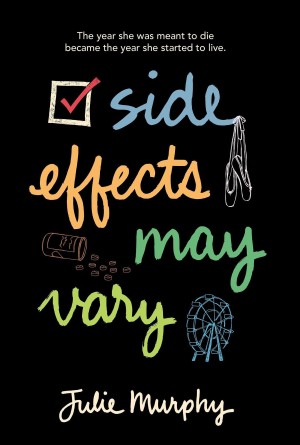 Side Effects May Vary
Publication date:
March 18, 2014
Length:
9 hrs and 16 mins
336 pagesFormat:
Audiobook
What if you'd been living your life as if you were dying—only to find out that you had your whole future ahead of you?

When sixteen-year-old Alice is diagnosed with leukemia, her prognosis is grim. To maximize the time she does have, she vows to spend her final months righting wrongs—however she sees fit. She convinces her friend Harvey, who she knows has always had feelings for her, to help her with a crazy bucket list that's as much about revenge (humiliating her ex-boyfriend and getting back at her archnemesis) as it is about hope (doing something unexpectedly kind for a stranger). But just when Alice's scores are settled, she goes into remission.

Now Alice is forced to face the consequences of all that she's said and done, as well as her true feelings for Harvey. But has she caused irreparable damage to the people around her—and to the one person who matters most?

Julie Murphy's Side Effects May Vary is a fearless and moving tour de force about love, life, and facing your own mortality.
Affiliate Disclosure: This post contains affiliate links. In plain English, this means that I may receive a small commission (at no cost to you) if you purchase something through the links provided. This small income goes back into my blog, so I can continue to create fun content for you. I appreciate my readers and make it my goal to be upfront and honest. Thank you for supporting my blog!
Book Review:
I saw the synopsis for this book on Goodreads about a year ago and thought that it sounded really interesting. Cancer books seemed to be all the rage but this one was stood apart from the rest.  Having now listened to this book a few times, I can say that it has really grown on me. I really liked this book, but Alice still isn't my favorite character.
This book was different than other cancer books in that the person with cancer doesn't die. The book isn't a huge emotional drama with imminent death being a certain, definite thing. Like the title suggests, the side effect of Alice's leukemia is life and a second chance. Her cancer goes into remission. Normally, this would be good news, but for Alice it's slightly panic-inducing, considering all she has done since being diagnosed. After she was diagnosed she decides to play pranks on all the people who had wrong her in some way. But these weren't just light-hearted type of pranks, they were pretty involved.
The book is written in dual point of view and alternates between the past and the present. The past chapters detail Alice's cancer diagnosis and all of her pranks, while the present chapters reveal the aftermath and the consequences of her actions.
The best part of this book was dear Harvey, Alice's best friend. He has been her friend for a long time.  Leading up to her diagnosis they hadn't talked, but after she was diagnosed, he was there for her. He left work early to spend time with her, he brought her moves to watch, and he visited everyday. He had been in love with her for a long time and being the sweet guy that he was he would do anything for her.  This included helping her get revenge. Playing with Harvey's affections, Alice used his feelings for her to get what she wanted, which made it so painful for me as an outsider to see. Harvey has to be one of the most endearing and sweet characters I have read recently and to see him being used without abandon really sucked.
"I'd always heard that when you truly love someone, you're happy for them as long they're happy. But that's a lie. That's higher-road bullshit. If you love someone so much, why the hell would you be happy to see them with anyone else? I didn't want the easy kind of love. I wanted the crazy love, the kind of love that created and destroyed all at the same time."
A lot of readers had a problem with Alice's manipulative and tactics, me included. I have listened to this book a few times, not necessarily because I found it to be re-read worthy but rather because I zoned out at times. No, I didn't zone out because I didn't like the book, only because I was doing work and focused my attention on that instead of the book. BUT the last time, I made an effort to pay attention.
With each listen, I began to like Alice a little bit more.  I started to understand how jarring it would be to suddenly think you're dying and then to get you future back. The psychology of that I got and when that clicked I started to understand Alice's actions. I never really understood why she was so afraid to tell Harvey how she felt about him, why she never apologized to him after realizing how terrible she was to him. It was so frustrating. I never got to the point where I truly loved Alice as a character. She redeemed herself in the eleventh hour and for me it was a little too late after nearly an entire book of her being cruel to everyone.
I really liked what happened at the end of the book. It left me with a huge smile on my face but I would have loved an epilogue or a chance to get a little more of the characters. It ended rather abruptly.
Audiobook comments:
This book was narrated by Cassandra Campbell and Kirby Heyborne. Kirby isn't one of my favorite narrators, but he I liked him as Harvey. I don't think Kirby fits the young adult voice very well, but I like him playing this sweet and caring sort of character. I hadn't heard a book narrated by Cassandra Campbell before but she did a good job playing this emotionally conflicted teenager. I would definitely recommend her as a narrator for future books.
3 stars
* I received an audiobook from the publisher in exchange for an honest review.
Amazon: US • UK • CAN | iBooks | GR