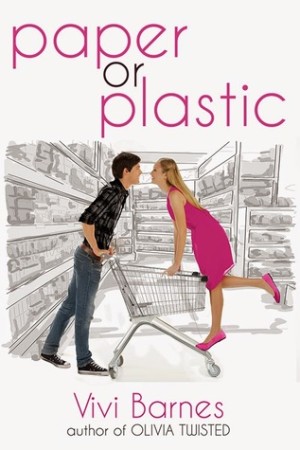 Paper or Plastic
by
Vivi Barnes
Published by
Entangled
,
Entangled Teen
Publication date:
February 3, 2015
Genres:
Romance
,
Young Adult
352 pagesFormat:
eARC
Source:
ARC via NetGalley
Welcome to SmartMart, where crime pays minimum wage...

Busted. Alexis Dubois just got caught shoplifting a cheap tube of lipstick at the local SmartMart. She doesn't know what's worse—disappointing her overbearing beauty-pageant-obsessed mother for the zillionth time…or her punishment. Because Lex is forced to spend her summer working at the store, where the only things stranger than the staff are the customers.

Now Lex is stuck in the bizarro world of big-box retail. Coupon cutters, jerk customers, and learning exactly what a "Code B" really is (ew). And for added awkwardness, her new supervisor is the totally cute—and adorably geeky—Noah Grayson. Trying to balance her out-of-control mother, her pitching position on the softball team, and her secret crush on the school geek makes for one crazy summer. But ultimately, could the worst job in the world be the best thing that ever happened to her?
Affiliate Disclosure: This post contains affiliate links. In plain English, this means that I may receive a small commission (at no cost to you) if you purchase something through the links provided. This small income goes back into my blog, so I can continue to create fun content for you. I appreciate my readers and make it my goal to be upfront and honest. Thank you for supporting my blog!
Book Review:
I saw this book on Goodreads not too long ago and thought that the whole premise sounded really great. After reading Nick's review a couple of weeks ago, I decided to jump right in. Paper or Plastic was such cute, sweet, feel-good young adult romance that left me with a smile on my face.
Alexis had her summer break all planned out. She planned on volunteering at a youth softball camp and hanging out with her friends, Syd, Court, and Bryce, at the pool. A lazy summer. All of this fell through when she and her friends got caught trying to steal lipstick from SmartMart. Instead of pressing charges, the store manager offers her a deal — work at SmartMart for the summer in exchange for a clean record. Her mother takes the deal and Alexis is less than thrilled.
On her first day at SmartMart, she meets several of her coworkers — Bessie, an older woman who is in charge of training Lexie, Ruthie, the enthusiastic greeter who has some limitations, and Noah Grayson, her manager and high school classmate. At school, Noah keeps to himself and is considered a geek. An incident involving Noah and Lexie's best friend that occurred two years made Lexie and Noah mortal enemies. Now, she's being forced to work with him. But she soon finds out that he's not as bad as she thought. She actually starts to like her sweet boss.
Meredith, Lexie's mom, is a former runner-up for the Miss Florida and imposes her obsession with pageants on her children. Her younger sister, Aurora, is very involved in pageants and therefore, the apple of Meredith's eye, whereas Lexie is more focused on softball. Lexie and her mom aren't very close since her mom is so involve with Aurora's pageants. I was so frustrated with the way Meredith treated Lexie. She expected her to be a Aurura's pageants, forcing Lexie to call into work. But at the same time she was trying to teach Lexie accountability and responsibility with a job. I found Meredith to be very selfish and shallow, and it made me really hard to like her. The mom/daughter dynamic was one of many problems the characters faced in this book.
Speaking of problems, Noah and Alexis have them. I really liked Noah. He had the world on his shoulders, yet was so kind and thoughtful to everyone. Noah is from a less affluent family. He works two jobs to help support his mother and little sister, who also happens to be involved in pageants. His work ethnic and family man attitude made me love him even more than I already did. In addition to her mother problems, Lexie's grandmother  was recently diagnosed with Alzheimer's disease and moved in with Lexie's family. Throughout the book, Lexie is struggling with coming to terms that her spunky and sassy grandma is losing her reality.
I really liked the secondary characters in this book, namely all of the people at SmartMart. I also liked that the author had the characters working through real family issues. I liked the progression of Noah and Lexie's relationship. Their friendship and romance was sweet, natural and flowed beautifully. I found myself smiling most of the time reading this one. I did think that the book was a little on the long side and felt like the ending was a little overly dramatic, but I still liked this one!
3 stars
Amazon: US • UK • CAN | iBooks | GR
* I received a copy from the publisher in exchange for an honest review.