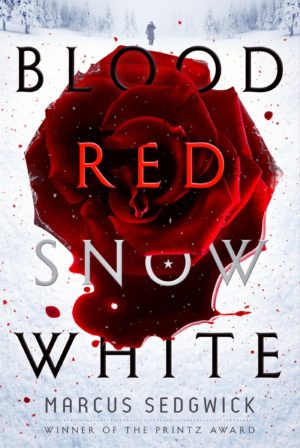 Blood Red Snow White
by
Marcus Sedgwick
Published by
Roaring Brook Press
Publication date:
October 25, 2016
Genres:
Historical
,
Thriller
,
Young Adult
320 pagesFormat:
eARC
Source:
Publisher
There never was a story that was happy through and through.

When writer Arthur Ransome leaves his unhappy marriage in England and moves to Russia to work as a journalist, he has little idea of the violent revolution about to erupt. Unwittingly, he finds himself at its center, tapped by the British to report back on the Bolsheviks even as he becomes dangerously, romantically entangled with Trotsky's personal secretary.

Both sides seek to use Arthur to gather and relay information for their own purposes . . . and both grow to suspect him of being a double agent. Arthur wants only to elope far from conflict with his beloved, but her Russian ties make leaving the country nearly impossible. And the more Arthur resists becoming a pawn, the more entrenched in the game he seems to become.

Blood Red Snow White, a Soviet-era thriller from renowned author Marcus Sedgwick, is sure to keep readers on the edge of their seats.
Affiliate Disclosure: This post contains affiliate links. In plain English, this means that I may receive a small commission (at no cost to you) if you purchase something through the links provided. This small income goes back into my blog, so I can continue to create fun content for you. I appreciate my readers and make it my goal to be upfront and honest. Thank you for supporting my blog!
Blood Red Snow White is a set of three short stories and a fictionalized account of author Arthur Randsome's time in Russia during Russian Revolution. Sedgwick brings readers on a thrilling journey, detailing both sides of war between the Red and the White. I was surprised by how much I enjoyed this book. The writing is quite beautiful in parts, especially in A Russian Fairy Tale.
"Once upon a time beyond the sunrise, halfway to the moon, and so very far away it would make your feet weep to think about it, lies a land vast in size and deep in sadness. From where we sit, on the far edge of history, we can see across Time itself, and yet this land is so big we struggle to see all of it at once."
These opening lines of A Russian Fairy Tale transported me right into twentieth-century Russia where tsars ruled the land and lived in magical palaces. It written very simply, like an actual children's fairy tale but with imagery that is not censored for children ("Look! Another one is killed; the top of his head blown clean off by a bullet at close range. His hot red blood freezes before it even reaches the ground."). It read like someone was telling you a story. We meet Arthur Randsome, a writer who leaves his unhappy marriage and child in England to embark on a new journey to Russia as a journalist.
The second story is One Night in Moscow, which follows Arthur during his years in Russia and his shifting role from journalist to, perhaps, a communist. His own loyalty is a mystery to himself, as he is torn between siding with the Red Bolsheviks and the White Tsarists. He meets and falls in love with Evgenia, a Russian woman who is a secretary for Trotsky, one of the Bolsheviks. Arthur's countrymen begin to question his true loyalty.
Lastly, the third story, A Fairy Tale, Ending, is told in first-person and it details Arthur's journey back to England to visit his family. While there, he learns that the situation in Russia has gotten worse and Evgenia could be in the eye of the storm.
As someone who was only vaguely familiar with the Russian Revolution, this book was very educational. Though, I will admit that the magic found in the beginning of the book was lost and I wasn't as captivated in the latter parts of the book. I think if I would have had a firmer grasp on all of the key players I would have been able to pick up on some of the nuances and appreciate it more. There is really very little character development, as it's assumed the reader will have at least some knowledge of the inner workings of it all.
Overall, this novel was very well-written with moments that kept me glued to the page. Some of the story, particularly in One Night in Moscow, was written non-linearly which made it a little difficult to follow at times. The author's note mentioned that most of this book is completely true, with only a few situations changed for dramatic effect. Highly recommend for readers who love reading about Russian history.
* I received an advance copy from the publisher in exchange for an honest review.