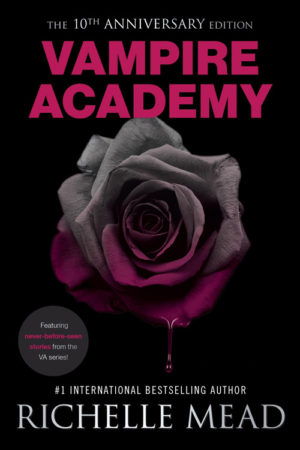 Vampire Academy
by
Richelle Mead
Series:
Vampire Academy #1
Published by
Razorbill
Publication date:
August 16, 2007
Genres:
Paranormal Romance
,
Young Adult
340 pagesFormat:
eBook
Source:
Purchased
St. Vladimir's Academy isn't just any boarding school—it's a hidden place where vampires are educated in the ways of magic and half-human teens train to protect them. Rose Hathaway is a Dhampir, a bodyguard for her best friend Lissa, a Moroi Vampire Princess. They've been on the run, but now they're being dragged back to St. Vladimir's—the very place where they're most in danger. . . .

Rose and Lissa become enmeshed in forbidden romance, the Academy's ruthless social scene, and unspeakable nighttime rituals. But they must be careful lest the Strigoi—the world's fiercest and most dangerous vampires—make Lissa one of them forever.
Affiliate Disclosure: This post contains affiliate links. In plain English, this means that I may receive a small commission (at no cost to you) if you purchase something through the links provided. This small income goes back into my blog, so I can continue to create fun content for you. I appreciate my readers and make it my goal to be upfront and honest. Thank you for supporting my blog!
I first read VAMPIRE ACADEMY more than four years ago. Remembering slow-burning forbidden romance between Rose and Dimitri and pulse-pounding action present throughout the whole series made me want to relive it all over again. Would I love it as much the second time around? I can answer that question with a resounding YES!
This is the first book in the series, and sometimes first books can be boring with all the world-building and character development. NOT THIS BOOK! Richelle Mead effortlessly blends together the world of the Moroi, dhampirs, Strigoi, and the Academy with action and memorable characters from the very start. It was very hard to put this book down once I started reading it.
The book starts with Rose and Lissa being taken back to the Academy in Montana. Two years prior, Rose had taken Lissa away from their high school, for reasons you'll find out in the book. Once back at the Academy, the headmistress wants to send Rose away for taking Lissa. But after some persuasion on Dimitri's part—one of the guardians sent to bring her back—she lets Rose stay subject to some conditions. Rose must stay out of trouble and take on extra training sessions in order to catch up. She assigns Dimitri to be Rose's trainer. After arriving back on campus, it becomes clear that someone is targeting Lissa and Rose gets worried. Rose is further distracted when she starts to develop very real feelings for Dimitri.
I must talk about Rose and Dimitri because it would be a huge injustice if I didn't. In Vampire Academy, Rose and Dimitri start off as trainer/trainee (not really friends, but something else) but there is clearly a very special connection between them. Rose is the outspoken, witty, strong, and brave person who will do anything to protect her best friend. While Dimitri is brooding, honorable, and the strong, silent type of guy. Basically, he's my favorite type of hero. Underneath it all is also this wonderful romantic tension that you can cut with a knife! This is where things get good, guys.
"Did you see that dress?"
"I saw the dress."
"Did you like it?"
He didn't answer. I took that as a yes.
"Am I going to endanger my reputation if I wear it to the dance?"
When he spoke, I could barely hear him. You'll endanger the school."
I liked that the reason why they couldn't be together was something tangible and concrete. It made sense. It is a rule at the Academy that guardians cannot be romantically involved due to the nature of their job—their job is to protect Moroi and they can't put someone else ahead of that duty. And doesn't that just bite the big one because, damn, these two would be GREAT together!
I won't go into the explanation of the world in this review because you can figure that out for yourself. However, if you find yourself leery of reading yet another vampire series, don't because this series is really great. What I love so much about this book is how wonderfully Richelle Mead sets the stage for the rest of the series, while creating an engaging and exciting book that is freaking addictive. You have the subplot with Lissa and Christian, the danger surrounding Lissa, the budding something between Rose and Dimitri, and the dramatics of high school.
If you haven't read this series from start to finish, go right now! If you're like me and have a weakness for amazing forbidden love stories with twists and turns, then Richelle Mead's Vampire Academy series is the series for you! I have always remembered the journey I took when reading through the books the first time and I cannot wait to feel it all over again.
Stay tuned to my blog tomorrow, because I have a GIVEAWAY going up for the 10th Anniversary Edition!