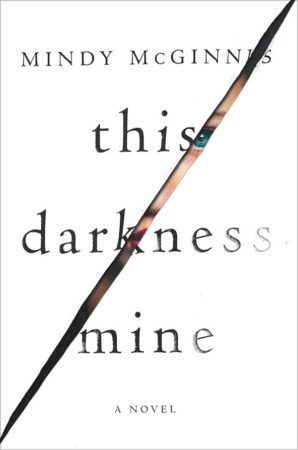 This Darkness Mine
by
Mindy McGinnis
Published by
Katherine Tegen Books
Publication date:
October 10, 2017
Genres:
Young Adult
384 pagesFormat:
eARC
Source:
Publisher
From Edgar Award–winning author Mindy McGinnis comes a dark and riveting psychological thriller about a dangerous split-personality love triangle that begins to fracture the life Sasha Stone has so meticulously built. A gripping look at what it means to give away the heart . . . that isn't yours to give.
Sasha Stone knows her place—first-chair clarinet, top of her class, and at the side of her oxford-wearing boyfriend. She's worked her entire life to ensure her path to Oberlin Conservatory as a star musician is perfectly paved, each step ticking like a metronome.

But suddenly there's a fork in the road in the shape of Isaac Harver. Her body shifts toward him when he walks by, her skin misses his touch even though she's never known it, and she relishes the smell of him—smoke, beer, and trouble, all the things she's avoided to get where she is. Even worse, every time he's near Sasha, her heart stops, literally. Why does he know her so well—too well—and she doesn't know him at all?

Sasha discovers that her by-the-book life began by ending another's: the twin sister she absorbed in the womb. But that doesn't explain the gaps of missing time in her practice schedule or the memories she has of things she certainly never did with Isaac. As Sasha loses her much-cherished control, her life—and heart—become more entangled with Isaac. Armed with the knowledge that her heart might not be hers alone, Sasha must decide what she's willing to do—and who she's willing to hurt—to take it back.
Affiliate Disclosure: This post contains affiliate links. In plain English, this means that I may receive a small commission (at no cost to you) if you purchase something through the links provided. This small income goes back into my blog, so I can continue to create fun content for you. I appreciate my readers and make it my goal to be upfront and honest. Thank you for supporting my blog!
You know when you read a book and just kind of sit there and wonder, "What did I just read?" Well, I had that moment reading this book and unfortunately, those words were not uttered in a moment of awe. THIS DARKNESS MINE is certainly a dark tale but also a very bleak one that lacks any sense of direction. Let me try to explain.
The basic premise is this: Sasha Stone discovers that she was supposed to have a twin sister (Shanna), but due to birth defects the fetus didn't survive and Sasha ultimately absorbed her in the womb. Now at 17, Sasha essentially starts losing chunks of time, discovers strange messages written down that she didn't write, and has fallen in love with the token bad boy but doesn't remember ever being around him. She deduces that her sister is making her presence known and it's Shanna's heart that's in Sasha chest, with Shanna being the darker, badder twin.
When I read the synopsis to this book prior to reading, given the subject matter, I thought the author was going to give us this great dichotomous female protagonist. One that has to fight to retain the good inside of her and keep the darkness from overtaking her. But that wasn't what we were given.
This book started as a love triangle with paranormal nonsense and quickly turned into this medical melodramatic saga after Sasha is diagnosed with cardiomyopathy and suddenly needs a heart transplant. The plot was unfocused and all over the place.
Sasha is perhaps one of the most unlikable characters I've ever read. If the author was trying to give her a regressed journey—one where the character falls into the darkness from being good—then she succeeded. She went from being a completely successful and "normal" teen to being a horrible person. But I guess one of the "revelations" in the latter half was that she's always been this person, she's just been really good a suppressing it. In any event, there was nothing redeeming about her.
Those of you with little exposure to band in high school, specifically surrounding the clarinet, may not pick up on the multiple musical inaccuracies in this book. However, as someone with a degree in music performance (clarinet performance), I couldn't help but laugh at what was in this book. I won't go over them all in detail but it's clear that very little research was done on this part of the book. Several of the music elements that Sasha talked about, just wouldn't be to true of a serious high school clarinetist hoping to attend a music conservatory. I'll leave it at that.
But it was the ending of the book that was the final nail in the coffin. It was bizarre, gruesome, and downright strange—and not in a good way. Sasha is in a special cardio housing unit for teenagers awaiting a new heart to become available for transplant. She has an LVAD attached to her heart. In an effort to exorcise her sister from her body, View Spoiler »she cuts open her own chest and tears out her LVAD wire. The descriptions are horrific; "tasting blood on my teeth," "my shoulders again, now slicked with blood as the weight of my breasts pulls the opening I've cut in my chest wider," "veins come with [the LVAD], "It's still working, spraying blood in a fine mist over my face and [Isaac's]." « Hide Spoiler
There was not one part of this story that I liked. The book started with Sasha picking splinters (yes, splinters) out of her gums (yes, her gums) which were embedded there because of her clarinet reeds (yes, really). But later we learn that supposedly those fragments were not reeds but her absorbed twin's teeth coming through her gums. If this sounds like the book for you, then go for it.
* Thanks to Katherine Tegen Books for providing me with an early copy for an honest review.