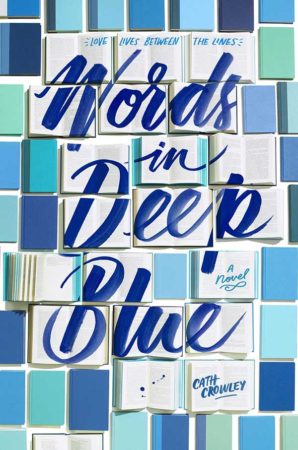 Words in Deep Blue
by
Cath Crowley
Published by
Knopf Books for Young Readers
Publication date:
June 6, 2017
Genres:
Coming of Age
,
Romance
,
Young Adult
288 pagesFormat:
eARC
Source:
Publisher
Years ago, Rachel had a crush on Henry Jones. The day before she moved away, she tucked a love letter into his favorite book in his family's bookshop. She waited. But Henry never came.

Now Rachel has returned to the city—and to the bookshop—to work alongside the boy she'd rather not see, if at all possible, for the rest of her life. But Rachel needs the distraction. Her brother drowned months ago, and she can't feel anything anymore.

As Henry and Rachel work side by side—surrounded by books, watching love stories unfold, exchanging letters between the pages—they find hope in each other. Because life may be uncontrollable, even unbearable sometimes. But it's possible that words, and love, and second chances are enough.
Affiliate Disclosure: This post contains affiliate links. In plain English, this means that I may receive a small commission (at no cost to you) if you purchase something through the links provided. This small income goes back into my blog, so I can continue to create fun content for you. I appreciate my readers and make it my goal to be upfront and honest. Thank you for supporting my blog!
WORDS IN DEEP BLUE hooked me from the beginning and I couldn't wait to get home from work to read more of Rachel and Henry's time inside Howling Books. The cast of characters was charming, lovely, and funny in all the right places. My only problem was that, ultimately, the romance storyline fell flat and left me a little frustrated.
Rachel, her mother, and her brother Cal moved away from her hometown of Gracetown three years ago. But tragedy brings her back. She's failed out of Year 12, given up on her dreams of exploring the deep blue sea, and retreated into herself giving into her painful grief. Her friendship with her best friend and subject of her unrequited love has fizzled out after she stopped responding to his letters years ago. But Rachel can't avoid Henry forever, especially when her job is in his family's charming secondhand bookstore, Howling Books. Soon Rachel finds all the old feelings towards Henry flooding back to her the more time they spend together. But Henry's still pining for his ex-girlfriend, Amy, who only has eyes for Henry when someone else wants him.
There were so many things about this novel that hooked me in the beginning. The unrequited love between Rachel and Henry mixed with Rachel's chance at her own happy ending was promising. Rachel's grief over the loss of her brother was palpable and felt so real. Henry's sister, George, and Martin, the persistent jock trying to win over George's black, emo heart were both hilarious and I loved them so much.
Howling Books, the bookstore inside of this book made me want to crawl inside the pages of this novel and never leave. Henry sleeps on the "fiction couch" every night in the bookstore. At the center of the novel is the store's Letter Library filled with old books in which people can pen notes to each other, highlight their favorite passages, or leave letters to others. The store has its own regulars that add charm and character to the novel. I was simply bursting with happiness reading about this bookstore.
As Rachel continues to process her grief, she and Henry have several discussions on transmigration of memories through the store's Letter Library. The writers' memories live on through words between and on the book's pages and that these memories can be passed on to others to college and create new memories. Rachel's project in the bookstore coupled with therapy was what helped her find herself again and I loved how the author didn't try to cheapen that process by using the romance as a substitute.
If I was to rate this book solely on the things discussed above, I'd give it a solid 4-star rating. It was addictive and charming and just made me smile. But since this is a romance and Rachel and Henry's love story is a central theme from page one, I couldn't give it that rating. The romance was the most disappointing, frustrating, and underwhelming part of the whole book.
Crowley sets up Rachel and Henry's second chance at love quite well, but has Henry chasing after his ex-girlfriend, Amy, for almost the entire book. What's worse is that Amy is quite obviously a complete jerk who doesn't realize what she had until someone else (Rachel) starts making the moves on him. Rachel understandably isn't in the headspace to tell Henry to wake up and realize Amy isn't for him. While I loved Henry's nerdiness and clear adoration towards Rachel, I also was so frustrated with his character. I would have much rather had Henry and Rachel working on their friendship and slowly falling in love with each other with the backdrop of the library, rather than having Amy constantly being the weak source of the conflict.
The characters and the bookstore is reason enough to pick up this book. It's set outside of Melbourne, Australia and features several sweet and emotional moments between our two protagonists. I'd love to know what you think if you read it!
* Thanks to Knopf Books for Young Readers for providing a copy for review.