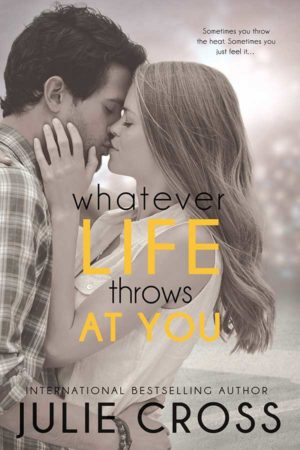 Whatever Life Throws at You
by
Julie Cross
Published by
Entangled Teen
Publication date:
October 7, 2014
Genres:
Romance
,
Young Adult
320 pagesFormat:
eBook
Source:
Purchased
Life loves a good curveball…
Seventeen-year-old Annie Lucas's life is completely upended the moment her dad returns to the major leagues as the new pitching coach for the Kansas City Royals. Now she's living in Missouri (too cold), attending an all-girls school (no boys), and navigating the strange world of professional sports. But Annie has dreams of her own—most of which involve placing first at every track meet…and one starring the Royals' super-hot rookie pitcher.

But nineteen-year-old Jason Brody is completely, utterly, and totally off-limits. Besides, her dad would kill them both several times over. Not to mention Brody has something of a past, and his fan club is filled with C-cupped models, not smart-mouthed high school "brats" who can run the pants off every player on the team. Annie has enough on her plate without taking their friendship to the next level. The last thing she should be doing is falling in love.

But baseball isn't just a game. It's life. And sometimes, it can break your heart…
Affiliate Disclosure: This post contains affiliate links. In plain English, this means that I may receive a small commission (at no cost to you) if you purchase something through the links provided. This small income goes back into my blog, so I can continue to create fun content for you. I appreciate my readers and make it my goal to be upfront and honest. Thank you for supporting my blog!
WHATEVER LIFE THROWS AT YOU is a young adult contemporary romance that takes place in Kansas City and centers around the Royals baseball team. This is an addictive, sports romance with a forbidden element that I had a hard time putting down, but longed for a more involved conflict.
Seventeen-year-old Annie and her father move to Kansas City after he's hired to be the pitching coach in charge of training an up and coming rookie, Jason Brody. Sparks fly between Annie and Jason but they must keep their relationship a secret. Annie's father isn't well-liked by the team's owner; he's looking for any indiscretion to can her father and force them back to Arizona.
This is definitely a more mature young adult novel. I'd even go as far as to say it's more new adult. It straddles the line here. What I really liked about this novel was the slow development of Annie and Brody's friendship and then relationship. Julie Cross really did a great job with building their relationship, which made me feel totally connected to their love story. Both of them tried to fight their feelings but couldn't stay away and I always love experiencing that tension.
In addition to the romance, I really liked the great father-daughter storyline. Annie and her father have a healthy and strong relationship. This was refreshing since often in young adult familial relationships are often a source of strain or turmoil.
I also liked the development of Annie and Brody as individual characters, with their own unique backgrounds and histories that shape why they make the decision they make. I felt like I had a good grasp on who they were as people. Annie discovers that Brody has a past that he tries to hide but also one that causes him pain. Over the course of the novel, the trust the develops between them deepens, allowing Brody to confide in Annie.
Like I said earlier, this novel is a more mature young adult novel (arguably new adult). The author doesn't shy away from exploring Brody and Annie's sexual relationship, which is nice because, newsflash, teenagers have sex! But what I liked in this book was that neither character talked about sex in a flippant or careless way. It wasn't romanticized or watered down, and was discussed in a way where it was clear both understood the importance of their decision.
What didn't entirely work for me was the conflict in this story. It in honesty, the conflict felt flimsy and superficial, which is a bummer because I really felt the rest of the story was quite strong overall. But for me, I really like a strong realistic and authentic conflict and I didn't get it here. As much as I loved the romance, I wish we would have had more exploration with Annie's friendships and life at school. The novel focuses so much on the love story. The only thing I know about her at school is that she plays track and she has one friend—Lenny, whom she met because she's a Royals kid too. I also wish that Lenny's story was more nuanced and fully resolved here.
As a Kansas City native, I've had this book on my to-read list almost since its release in 2014. Books rarely take place here so it's a special treat when your hometown makes an appearance in literature. There were a few inaccuracies with the location of certain things but it really wasn't that big of a deal to the overall story, just something I noticed as a local.
If you're looking for a sweet and swoonworthy young adult sports romance, then seriously give this book a try. It has plenty of moments to make you go weak in the knees with a family story that will make your heart grow 3 sizes.
* I purchased this book myself.