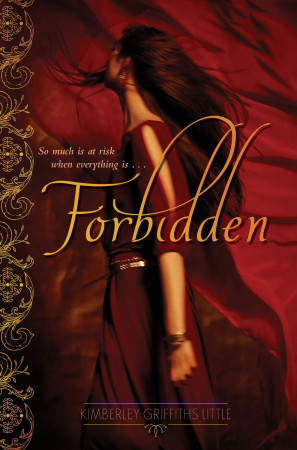 Forbidden
by
Kimberley Griffiths Little
Series:
Forbidden #1
Published by
HarperCollins
Publication date:
November 4, 2014
Genres:
Historical
,
Romance
,
Young Adult
397 pagesFormat:
eARC
Source:
ARC via publisher
In the unforgiving Mesopotamian desert where Jayden's tribe lives, betrothal celebrations abound, and tonight it is Jayden's turn to be honored. But while this union with Horeb, the son of her tribe's leader, will bring a life of riches and restore her family's position within the tribe, it will come at the price of Jayden's heart.

Then a shadowy boy from the Southern Lands appears. Handsome and mysterious, Kadesh fills Jayden's heart with a passion she never knew possible. But with Horeb's increasingly violent threats haunting Jayden's every move, she knows she must find a way to escape—or die trying.

With a forbidden romance blossoming in her heart and her family's survival on the line, Jayden must embark on a deadly journey to save the ones she loves—and find a true love for herself.

Set against the brilliant backdrop of the sprawling desert, the story of Jayden and Kadesh will leave readers absolutely breathless as they defy the odds and risk it all to be together.
Affiliate Disclosure: This post contains affiliate links. In plain English, this means that I may receive a small commission (at no cost to you) if you purchase something through the links provided. This small income goes back into my blog, so I can continue to create fun content for you. I appreciate my readers and make it my goal to be upfront and honest. Thank you for supporting my blog!
Book Review:
Forbidden was a vividly descriptive feast for the senses, taking the reader on an epic journey through the harsh Assyrian desert.  Kimberley Griffith Little's ability to pull me into this ancient world filled with color, beautiful scenery, and forbidden love was what made this a book a good read.
Jayden is the epitome of a strong heroine. In a time where women are seen as merely possessions and marriages are sealed with a dowry, she is resilient and defiant against the circumstances in which she is placed. After tragedy strikes her family the day after her betrothal ceremony, she's forced to trudge forward through the unrelenting heat and help her father and sisters move on with their lives.
Jayden's tribe are nomads in the exotic deserts of Mesopotamia.  Traveling from place to place, they're afforded the protection of neighboring allied tribes. Though traveling by desert is still dangerous, especially in a time where war is so prevalent.  It was not uncommon for leaders, thirsty for power and wealth, to kill a whole settlement for their gold, camels or women.
As children Jayden and Horeb were promised to one another. Now at seventeen, she's just a year away from being the tribe's next princess, bringing riches and honor to her family.  Due to her low status, this will be good to her family's position in the tribe, but Jayden wants to marry for love.
Her life changes when she meets a mysterious stranger named Kadesh. They meet as Jayden is performing a dance of mourning. She catches him looking.  And I like to think from that moment he can't look away from him. There is an unspoken intensity between the two of them from the very beginning.
"Please don't—don't watch me again."
"Your warning isnote. But what if I stumble upon you—or what if I can't resist?"
I took a breath, noting his words and his meaning. I felt his eyes on my face in the starlight.
"Restraint is a virtue."
What drew me to this novel was the promise of a forbidden love story (I mean, that's the title, right?) and the lush setting.  I was entranced as I read about the customs of this ancient time: the dresses worn by the betrothed, the dancing ceremonies, the priceless spices, the smells, and rules of marriage. The culmination of the author's descriptions transported me back in time and I was about to envision it all.
"I can't. If I look at you, I know you will put a spell on me."
"But you have already put a spell on me. I will be under your enchantment forever, and there is no going back. I only want to wipe away your tears."
The love story between Jayden and Kadesh felt rushed and developed rather suddenly. It wasn't quite instalove, but the romantic tension and relationship development was lacking. I wasn't able to fully experience those wonderful moments in young adult where the characters fell in love. Instead, we have several stolen glances and heart-to-hearts and they were declaring themselves.  I also felt as though there was a lot of repetitiveness when it came to the conflict in the book wieh Lelia's decisions towards the end.
I would completely recommend this book to someone looking for a unique and exotic young adult romance with a forbidden element.  For the sake of full disclosure, it does appear as though there will be a second book.  And if you're wondering, this book doesn't end on a cliffhanger, but also isn't fully resolved.
* I received a copy from the publisher in exchange for an honest review.
3 stars