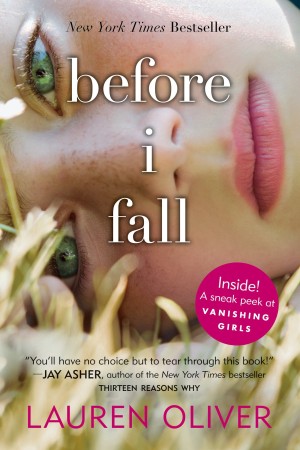 Before I Fall
Publication date:
March 2, 2010
Length:
12 hrs and 25 mins
480 pagesFormat:
eBook
What if you had only one day to live? What would you do? Who would you kiss? And how far would you go to save your own life?

Samantha Kingston has it all: the world's most crush-worthy boyfriend, three amazing best friends, and first pick of everything at Thomas Jefferson High—from the best table in the cafeteria to the choicest parking spot. Friday, February 12, should be just another day in her charmed life.

Instead, it turns out to be her last.

Then she gets a second chance. Seven chances, in fact. Reliving her last day during one miraculous week, she will untangle the mystery surrounding her death—and discover the true value of everything she is in danger of losing.
Affiliate Disclosure: This post contains affiliate links. In plain English, this means that I may receive a small commission (at no cost to you) if you purchase something through the links provided. This small income goes back into my blog, so I can continue to create fun content for you. I appreciate my readers and make it my goal to be upfront and honest. Thank you for supporting my blog!
Book Review:
I supposed that's the secret, if you're ever wishing for things to go back to the way they were. You just have to look up.
Wow! This book was fantastic! Before I Fall is as emotional as it is uplifting, hopeful as it is bittersweet. Oliver's writing always captures my attention with the way she turns a phrase, quickly pulling me into the characters' reality. What would you do if you had a second chance to relive your last day? Would you do anything differently?
Samantha Kingston is part of a posse of mean girls at her high school, who are more concerned with being popular than anything else. I was shocked with their callousness and downright cruelty towards others. I'm sure everyone has had girls like them in their high school. You know, the ones who were popular but you couldn't really point to a particular reason why they were popular—they just were. You either loved them or you hated them. Sam thought her life was perfect until one night when she and her friends get in a car accident. Sam dies, or at least she thought she did. Instead of waking up in a hospital bed, she wakes up in her bedroom and begins reliving February twelfth for the second time (the first of many February twelfths). She starts reliving her last day over and over again, like a track on repeat.
This story is very much a character study. Samantha's character goes through this wonderful metamorphosis from beginning to end. Through reliving the same day over and over, she has this emotional awakening to all the wrong in her life. Sam is not a nice person. In one of her February twelfths, a classmate dies and through mourning that death Samantha begins to see the err of her ways, this moment being the catalyst for her evolution. She starts questioning why she and her friends act the way they act. Through each of these days, she learns more and more about this person who died, discovering darker parts of this person that she had a hand in creating.
You might be wondering whether it was boring reading about the same day multiple times. But to me it wasn't boring in the least. With each day, the reader got to see the scenario from different perspectives as Samantha starts to change. In the beginning, Samantha saw things in a very two-dimensional way, but as she delve deeper into herself and into others she saw her world in more three-dimensional and vivid way.
There is a (sort of) romance in this book, but it definitely wasn't the focus of the book. Before Samantha was "chosen" by Lindsay to be her friend and basically "be popular," she was Kent McFuller's best friend. He was the nerdy boy she played with and who was also her first kiss. Now seven years later, adorkably nerdy Kent is vying her attention.
The worst thing is that he could be cute. He has the face and the body for it. He has a tiny heart-shaped mole under his left eye, no joke. But he has to screw it up by being such a freak.
Throughout each of the days Sam relives, she starts to see just how kind and compassionate he is. The fact that he isn't the hottest or the most popular, doesn't really matter. I loved Kent so much! He was just so sweet and I loved how he was always there to be there for Sam emotionally in her most vulnerable of moments.
If you haven't read any of Lauren Oliver's books, I would highly recommend you read this one. Her writing is one thing that keeps me coming back to her books. I love the way in which she is able to convey deep emotions in the simplest of moments (like when Samantha and Kent are sitting in his kitchen). You truly feel it. I got a little emotional at the end of this book, despite being slapped in the face with Sam's reality the whole time. I really liked the person Sam became by the end. I loved the overall message in this book. It is never too late to make things right, to make them better. In falling floating flying toward her awakening, Samantha learned to live, to love, be happy, and be kind.
* I borrowed this book from my eLibrary.