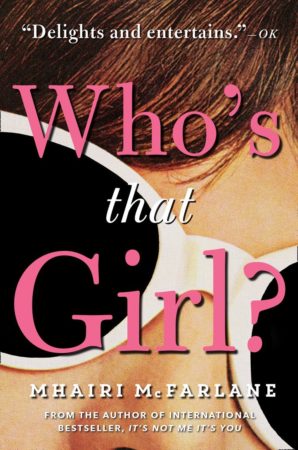 Who's That Girl
by
Mhairi McFarlane
Published by
Harper
Publication date:
September 6, 2016
Genres:
Romantic Comedy
544 pages pagesFormat:
eARC
Source:
Publisher
A laugh-out-loud romance from the author of the bestselling YOU HAD ME AT HELLO

When Edie is caught in a compromising position at her colleagues' wedding, all the blame falls on her – turns out that personal popularity in the office is not that different from your schooldays. Shamed online and ostracised by everyone she knows, Edie's forced to take an extended sabbatical – ghostwriting an autobiography for hot new acting talent, Elliot Owen. Easy, right?

Wrong. Banished back to her home town of Nottingham, Edie is not only dealing with a man who probably hasn't heard the word 'no' in a decade, but also suffering an excruciating regression to her teenage years as she moves back in with her widowed father and judgy, layabout sister.

When the world is asking who you are, it's hard not to question yourself. Who's that girl? Edie is ready to find out.
Affiliate Disclosure: This post contains affiliate links. In plain English, this means that I may receive a small commission (at no cost to you) if you purchase something through the links provided. This small income goes back into my blog, so I can continue to create fun content for you. I appreciate my readers and make it my goal to be upfront and honest. Thank you for supporting my blog!
Who's That Girl is the first book I've read by Mhairi McFarlane. More than just a romantic comedy, McFarlane takes readers on a funny and emotional journey through Edie's life after a social disaster, exploring themes of family, friendship, and of course, love. As an added bonus, some of the side characters were wonderful! (Read the synopsis!)
I really liked Edie a lot. I have such admiration for characters who have a quick wit and she was definitely one of those characters. Well-intentioned and relatable, the unfortunate—and at times, fortunate—predicaments Edie found herself in were so much fun to read. Though, I did think it was a little unrealistic at how oblivious she was to Elliot for so long (more on that later).
Elliott was so freaking adorable, you guys! If you like beta heroes, he is a good one! I really liked how sensitive he was to Edie's plight and was always making sure she was okay. There was a scene where Edie was feeling rather dreadful and he freaking carried her to his trailer. You'd have to read it to understand my swoons, but it was rather sweet. I swooned. I did.
"Can I see you tomorrow? Can I see you constantly? Can I see you with no clothes on again?
Perhaps my favorite character is Margot, the quirky, former actress, high-functioning drinker, and much older next-door neighbor (yeah, that's a lot). Edie bonds with her from the first moment she puts Meg (Edie's annoying sister) in her place. What follows is a friendship between them and visits, during which Margot imparts some great advice to Edie, who's struggling to figure out what she wants with her work, love, and family life. Here are some of her one-liners:
"You're young and beautiful, why not have a go at this boy while you're at it? Might liven him up. Or is he a homosexual? Sadly true of so many of the exquisite ones."
"Oh I didn't, is it your birthday? How marvellously timed, then. Which one is it?"
"Thirty-six," Edie said, reluctantly.
"Don't tell me the truth. Don't tell anyone the truth. You can pass for twenty-eight on a cloudy day, I'd say. Stick there until you're forced to go to thirty-four."
"Don't waste the young and beautiful years being anxious, darling. There's plenty of old and ugly ones coming."
Sparks fly between these Elliot and Edie gradually over interviews for Elliot's book. It felt completely organic, which I loved—two humans who connected on every level just talking and getting to know each other. Elliot had this self-deprecating side to him, which only made me love him more. This only contributed to his hesitancy towards being more direct with Edie. Likewise, Edie had her own personal doubts on how he felt. These two were a freaking pair. I really liked them together.
"Friends, I won't lie, it is weird sometimes. It makes you appreciate that thing about how you 'can't make new old friends'. Your best mates know you're still you and if you disappeared up your arse they'd let you know. You just have to still be able to hear it. New friends are trickier. The question of whether they'd still laugh at your jokes if you worked in Greggs is always there, hovering. You need to have good instincts. And you discover there's a strange subcategory—your in this category, although it's mainly male…"
Edit sat up straighter: "What? How?"
"People who pre-dislike you because they're so sure they're going to dislike you, they may as well get it over with. Frustratingly, they're often the smart people you'd quite like to like you."
"Say that we 'wanted different things'. She wanted to carry on being a petulant wazzock and I wanted to fire her into the heart of the sun. Also put 'she's a free spirit, I don't think anyone will ever be able to tie her down' as a euphemism for about as a faithful as a bonobo monkey."
McFarlane could have gone down the road to clichéville with this storyline but she didn't. Instead, she made the "normal girl falling in love with a movie star" plot seem fresh and new with the layered subplots and interesting side characters. Blended together with a slow-burning love story, we meet Edie and Elliott's families. Both families have their own struggles and in the end grow close together as they work through them. I liked that the focus of this book wasn't so much on Elliott's stardom but rather his family.
What keeps me from rating it higher is that the book was extremely long—topping out at over 500 pages—and I wasn't always compelled to pick it back up again after putting it down. The book was really bottom heavy with the romance; things didn't really pick up in that department until the last 15% or so. The ending felt really rushed. I wished some of the middle section had been condensed and the events towards the ending would have happened a little sooner. There was so much middle material that seemed to drag on.
I also thought Meg's character (Edie's younger sister) was too much like a caricature and over-exaggerated. She didn't seem like a real person to me for most of the book, since she had every single cliché of a vegan, hippie, and a hipster combined into one person.
This is not a criticism at all but more as a note to readers: There is a lot of British terminology and slang in this book, some of which went over my head. It didn't bother me in the slightest. But I think I would have caught on to some of the humor and references had I known what they meant.
I really look forward to reading YOU HAD ME AT HELLO soon. It sounds really good. Read more about that one here.
* I received an advance copy from the publisher in exchange for an honest review.