"This and That" is a feature to showcase books that I think sound similar or have similar themes and would recommend to someone who is a fan of the "this book."  Often times, I may not have read the "that" book, but I think fans of the "this" book might like it based on the synopsis or others' reviews.

About the Books: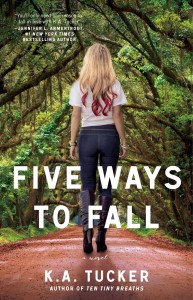 FIVE WAYS TO FALL by K.A. Tucker
Sometimes you can't change—and sometimes you just don't want to. Discover Ben's side of the story in this fourth novel by the beloved, top-selling indie author of Ten Tiny Breaths, One Tiny Lie, and Four Seconds to Lose.
Purple-haired, sharp-tongued Reese MacKay knows all about making the wrong choice; she's made plenty of them in her twenty-odd-years. So when her impulsive, short-lived marriage ends in heartbreak, she decides it's time for a change. She moves to Miami with the intention of hitting reset on her irresponsible life, and she does quite well…aside from an epically humiliating one-night stand in Cancun with a hot blond bouncer named Ben. Thank God she can get on a plane and leave that mistake behind her.
Football scholarship and frat parties with hot chicks? Part of charmer Ben Morris's plan. Blown knee that kills any hope of a professional football career? So not part of the plan. Luckily Ben has brains to go with his knockout looks and magnetism. After three long years of balancing law school with his job as a bouncer at Penny's Palace, he's ready to lead a more mature life—until his first day of work, when he finds himself in the office of that crazy, hot chick he met in Cancun. The one he hasn't stopped thinking about.
If Ben truly were a smart guy, he'd stay clear of Reese. She's the boss's stepdaughter and it's been made very clear that office romances are grounds for dismissal. Plus, rumor has it she's trouble. The only problem is, he likes trouble, especially when it's so good-looking…
FIVE WAYS TO FALL by K.A. Tucker
Amazon: US • UK • CAN | iBooks | GR
Read my Review
---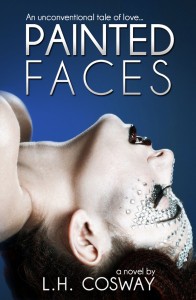 PAINTED FACES by L.H. Cosway
Come forth with an open mind, for an unconventional tale of love..
Dublin native Freda Wilson considers herself to be an acquired taste. She has a habit of making offensive jokes and speaking her mind too often. She doesn't have the best track record with first impressions, which is why she gets a surprise when her new neighbour Nicholas takes a shine to her.
Nicholas is darkly handsome, funny and magnetic, and Freda feels like her black and white existence is plunged into a rainbow of colour when she's around him. When he walks into a room he lights it up, with his quick wit and charisma. He is a travelling cabaret performer, but Freda doesn't know exactly what that entails until the curtains pull back on his opening night.
She is gob-smacked and entirely intrigued to see him take to the stage in drag. Later on, Nicholas asks her if she would like to become his show assistant. Excited by the idea, she jumps at the chance. Soon she finds herself immersed in a world of wigs, make-up and high heels, surrounded by pretty men and the temptation of falling for her incredibly beautiful employer.
In this story of passion and sexual discovery, Nicholas and Freda will contend with jealousy, emotional highs and lows, and the kind of love that only comes around once in a lifetime.
PAINTED FACES by LH. Cosway
Amazon: US • UK • CAN | iBooks | GR
Read my Review
---
The Why:
If you've read either of these books, then you know that both couples are so funny and charming! We first met Ben from Five Ways to Fall in K.A. Tucker's Ten Tiny Breaths. He's a playboy with a sense of humor. He finally meets his match in Reese. She's equally hilarious and doesn't put up with his crap.
In Painted Faces, L.H. Cosway introduces readers to an unconventional love story between a drag queen and baker. The banter between them is so great and their chemistry is on fire! I'd totally recommend either book if you're looking for couples you'll fall in love with while laughing.
✥ ✥ ✥ ✥
Do you have any This & That pairings that you'd like to share?