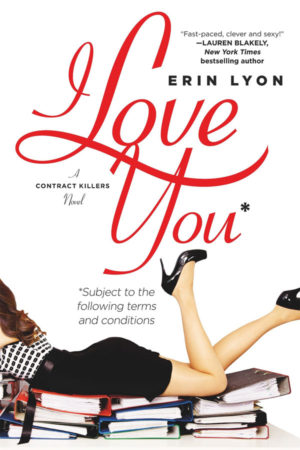 I Love You Subject to the Following Terms and Conditions
by
Erin Lyon
Series:
Contract Killers #1
Published by
Forge Books
Publication date:
January 10, 2017
Genres:
Romantic Comedy
336 pagesFormat:
eARC
Source:
Publisher
27 Dresses meets Bridget Jones's Diary for the millennial set

In a world where marriage doesn't exist—only seven-year contracts—you don't marry, you sign. You don't divorce, you breach. And sometimes, you just expire.

Kate is struggling to find her footing. She gave up a career she hated to pursue the law, and now she's buried in debt and unemployed. At least she's signed to an amazing guy—hot, sweet, and committed.

Enter the contract killer, the man who pursues only signed women. No commitment, no hassle, all the fun. But Kate has enough fun on her plate… until her partner doesn't re-up their contract.

After an epic but well-deserved meltdown, Kate gets practical. She accepts a job with her uncle's law firm, practicing signing law—the one type of law she swore she'd never do. And the contract killer? Now that Kate is single, she's no longer his type, but he still wants to be friends. Yeah, that'll work. Kate may be heartbroken, but she's not impervious to this sexy, smart, and complex man. But hey, it looks like he may not be impervious to her either—signed or not.

Hilariously relatable, with biting wit and charm, The Contract Killers is 27 Dresses meets Bridget Jones's Diary for the millennial set.
Affiliate Disclosure: This post contains affiliate links. In plain English, this means that I may receive a small commission (at no cost to you) if you purchase something through the links provided. This small income goes back into my blog, so I can continue to create fun content for you. I appreciate my readers and make it my goal to be upfront and honest. Thank you for supporting my blog!
Well this book was a complete and pleasant surprise! Erin Lyon's debut is a unique and fresh twist on the "non-committal playboy who falls for the girl" storyline. It's addictive and sexy with a mix of humor! I could NOT put it down!
The novel is set in a sort of alternative version of our modern world where people don't get married; they sign contracts instead. The contracts run for 7 years and at the end, you can either re-up or cancel the contract and move on. Instead of divorces, there are breaches of contract. Sounds interesting, right?
So we have Kate, a 34-year old, who's just out of law school and happily signed with her partner, Jonathon. She gets passed over by someone else at the law firm where she interned and desperately needs a job. She meets this guy named Adam at a bar one night. He comes on pretty strong and she knows immediately what he is—a contract killer. Contract killers are guys who only go after those already signed. Why? Well, with someone signed they're already taken so he doesn't have to worry about relationships and signing.
Kate brushes him off but the two fall into an easy conversation and exchange numbers. Then Jonathon drops a bombshell on her by choosing to end their contract, forcing Kate to move in with her parents and reluctantly take a job at her uncle's firm practicing the one area of law she doesn't want to do—signing law.
Now that Kate's not signed, Adam still wants to hang out with her. And he's not dating anyone else. Things get complicated and there are some sizzling moments. I won't tell you anything else so you can read this book for yourself!
I really liked Kate a lot! She was funny, smart, and witty, and I felt like I could relate to her. When she made a bad choice, she would totally call herself on it. I really liked that she was totally self-aware, even when she was being an idiot. Adam is ridiculously attractive guy. He's successful, thoughtful, but also sort of mysterious and incredibly freaking stubborn. He has a more cynical view on love, contrasting with Kate's view on the subject, and doesn't really think signing is for him. I really liked his charisma and the protectiveness towards Kate that he really couldn't control. But good Lord, he is the king of mixed signals. I'm still rooting for you though, Adam.
Adam and Kate have a great connection and effortless way of talking with each other. Their text messages back and forth were really cute, and I just really liked them together. The chemistry was TOTALLY there. This book has one of the best kisses I've read in a long time—super steamy and made me feel giddy with excitement.
This book did have a small case of "every guy is attracted to this girl" vibe going on, which I did find slightly irritating. However, there's only one guy for Kate in her eyes (thankfully). It's definitely not a situation where Kate is torn between guys, stringing both along, and lying to herself in the process—I don't like that. Also, some of the things Kate said seemed a little immature, both in dialogue and her first-person narrative. Personally, I didn't find these things to be distracting. But I just wanted to let you know in case those things—especially the former—is a dealbreaker for you.
There are things that I could critique in this book—like how this book probably didn't need to be split up into two separate books—but for me the entertainment value in this book completely outweighed the issues I had with the book. I just really had a blast reading this book!
If you're a romance reader who enjoys their romance with a side of sharp wit and a whole lot of entertainment, then you need to read this! This book does end on a little bit of a cliffhanger but it was one I saw coming (and could mentally prepare) and it hurt so good! I had so much fun reading this one and am now DYING for the next book.
* Thank you to Forge Books for providing me with an advance copy for review. Receiving this book for free did not affect my opinion.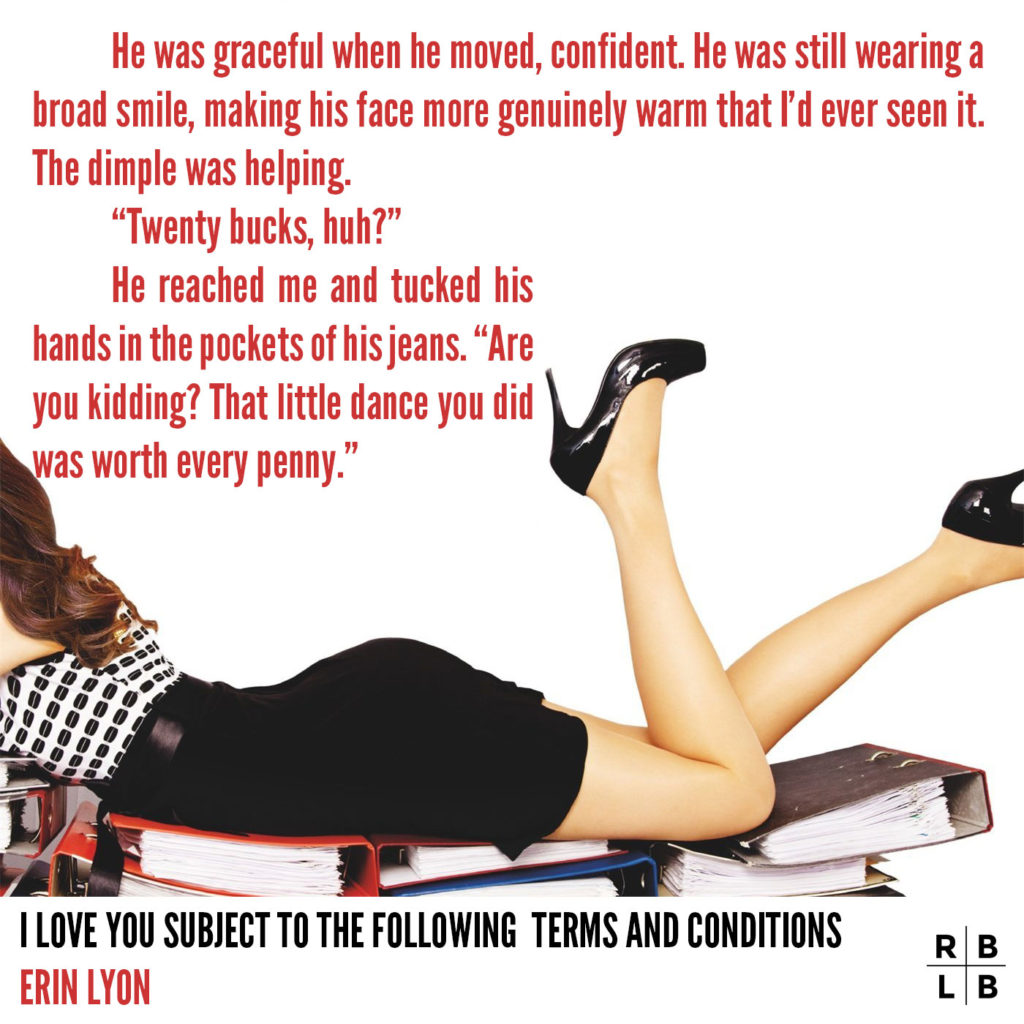 I have a fun interview with author Erin Lyon HERE!!
If you want a laugh, you MUST read the article Erin wrote here on "Why Lawyers Should Not Write Romance." She explains why her method of marriage would have saved these couples in classic literature a lot of grief. So funny!