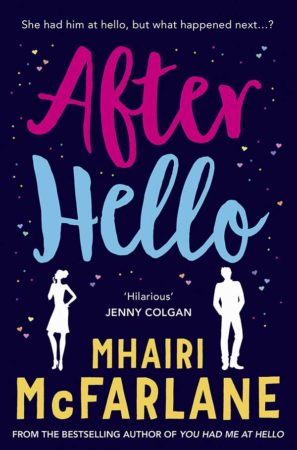 After Hello
by
Mhairi McFarlane
Series:
You Had Me At Hello #1.5
Published by
Avon
Publication date:
January 26, 2017
Genres:
Romantic Comedy
,
Women's Fiction
89 pages
A short story sequel to the bestselling romcom You Had Me At Hello!

In You Had Me At Hello, the one who got away came back… but what happened next?

Together, apart and then back together again, Rachel and Ben had a rollercoaster ride to get here. But now happily in love and partners in crime once more, it feels like it's all been worth it.

But when a face from the past reappears, misunderstandings come between them once more.

Can they hold on to their happy ever after?
Affiliate Disclosure: This post contains affiliate links. In plain English, this means that I may receive a small commission (at no cost to you) if you purchase something through the links provided. This small income goes back into my blog, so I can continue to create fun content for you. I appreciate my readers and make it my goal to be upfront and honest. Thank you for supporting my blog!
***** Spoiler warning: Do not read this review if you haven't read You Had Me At Hello *****
I was dying to know what was next for Ben and Rachel after I last few lines of YOU HAD ME AT HELLO. If you were in the same boat as me, AFTER HELLO gives you a little of what you want. And the best part is that it's FREE (as of the time of posting this review).
Flash forward two years later, Ben and Rachel are homeowners. They're not married and enjoying being together. Rachel really wants to take that next step but does Ben?
There was a bit of manufactured conflict that I didn't love as much. But honestly I sort of expected it because it can be boring to read 100 pages of a blissfuly happy couple. I needed this book so much!I wasn't ready to let go of Ben and Rachel just yet. This book gives the reader the big sigh of relief you didn't get in You Had Me At Hello. I loved seeing Mindy and Igor get married. The ending of this book had me smiling like an idiot and really tied the two books together in a beautiful way.