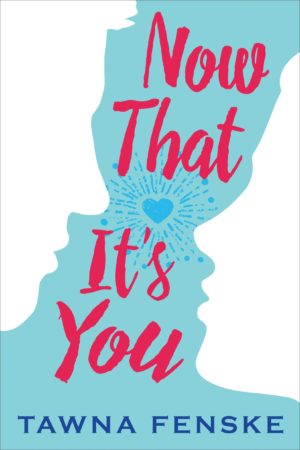 Now That It's You
by
Tawna Fenske
Published by
Montlake Romance
Publication date:
September 6, 2016
Genres:
Romantic Comedy
313 pagesFormat:
eARC
Source:
Publisher
Talented chef Meg Delaney hasn't spoken to her cheating ex-fiancé, Matt Midland, for two years. Ditching him at the altar after blurting out "I can't" instead of "I do" would sour any relationship. But now, just as Meg is finally ready to bury the hatchet, she learns closure is permanently off the menu. And the kicker? Matt's brother, Kyle, is back in her life, stirring up feelings that are equal parts guilt and lust.

Meg was the best thing that never happened to Kyle. He couldn't make a move on his brother's girlfriend—even if Matt didn't value her nearly enough. The situation is even more complicated now that Meg's bestselling aphrodisiac cookbook has spawned a legal battle with the Midlands. Maybe he should stay away. But love, like family, plays by its own rules. And the one woman he shouldn't want might be the only one who's perfect for him.
Affiliate Disclosure: This post contains affiliate links. In plain English, this means that I may receive a small commission (at no cost to you) if you purchase something through the links provided. This small income goes back into my blog, so I can continue to create fun content for you. I appreciate my readers and make it my goal to be upfront and honest. Thank you for supporting my blog!
One of the things that attracted me to NOW THAT IT'S YOU was the storyline: a guy falling in love with his brother's ex-fiancée. I was in the mood for something fun, so I decided to give this a go. This book had a few fun moments, but I really didn't care for the story after the lawsuit plotline was introduced.
The writing was okay. There were a couple moments in the beginning that seemed a little too convenient (i.e.Kyle finding Meg's balloons, Kyle finding Meg near the lake). I appreciated the time the author took to build the romantic relationship. But the ending and resolution felt really rushed to me. This book is billed as a romantic comedy, but I didn't really find it that funny. Maybe a better description of it is a lighthearted romance that deals with family issues.
The parts that I did enjoy were the sweet romantic moments between Kyle and Meg. Kyle was endearing at times and maddening at times. He was so attentive and attuned to Meg, which made me really root for him. But my feelings for him diminished after what he did in the end. It was sort of a jerk move. I really liked Meg. She's had to work for everything she has, but I really wanted her to stick up for herself, especially to Sylvia (Kyle and Matt's mom).
With comedies, sometimes certain characters' character traits are exaggerated for comedic value. Normally, this doesn't bother me if it's done with a good amount of nuance and is necessary. Sylvia was the villain in this story and her actions were so overly cruel to the point that she didn't seem real. She had the absolute inability to see a situation from other sides. It didn't seem believable to me that she would channel her grief in the way that she did.
It was nearly impossible for me to completely empathize with Matt, and therefore, I couldn't excuse the actions his family took after his death. Had I been able to fully feel the sadness the author wanted to convey, I think I would have enjoyed the book a little bit more. My lack of empathy only heightened the need for Meg to stick up for herself, which didn't really happen. Meg is left with a moral quandary: fight for her own interests or do right by Matt and his family.
This book has its sweet and sexy moments, served up in a fun way with a LARPing scene and a super awkward wake. If it interests you, give it a go. You may enjoy it more than I did.
* I received an advance copy from the publisher in exchange for an honest review.