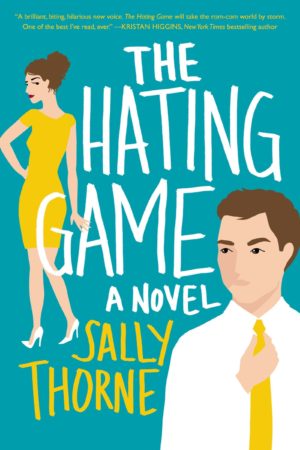 The Hating Game
by
Sally Thorne
Published by
William Morrow Paperbacks
Publication date:
August 9, 2016
Genres:
Romantic Comedy
384 pagesFormat:
eBook
Source:
Borrowed
Debut author Sally Thorne bursts on the scene with a hilarious and sexy workplace comedy all about that thin, fine line between hate and love.

Nemesis (n.) 1) An opponent or rival whom a person cannot best or overcome.
2) A person's undoing
3) Joshua Templeman

Lucy Hutton has always been certain that the nice girl can get the corner office. She's charming and accommodating and prides herself on being loved by everyone at Bexley & Gamin. Everyone except for coldly efficient, impeccably attired, physically intimidating Joshua Templeman. And the feeling is mutual.

Trapped in a shared office together 40 (OK, 50 or 60) hours a week, they've become entrenched in an addictive, ridiculous never-ending game of one-upmanship. There's the Staring Game. The Mirror Game. The HR Game. Lucy can't let Joshua beat her at anything—especially when a huge new promotion goes up for the taking.

If Lucy wins this game, she'll be Joshua's boss. If she loses, she'll resign. So why is she suddenly having steamy dreams about Joshua, and dressing for work like she's got a hot date? After a perfectly innocent elevator ride ends with an earth shattering kiss, Lucy starts to wonder whether she's got Joshua Templeman all wrong.

Maybe Lucy Hutton doesn't hate Joshua Templeman. And maybe, he doesn't hate her either. Or maybe this is just another game.
Affiliate Disclosure: This post contains affiliate links. In plain English, this means that I may receive a small commission (at no cost to you) if you purchase something through the links provided. This small income goes back into my blog, so I can continue to create fun content for you. I appreciate my readers and make it my goal to be upfront and honest. Thank you for supporting my blog!
I freaking love enemies-to-lovers stories, so I was delighted when I read the synopsis for Sally Thorne's debut, THE HATING GAME. Even though I read this book nearly in one sitting, it wasn't a complete hit for me. Thorne writes characters with great chemistry, but without a meatier plot, the book felt hollow.
Joshua and Lucy are in a battle of wills and pride. As the assistants to the co-leads of the recently-merged Bexley & Gamin publishing house, they see each other day in and day out. Everyday is a competition, a game. Lucy is determined to win at this long, drawn-out game between them but is thrown for a loop when Josh surprises her, taking her far out of the comfort of their game. He kisses her. Lucy's feelings are all over the place.
This book has so many qualities that I enjoy in fun, light romances, and I can definitely see the allure and appeal to many readers. It's utterly charming, with a hero who challenges the broodiness of Mr. Darcy and Mr. Rochester. The hero and heroine have ridiculous romantic chemistry. The first kiss scene was one that had me giddy with excitement!
I love this classic trope so much, but I needed more actual plot and conflict in this book other than "I hate him so I can't be with him. OMG I don't think I hate him. Does he like me back?" Toss in some fun romantic teases and a steamy scene towards the end and that's the whole story. While I'm on the subject of hate, I didn't understand the reason why they hated each other in the first place. I think we're supposed to believe that it's because of the pseudo-rivalry between the two newly merged publishers but the reason isn't very clear.
Lucy is clearly very intelligent, as she's an assistant to a publishing executive. But she's so incredibly oblivious to Josh's romantic advances, and some of her behavior borders on immature. Josh did not try to hide his feelings after their first kiss and yet it took her hundreds of pages to realize his feelings. And even when he lays it all out she's still all, "Me? *bats eyes* Me? Really?"
I also had some issues with the length, editing, and repetitiveness. Josh's blue eyes and perfectly muscled body are mentioned countless times, as though the reader could forget. The issues with Josh's family are used as a way to add some semblance of tension in the latter part of the book since the romance conflict was weak but it failed. Josh's issues with his family were easy to glean from not-so-subtle hints thrown in early on in the book.
You may enjoy this one more than I did. I found the first quarter to be really charming, but once I realized there wasn't going to be much else happening with the plot, I became restless with all the sameness. This is another book where I felt slightly book depressed over its potential, especially considering the charming writing style and characters with great romantic chemistry.
* I borrowed this book from my local library.