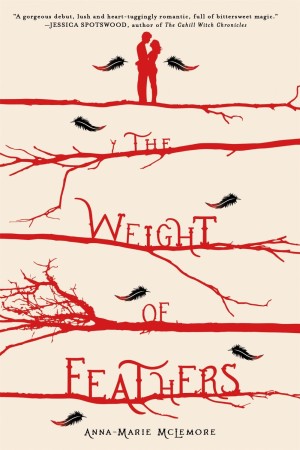 The Weight of Feathers
by
Anna-Marie McLemore
Published by
Macmillan
,
St. Martin's Griffin
,
St. Martin's Press
,
Thomas Dunne
Publication date:
September 15, 2015
Genres:
Contemporary Romance
,
Young Adult
320 pagesSource:
ARC via publisher
For twenty years, the Palomas and the Corbeaus have been rivals and enemies, locked in an escalating feud for over a generation. Both families make their living as traveling performers in competing shows—the Palomas swimming in mermaid exhibitions, the Corbeaus, former tightrope walkers, performing in the tallest trees they can find.

Lace Paloma may be new to her family's show, but she knows as well as anyone that the Corbeaus are pure magia negra, black magic from the devil himself. Simply touching one could mean death, and she's been taught from birth to keep away. But when disaster strikes the small town where both families are performing, it's a Corbeau boy, Cluck, who saves Lace's life. And his touch immerses her in the world of the Corbeaus, where falling for him could turn his own family against him, and one misstep can be just as dangerous on the ground as it is in the trees.

Beautifully written, and richly imaginative, The Weight of Feathers is an utterly captivating young adult novel by a talented new voice.
Affiliate Disclosure: This post contains affiliate links. In plain English, this means that I may receive a small commission (at no cost to you) if you purchase something through the links provided. This small income goes back into my blog, so I can continue to create fun content for you. I appreciate my readers and make it my goal to be upfront and honest. Thank you for supporting my blog!
Book Review:
What initially drew me into this book was its comparison to a modern-day Romeo and Juliet. And the story did turn out to be like that in some aspects with the two dueling families. However, this book missed the mark for me completely. I had a lot of difficulty getting into the story and it was honestly a struggle for me to finish this one.
The Palomas and Corbeaus are two families of traveling performers who have hated each other for a generation. Their fued goes back to a disaster that resulted in a death and each family points the blame on the other. The Palomas are mermaids whose girls dress in elaborate fin-like costumes. The Corbeaus are known for their astounding treeclimbing abilities.
Lace had saved Cluck from being beaten by her cousins. Though, at the time, neither knew the other was from the other family. Cluck pays the favor back by saving Lace from a chemical rainstorm that caused cotton to fuse to her body. This left her with raw skin and something else more mysterious. A brand of sorts. The Corbeaus' trademark feather was inexplicably seared into her skin.
Once her family saw this burn, they she was forced to leave. With nowhere to go, Lace runs to find Cluck to thank him for saving her. In turn, he hires her to do make up for their act. Though Cluck still has no idea who Lace really is.
I had issues with several aspects of this book. First, the writing style was really disjointed. While the author did a good job at describing the setting and characters' lives in vivid detail, I really needed more clarity in other areas. Even after I've finished the book, I still am not really clear on what it is the mermaids or the treeclimbers do or what the spectators are actually watching.
Second, I'm all for subtlety in writing, but I felt like the author required me to make several inferences to reach the final conclusion. I don't need authors to spoonfeed me material in order for me to understand it. However, I had to reread several passages more than once to completely grasp either what the author wanted me to glean from it or what the significance was.
I almost felt like this story suffered from too much going on at one time. In the first 60+ pages, the characters met once. Then there was a chemical rain storm after a nearby chemical plant exploded, leaking dangerous adhesive chemicals that reacted with cotton. Conveniently, a member of the Corbeau family used to work at the factory and knew enough to warn the audience. This even was used as a way for Cluck, the hero, to save Lace, the heroine, from her skin melting off. It just seemed far-fetched, even with the magical realism.
I had a hard time with this book from start to finish. The romance wasn't really anything special and I didn't find myself particularly attached to any of the characters. This is a standalone, so if you're looking for a unique young adult romantic standalone, you might like this one. Though, it won't be one that I'll be rereading.
1 star
* I received a copy from the publisher in exchange for an honest review.