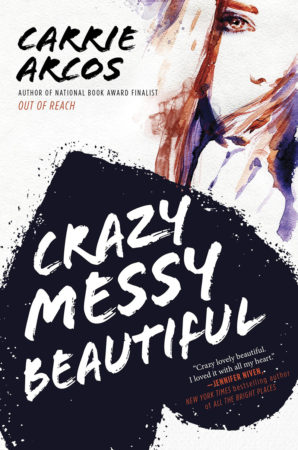 Crazy Messy Beautiful
by
Carrie Arcos
Published by
Philomel Books
Publication date:
February 7, 2017
Genres:
Coming of Age
,
Young Adult
320 pagesFormat:
ARC
Source:
Publisher
A story of not getting the girl, yet finding something else just as fulfilling.

When your namesake is Pablo Neruda—the greatest love poet of all time—finding "the one" should be easy. But for sixteen-year-old Neruda Diaz, it's anything but. He's fallen in love many times—seven to be exact. So, he figures, it's only a matter of time before someone loves him back.

Callie could be that someone! She's nothing like the girls Neruda typically falls for, which he considers a good sign. He's thrilled when they become partners on a school assignment. But as they work together and develop an appreciation for the other's artistic abilities—and each other—Neruda realizes there's one kind of romance he's never considered: a love born from friendship. With his better half in reach and artistic ambitions on track, everything is finally coming together, until Neruda is blindsided by the messy, complicated nature of love—and art—in more ways than one. And when the relationships he's looked to for guidance threaten to implode, Neruda must confront the reality that real love—and art—is crazy, messy, beautiful, and riskier than just saying the words.

A refreshing perspective on love that is anything but a love story, with highs and lows that reflect the tumultuous nature of teen romance, this is a novel for anyone who's ever fought for that hard-won happily ever after.
Affiliate Disclosure: This post contains affiliate links. In plain English, this means that I may receive a small commission (at no cost to you) if you purchase something through the links provided. This small income goes back into my blog, so I can continue to create fun content for you. I appreciate my readers and make it my goal to be upfront and honest. Thank you for supporting my blog!
Critically acclaimed author Carrie Arcos's newest novel features an endearing hero looking for his one true love. In this unconventional story of friendship and love, we meet Neruda who falls hard for Callie as they work on an English project. But does she feel the same way?
Like all tragic love stories, she left me….for kindergarten at a different school. On the last day together, Ella gave me a kiss on the cheek. I was embarrassed and ran and hid from her refusing to come out and say good-bye.
I never saw her again.
There is something so incredibly endearing about Neruda and his view on life. His namesake, Pablo Neruda, is widely known for his intoxicating and lush views on love, romance, and soul mates. Neruda follows suit and believes that if he can just find love, he will have it all. But in real life, sometimes love isn't the end all be all or the end result.
Because Pablo Neruda was not just one of the greatest love poets.
He was The Greatest Love Poet of all time.
I, on the other hand, am the unluckiest in love. It's not for lack of trying. So far I'm about zero for seven, the names of the girls written on my heart like the scars I can still recall on Ella's knee—Marisol, Stephanie, Jessi, Angela, Trinity, and Elise.
Carrie Arcos's writing is quite beautiful. Being in Neruda's perspective, his romanticized views on love as well as his artistic side lends itself to descriptive prose and some beautifully introspective moments.
At the heart of the book is the friendship slowly formed between Neruda and Callie. The two are paired together for an English project where they have to do reports on each other. But soon both realize that they're just hanging out with each other and not just for the project. In a small way, the way their friendship formed reminded me a bit of Josh and Nasyta from The Sea of Tranquility—a bond formed that neither of them really wanted but it happened anyway.
Neruda goes through a character change from beginning to end, with his views on life shifting slightly through his experiences, a coming-of-age novel through and through. I really liked seeing him parse through everything, as he is put in a difficult position with his parents.
"…secrets are insidious things. The truth wants to be found out."
This is a very character-driven story but I felt like the plot was almost a little too sparse. The characters were interesting but not enough for their interactions to carry the story without more going on. There was also a plot point that I found completely unbelievable and I couldn't' suspend disbelief. Three years prior, Neruda had started writing a prisoner as part of a school pen pal project. Now this prison is out and they're best friends. I had a really hard time believing that any school would be able to get such a program going without legal repercussions and questions of safety. I know not all prisoners are dangerous but it didn't seem probable in today's day and age.
The ugliest, hardest, meanest men cry when they think no one can hear. They would be ashamed if the knew others could hear, but through all these years, I've clung to that sound because it gives me hope. Makes me realize we are all the same in the middle of the night, fighting against the great tide of loneliness that threatens to drown us. All longing for someone to hear, to truly know us as we are.
*  Thanks to Philomel Books for providing me with an early copy for an honest review.