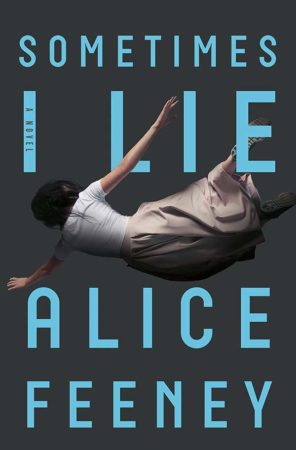 Sometimes I Lie
by
Alice Feeney
Series:
Sometimes I Lie #1
Published by
Flatiron Books
Publication date:
March 13, 2018
Genres:
Mystery
,
Thriller
Length:
9 hours and 26 minutes
288 pagesFormat:
ARC
Source:
Publisher
My name is Amber Reynolds. There are three things you should know about me:
1. I'm in a coma.
2. My husband doesn't love me anymore.
3. Sometimes I lie.

Amber wakes up in a hospital. She can't move. She can't speak. She can't open her eyes. She can hear everyone around her, but they have no idea. Amber doesn't remember what happened, but she has a suspicion her husband had something to do with it. Alternating between her paralyzed present, the week before her accident, and a series of childhood diaries from twenty years ago, this brilliant psychological thriller asks: Is something really a lie if you believe it's the truth?
Affiliate Disclosure: This post contains affiliate links. In plain English, this means that I may receive a small commission (at no cost to you) if you purchase something through the links provided. This small income goes back into my blog, so I can continue to create fun content for you. I appreciate my readers and make it my goal to be upfront and honest. Thank you for supporting my blog!
When I read the tagline for this book last year, I knew I HAD to read SOMETIMES I LIE! Check it out:
"My name is Amber Reynolds. There are three things you should know: 1. I'm in a coma. 2. My husband doesn't love me anymore. 3. Sometimes I lie."
This slow-building psychological thriller is led by the ever-popular unreliable narrator, leading the reader to question the veracity of her every thought. The mystery of what led Amber to her coma kept me reading but ultimately the abundance of unbelievable twists during the second half of the book made the plot feel convoluted and took me out of the story.
After a horrible accident she doesn't remember, Amber is trapped inside her own body. Left to her own thoughts and the voices of those around her, she tells the story of the week prior and her childhood. Lately, her husband has been unusually distant and secretive, causing Amber's fragile mental state to further deteriorate. Plus, her job as a radio personality is suddenly unstable after she finds out her boss wants to fire her unless she turns things around. Her sister, Claire, has been strangely flirty with her husband. And perhaps most troubling, her college boyfriend who she dumped without a goodbye, has returned and his intentions appear to be more sinister.
What I liked about the book was that there were several sources of tension in Amber's life. As she takes the reader through a journey through her childhood, we're left to wonder what connection this story could have to the present storyline. Who is responsible for Amber's accident? Or did she do this to herself? So many questions. I liked how the author peeled back the layers of her life, giving the reader the space to piece together the piece of the puzzle.
I've read some really clever psychological suspense thrillers over the last few years (see here, here and here). What Sometimes I Lie lacked was the kind of light hand and subtle touch that balances entertainment and shock value. Without giving too much away, there are a couple big twists in this one. For me, I figured the first big twist out pretty early on, but that's not my gripe. Once the first mind-bender was revealed, we were then given twist after turn after revelation throughout the remainder of the novel. It felt like I had psych thriller whiplash (and not the good kind). It was too much to the point of pushing my limit of believability. All of this just felt like the author was trying way to hard to shock the reader and create "gotcha" moments, instead of crafting a cunning and smart thriller.
The ending of Sometimes I Lie is somewhat confusing and open-ended, leaving room for an entirely unnecessary sequel. Lo and behold, it seems like we're getting a sequel (title here). I'm not the only reader who was left feeling frustrated and scratching their head. EDIT Jul 9 2019, it looks like Feeney's upcoming title is not a sequel. We'll see. To me, the ending was yet another form of manipulation from the author that felt unnatural and heavy-handed. My frustration is complicated by the book's potential to be great. It had a enticing hook and it had the bones to be fantastic. I just wish we would have been given far less junk in the last half.
Audiobook Comments:
I loved the audiobook production of this book. While I didn't love the book itself, I really enjoyed the narrator's performance. This is the first time listening to Stephanie Racine's narration and she's one who I wouldn't hesitate to listen to again. Very entertaining listen performance-wise!
* Thanks to Macmillan Audio and Flatiron books for providing me with early copies for review. Receiving this book for free did not affect my opinion or review.