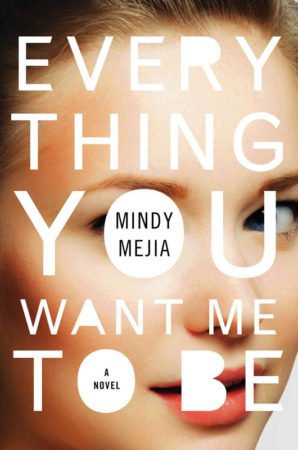 Everything You Want Me To Be
by
Mindy Mejia
Published by
Emily Bestler Books
Publication date:
January 3, 2017
Genres:
Suspense
,
Thriller
352 pagesFormat:
ARC
Source:
Publisher
Full of twists and turns, Everything You Want Me to Be reconstructs a year in the life of a dangerously mesmerizing young woman, during which a small town's darkest secrets come to the forefront...and she inches closer and closer to her death.

High school senior Hattie Hoffman has spent her whole life playing many parts: the good student, the good daughter, the good citizen. When she's found brutally stabbed to death on the opening night of her high school play, the tragedy rips through the fabric of her small town community. Local sheriff Del Goodman, a family friend of the Hoffmans, vows to find her killer, but trying to solve her murder yields more questions than answers. It seems that Hattie's acting talents ran far beyond the stage. Told from three points of view—Del, Hattie, and the new English teacher whose marriage is crumbling—Everything You Want Me to Be weaves the story of Hattie's last school year and the events that drew her ever closer to her death.

Evocative and razor-sharp, Everything You Want Me to Be challenges you to test the lines between innocence and culpability, identity and deception. Does love lead to self-discovery—or destruction?
Affiliate Disclosure: This post contains affiliate links. In plain English, this means that I may receive a small commission (at no cost to you) if you purchase something through the links provided. This small income goes back into my blog, so I can continue to create fun content for you. I appreciate my readers and make it my goal to be upfront and honest. Thank you for supporting my blog!
"Ordinary men commit extraordinary evil all the time."
EVERYTHING YOU WANT ME TO BE is in all sense of the word a page-turner. I couldn't put this book down. If it wasn't for work and personal obligations, I would have read this book from start to finish without eating. Mindy Mejia's suspenseful murder mystery is full of the unexpected and I couldn't read it fast enough.
Hattie Hoffman is found brutally murdered in an abandoned barn, her face mutilated beyond recognition. Her murder sends shockwaves through her hometown of Prairie Valley. Who could have killed Hattie? Just the night before, she starred in the school's production of Macbeth. Was the curse of McBeth responsible? Everyone is perplexed, including her parents and her friends.
Macbeth was pure carnage fueled by greed and madness and revenge. The Bard always reveals our natures an din this play he said that in the right situation, with the right motive, all of us are murdering monsters.
What really makes this book so deliciously addictive was the way the story is presented to you. The book rewinds to the beginning of the school year and counts down to when Hattie's body was found. Hattie and Peter narrate the past chapters, while Del, the sheriff, takes the reader through the investigation. Through Hattie herself, you learn that she had many secrets and she isn't the person everyone thought she was. Meanwhile, you learn about Peter's, the school's new young English teacher and director of the school play, role in all of this and his troubled marriage.
The local sheriff, Del, leads the investigation. He's definitely a good ole boy and you just can't help but feel endeared to him. I think he may have been my favorite character. He lives alone and is divorced and he truly lives and breathes his job. Hattie's murder hits him especially hard because Hattie father, Bud, is his best friend.
Hattie is definitely an interesting character. She's caught in that period of self-discovery where she's trying to figure out who she wants to be versus what everyone else wants from her. I can't decide if she was a manipulative psychopath or just a troubled teenager unequipped with proper coping mechanisms. She took her love acting from the stage into her real life and morphed into the person she thought everyone wanted from her, only revealing her true self to one person.
"You play teacher's pet with every single staff member I've talked with and they all think you're going to major in their field. And I can't find one hint that any of it bothers you. You say you're acting, but you're fracturing yourself into a thousand pieces, and every time I see another piece, you're gone again. You turn into someone else, a crowd of someone else's, and it makes me wonder if there's any such thing as Hattie Hoffman."
Like with Hattie, I'm not sure if I liked Peter, wanted to slap him, or felt sorry for him. Perhaps it's a mix of all three. He makes some terrible decisions, all likely made out of his unhappiness, impulsivity, and sheer desire to be wanted by someone else.
What happens to him—what could happen to all of us?—if we pursue our darkest desires? What do we lose of ourselves when we cross that line? What does it cost those around us?
This story is a fantastic whodunit! There are so many suspects, motives, and uncovered secrets waiting to be revealed. Mejia had me guessing until the very end.
* Thanks to Emily Bestler Books for providing me with an early copy for review. Receiving this book for free did not affect my opinion.
You might also like: Sunday Morning Book Chat – 2 Books You MUST Read (One Had the BEST KISS EVER)!