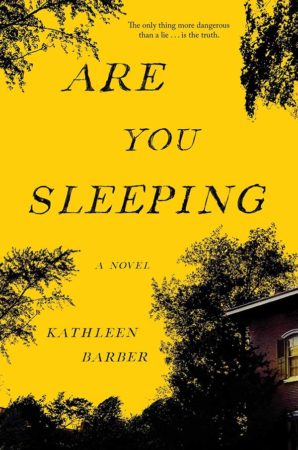 Are You Sleeping
by
Kathleen Barber
Published by
Gallery Books
Publication date:
August 1, 2017
Genres:
Thriller
Length:
9 hours and 45 minutes
336 pagesFormat:
eBook
Source:
Publisher
The only thing more dangerous than a lie...is the truth.

Josie Buhrman has spent the last ten years trying to escape her family's reputation and with good reason. After her father's murder thirteen years prior, her mother ran away to join a cult and her twin sister Lanie, once Josie's closest friend and confidant, betrayed her in an unimaginable way. Now, Josie has finally put down roots in New York, settling into domestic life with her partner Caleb, and that's where she intends to stay.

The only problem is that she has lied to Caleb about every detail of her past—starting with her last name.

When investigative reporter Poppy Parnell sets off a media firestorm with a mega-hit podcast that reopens the long-closed case of Josie's father's murder, Josie's world begins to unravel. Meanwhile, the unexpected death of Josie's long-absent mother forces her to return to her Midwestern hometown where she must confront the demons from her past—and the lies on which she has staked her future.
Affiliate Disclosure: This post contains affiliate links. In plain English, this means that I may receive a small commission (at no cost to you) if you purchase something through the links provided. This small income goes back into my blog, so I can continue to create fun content for you. I appreciate my readers and make it my goal to be upfront and honest. Thank you for supporting my blog!
Kathleen Barber's ARE YOU SLEEPING blends two formats together: the true crime podcast and a psychological thriller. Readers who are fans of true crime podcasts may want to give this book a try. I felt this novel was missing something, either unique plot and/or riveting characters.
I can't imagine going through what Lanie and Jo went through as teenagers. At fifteen, their father was murdered in their own home. Lanie discovered his bother and allegedly saw the intruder gun down her father. She says it was their next door neighbor, a troubled teen named Warren Cave, who hung with the wrong crowd and who didn't have an alibi. Investigative reporter Poppy Parnell is on the case and has captured the attention of the nation in her podcast Reconsidered.
Everyone is poking holes in Lanie's story, leaving Jo more than shaken. Jo ran away from home ten years prior ago, only a few years after her father's murder. Her twin sister spiraled out of control into drugs and debauchery and her mother ran abandoned them, succumbing to her own mental fragility, to join a cult.
Don't let my rating of this book scare you off or lead you to dismiss it. This book wasn't bad but it just didn't have anything particularly special about it. The plot was relatively standard and kept me interested but again it was missing something to set it apart from the pack.
The characterization was perhaps the biggest problem. In thrillers (actually, all genre fiction), especially those narrative in the first-person, the protagonist needs to be compelling and hold the reader's attention. Jo was rather bland and a one-note Sally. The most interesting thing about her was her lies.
There was a lack of nuance, subtlety and growth, especially with Jo's boyfriend. His character didn't feel like a real person to me. Adam was the perfect guy; he had no flaws whatsoever and was the most understanding person on the planet. Also, everything the reader ever needed to know about the main characters was revealed in the first few chapters. There was little growth or development, aside from Jo learning to be truthful.
Barber mixes together excerpts from the Reconsidered podcast with Jo's chapters, allowing the reader to experience the podcast at the same time Jo is. I think that was a really effective way to marry these two different formats and make them seamless and easy to digest for the reader.
* Thanks to Gallery for providing me with an early copy for an honest review.