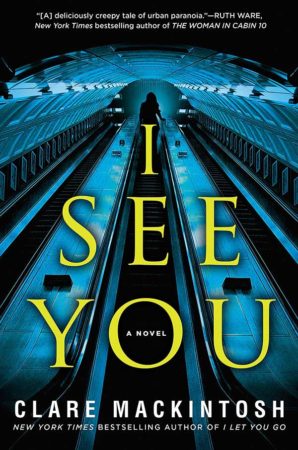 I See You

by Clare Mackintosh
Published by Berkley
Publication date: February 21, 2017
Genres: Thriller
Narrator: Rachel Atkins
Length: 10 hrs and 58 mins
384 pages
Format: Audiobook, eARC
Source: Publisher

An edge-of-your-seat, psychological thriller from the author of the international bestseller I Let You Go—one of the most successful fiction debuts of 2015.

During her commute home one night, while glancing through her local paper, Zoe Walker sees her own face staring back at her from classified ad, along with a phone number and listing for a website called findtheone.com.

Other women begin appearing in the same ad, a different one every day, and Zoe realizes they've become the victims of increasingly violent crimes—including rape and murder. With the help of a determined cop, she uncovers the ad's purpose…a discovery that turns her paranoia into full-blown panic.

Women are being chosen by someone for a twisted game of cat and mouse. And that someone may be closer to Zoe than she ever imagined.

Story Locale: Bristol (southwest England) and Wales
Affiliate Disclosure: This post contains affiliate links. In plain English, this means that I may receive a small commission (at no cost to you) if you purchase something through the links provided. This small income goes back into my blog, so I can continue to create fun content for you. I appreciate my readers and make it my goal to be upfront and honest. Thank you for supporting my blog!
Clare Mackintosh's sophomore novel brings terror and unease to your front door. While not as addictive and compelling as her debut, I See You will certainly make you look over your shoulder before you carry out habitual daily routines again.
When someone asks you to think of something that's truly terrifying, what's the first thing you think of? Probably something personal to you—whether it be your own mortality, the thought of losing a loved one, or perhaps losing everything you own.
The concept behind Mackintosh's I SEE YOU will give you chills because what happened to Zoe Walker could (in a way) happen to all of us. We are all creatures of habit, many of us carrying out the same tasks everyday. What if someone dangerous caught on to your routine and aimed to do you harm? The thought of that is horrifying, right? It's so scary because it would be so simple and the consequences could be deadly.
With all of that said, it's that thought and that concept that made me read I See You and ultimately made me like it. I always like it when I read a thriller that has elements that are relatable. The ability to put myself in the protagonist's shoes makes the book that much more chilling to me as a reader. It's that whole "What if that were me" thing that made this one so creepy.
This book asks a lot of its readers in the area of believability. We're asked to believe that many men if given the chance to essentially have access to a women's every move would immediately go straight for criminal mischief. Um…no. I didn't buy this at all. Mackintosh takes the simplistic idea of someone watching you (a concept I liked in its purest form) and adds a complexity to it that I won't go into so as not to spoil the reading experience. But suffice it to say, it's the complexity that I found to be more than a little far-fetched that took me out of that "what if it were me" mindset because I had a hard time buying what she was asking the reader to believe.
Like in most thrillers, Mackintosh adds in a fair share of red herrings leading up to the big reveal as to who is behind findtheone.com. But I found the reveal a bit underwhelming and if I'm honest, unconvincing and overdramatic.
* Thanks to Penguin Audio for providing me with an audiobook copy for review.