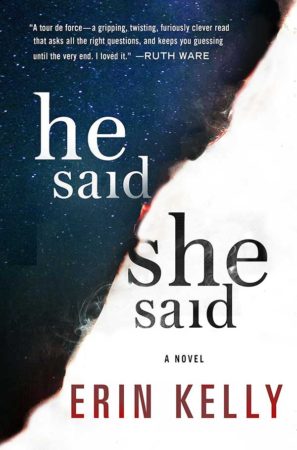 He Said/She Said
by
Erin Kelly
Published by
Minotaur Books
Publication date:
June 6, 2017
Genres:
Suspense
,
Thriller
400 pagesFormat:
ARC
Source:
Publisher
On the eve of a solar eclipse, a couple forced into hiding discovers that they can no longer run from their past in this taut psychological suspense novel.
In the summer of 1999, Kit and Laura travel to a festival in Cornwall to see a total eclipse of the sun. Kit is an eclipse chaser; Laura has never seen one before. Young and in love, they are certain this will be the first of many they'll share.

But in the hushed moments after the shadow passes, Laura interrupts a man and a woman. She knows that she saw something terrible. The man denies it. It is her word against his.

The victim seems grateful. Months later, she turns up on their doorstep like a lonely stray. But as her gratitude takes a twisted turn, Laura begins to wonder—did she trust the wrong person?

15 years later, Kit and Laura are living under assumed names and completely off the digital grid: no Facebook, only rudimentary cell phones, not in any directories. But as the truth catches up to them, they realize they can no longer keep the past in the past.

From Erin Kelly, queen of the killer twist, He Said/She Said is a gripping tale of the lies we tell to save ourselves, the truths we cannot admit, and how far we will go to make others believe our side of the story.
Affiliate Disclosure: This post contains affiliate links. In plain English, this means that I may receive a small commission (at no cost to you) if you purchase something through the links provided. This small income goes back into my blog, so I can continue to create fun content for you. I appreciate my readers and make it my goal to be upfront and honest. Thank you for supporting my blog!
Erin Kelly uses an eclipse as a metaphor for truth in her latest thriller HE SAID/SHE SAID that asks readers this question: how far would you go to cover up a lie to save someone you love? This slower paced novel with an delicate plot took me awhile to get into and the novel's ending diminished my enjoyment of its entirety.
The beginning of the novel opens up to a court scene—but who's on trial? Kelly reveals the answer in the end, taking the reader full circle. Starting out, we learn that Laura and Kit have been in hiding from those involved in the crime they witnessed several years prior. Having lived in fear for years, both are trying to hold on to a sense of normalcy after going through their worst nightmare. But the worst is yet to come when the couple's lies holding up the the conviction start to disintegrate and the accused is set free.
Like I said before, this novel was one that I could put down. It took me almost 100 pages to truly get to the point where I felt invested and compelled to keep reading. Kelly reveals early on this couple has been traumatized by what they saw, so much so that they changed their names.
Kelly delivers an understated domestic thriller, rather than inundating readers with twist after twist, that focuses on relationships and what happens when lies festers in those relationships. The weight of a lie is, arguably, the lightest when it first comes out of our mouth. But over time, its weight can increase until it becomes all-consuming, infecting ever facet of your life. This is what happens to Laura here. With her, the weight manifests in the form of crippling anxiety, which affects her ability to get pregnant all those years.
The use of the eclipse as a metaphor for the truth was something I really enjoyed. Kelly uses the characters here to further demonstrate this. Laura is described as having dyed blond—almost white—hair and Beth has extremely long black hair. It's Beth whose dark shadow takes over Laura and Kit, which is interesting considering the novel's ending.
There were things that I liked in this novel but the ending was such a bummer for me. Many readers may find the ending to be a brilliant, shocking gotcha, but in all honesty, what happened cheapened some of the character development but some of it was also entirely unbelievable, both in reality and in the context of the novel. This isn't the case where I, the reader, wanted the novel to go in a certain direction. The author was very obviously placing red herrings all over the place to distract you from the truth. This is not uncommon in thrillers. But the bait-and-switch in the ending lost me entirely and snuffed out my enjoyment.
Erin Kelly is a good writer and there were several passages that really spoke to me. The plot was problematic here, especially in the end, which really stinks because I appreciate good writing.
* Thank to Minotaur Books for providing me with a copy for an honest review.