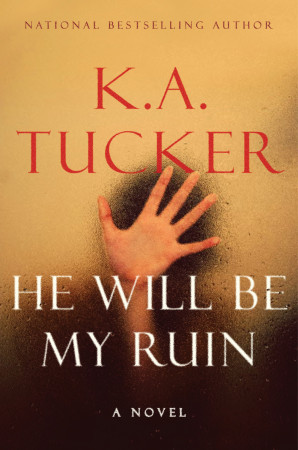 He Will Be My Ruin
by
K.A. Tucker
Published by
Atria
,
Simon & Schuster
Publication date:
February 2, 2016
Genres:
Thriller
352 pagesFormat:
eARC
Source:
Publisher
A woman who almost had it all . . .

On the surface, Celine Gonzalez had everything a twenty-eight-year-old woman could want: a one-bedroom apartment on Manhattan's Lower East Side, a job that (mostly) paid the bills, and an acceptance letter to the prestigious Hollingsworth Institute of Art, where she would finally live out her dream of becoming an antiques appraiser for a major auction house. All she had worked so hard to achieve was finally within her reach. So why would she kill herself?

A man who was supposed to be her salvation . . .

Maggie Sparkes arrives in New York City to pack up what's left of her best friend's belongings after a suicide that has left everyone stunned. The police have deemed the evidence conclusive: Celine got into bed, downed a lethal cocktail of pills and vodka, and never woke up. But when Maggie discovers a scandalous photograph in a lock box hidden in Celine's apartment, she begins asking questions. Questions about the man Celine fell in love with. The man she never told anyone about, not even Maggie. The man Celine believed would change her life.

Until he became her ruin.

On the hunt for evidence that will force the police to reopen the case, Maggie uncovers more than she bargained for about Celine's private life—and inadvertently puts herself on the radar of a killer. A killer who will stop at nothing to keep his crimes undiscovered.
Affiliate Disclosure: This post contains affiliate links. In plain English, this means that I may receive a small commission (at no cost to you) if you purchase something through the links provided. This small income goes back into my blog, so I can continue to create fun content for you. I appreciate my readers and make it my goal to be upfront and honest. Thank you for supporting my blog!
Book Review:
He Will Be My Ruin is a twisty-turny mystery, taking readers on crazy "who done it" ride. K.A. Tucker's first foray into the thriller category pulled me in, as her writing typically does, but somewhere along the way, the book lost its momentum.
Maggie's best friend, Celine, winds up dead of an apparent suicide in her New York apartment. An heiress turned humanitarian, Maggie has an unlimited amount of money at her disposal, and she is willing to spend every last dime to find out what really happened to her best friend. Too many things don't add up when Maggie conducts her own investigation—several items of Celine's things were missing, she was seeing someone, and she was harboring a dark secret. Maggie hires a private investigator to help find out who killed Celine and manages to get herself tangled up in a twisted web.
K.A. Tucker's books have this addictive quality to them that draws me in and makes me interested in the story. This book was no different. Through her search for Celine's killer, Maggie immerses herself into Celine's life—reading her journals, going to where she worked, meeting her friends, looking through her belongings. I really liked that part of the story where Maggie was gathering clues and learning about the Celine she didn't know. It was fun to see everything unfold and how the clues fit together.
Past the halfway mark the story shifted from being a evidence-gathering mission to a finding the murderer. There were two main suspects. After finally figuring out who did it and the motive, the reason given for murdering her was rather flimsy.
As I read, there was something off about the book that I couldn't pinpoint. Now as I look back, I think it was the characters. The most interesting person to me was Ruby. She was the sweet little lady next door who loves having people over for tea. I loved her! But all of the other main characters had lives that were completely out of the realm of normal. They either had elaborate lives or twisty dark pasts, and I had a hard time understanding them, especially Maggie, which was the problem.
I liked Maggie's devotion to her best friend and her best friend's mom. I thought it was really selfless that she wanted to help them. But as far as Maggie, the detective, she didn't exactly make the wisest decisions, namely in the romantic department. It wasn't believable at all that she would be thinking about hooking up after finding out that her best friend could have been murdered, especially when she has no idea who to trust.
There were a couple of romantic elements in this story that didn't need to be in the story. If anything, they seemed to have been added to appease some of Tucker's crossover romance readers. Neither of the "romances" made sense to me or to the story as a whole. And really, it's hard to call them romantic (I don't think they're meant to be sweet and romantic). These romantic episodes had little purpose other than to draw the reader to or away from the suspect at the time that was convenient for the plot.
I don't read a ton of mysteries or thrillers.  But this one was a good one for me to dip my toe into the water and read more. I would recommend that you read this if you're looking for something outside of the romance genre, but want a hint of steam and seduction on the side.
* I received a copy from the publisher in exchange for an honest review