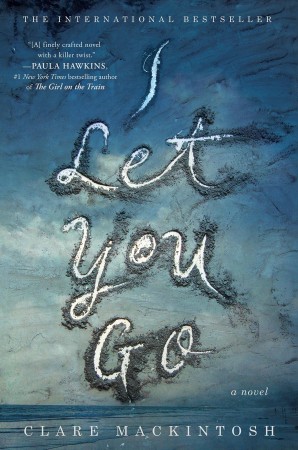 I Let You Go
Publication date:
May 3, 2016
384 pages
The smash London Times bestseller, with over half a million copies sold….a twisty, psychological thriller with "an astonishing intensity that drags you in and never—ever—lets you go." (Daily Mail, UK)

On a rainy afternoon, a mother's life is shattered as her son slips from her grip and runs into the street…

Jenna Gray moves to the remote Welsh coast, desperate to leave behind the heartbreak of the accident and heal from the loss of her child and her painful past. At the same time, a pair of police investigators tries to get to the bottom of this frustrating, twist-filled hit-and-run case…

Elizabeth Haynes, author of Into the Darkest Corner, says "I read I Let You Go in two sittings; it made me cry (at least twice), made me gasp out loud (once) and above all made me wish I'd written it…a stellar achievement."

Story Locale: Bristol (southwest England) and Wales
Affiliate Disclosure: This post contains affiliate links. In plain English, this means that I may receive a small commission (at no cost to you) if you purchase something through the links provided. This small income goes back into my blog, so I can continue to create fun content for you. I appreciate my readers and make it my goal to be upfront and honest. Thank you for supporting my blog!
Book Review:
* Spoiler-free review. No spoilery discussion of the twists.
Filled with twists and turns that left me reeling and an ending that gave me chills, Mackintosh's chilling debut is one that I will be recommending to everyone this year. I've been so excited to read this book every since its UK publication last year. I read a review from a blogger last year (link here) who reads a lot of thrillers. She said that the twist in this book was one even she, a seasoned thriller reader, hadn't seen coming. Now that I've read it, I completely agree with her!
A little boy runs out into the street ahead of his mother and is hit by a car. Tragically he's pronounced dead at the scene, leaving behind a grieving mother. She is so riddled with grief that she leaves town. The puzzling part of it all is that the driver of the car doesn't stop but instead flees the scene, prompting an investigation. Following the accident, Jenna Gray desperately wants to escape the media's constant reminders of the accident and move on from her devastating loss and painful past. She moves from Bristol to a small town in Wales, shutting herself away in a seaside cottage. Simultaneously, Detective Inspector Ray Evans and Detective Constable Kate Evans follow leads to try to find the driver of the car. As the case runs cold, they're ordered to close the case but neither Ray nor Kate can bring themselves to move on.
"The grief I feel is so physical it seems impossible that I am still living; that my heart continues to beat when it has been wrenched apart. I want to fix an image of him in my head, but all I can see when I close my eyes is his body, still and lifeless in my arms. I let him go, and I will never forgive myself for that."
Part of what made this book so gripping was the way the author chose to deliver the story.  This book is told in multiple narrative styles through the lens of several key players in the story. The author's choice of narrative style for each character was clearly very deliberate and totally brilliant. Information in the story is fed to the reader in very specific times of the story and the narrative played into that. I loved how she pieced it all together.
You know when you get to the part of the book where the meaning behind the title snaps into place? This happened a few times in this book because "I Let You Go" means different things to different characters. Each time I had the chills when the meaning shifts and changes to fit the situations. I have to say that the last "title revelation" was a doozy.
"I'd do anything for you…you know that." It was true. I would have done anything to have kept you. But I let you go.
There are multiple plot lines at play here. We have Jenna's story, capturing how she handles her grief and how she tries to move on. The other major plot line is Ray Stevens's story. It follows him through his work with CID, the brewing trouble with his personal life, and his work relationship with Kate. There is also a third person who has their own story to tell. I think it's best that I leave that up for you to find out for yourself.
THE TWIST! Oh my goodness, the twist. There is more than one twist in this story. I don't want to tell you when the big whopper twist happens because that is a total spoiler. But when it happened, I was taken completely by surprise. It is one of those game-changer twists and turned the whole story topsy-turvy. By that point, I couldn't stop reading because I was utterly delighted with shock. It was great!
There is a villain in this story. I won't tell you who the villain is either (you'll thank me later). I found this person to be completely despicable and terrible. Sometimes, when you're in a character's head they can make you empathize with them and understand the terrible things that they do.  I couldn't wait for this character to tell me more of the story. I really liked getting the story from this person's perspective. I would have liked for the author to have added subtlety to the characterization of the villain, rather than make the character hated from the beginning. Nonetheless, this person was totally twisted and compelling and it was so much fun to be inside this person's head.
I had issues with a few different things. The beginning was slow in parts, but it definitely picked up. There were a few dots that the author connected towards the end that I didn't really feel like they needed connecting for the story to be successful. It seemed way too convenient and tight.
It was interesting to find out once I finished that the author was a police officer and later worked for CID herself. One of the cases she worked on shaped and molded this novel and left an impact on her as a person. I'm definitely looking forward to reading her next novel, I See You, which I believe comes out in the U.S. in April 2017.
* I received an advanced copy from the publisher in exchange for an honest review. This did not affect my opinion of the book in any way.