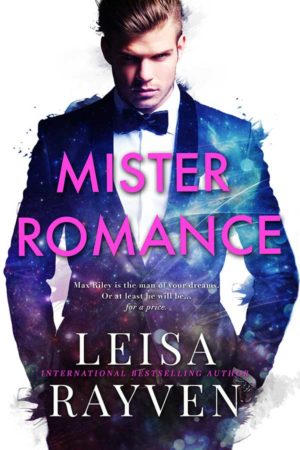 Mister Romance
by
Leisa Rayven
Series:
Masters of Love #1
Published by
Self-Published
Publication date:
April 30, 2017
Genres:
Contemporary Romance
386 pagesFormat:
eBook
Source:
Purchased
Max Riley is the man of your dreams. Or at least he will be, for a price.

As his alter-ego Mister Romance, Max is a drop-dead gorgeous escort who makes romantic fantasies come to life. No sex, just swoon-worthy dates to die for, and the cream of New York's socialites can't get enough. Whether they want a dominating billionaire, bad boy with a heart of gold, hot geek, sexy biker, or best friend who loves them from afar, Max can make it all happen, but he's careful to keep his real identity a secret.

Enter investigative journalist Eden Tate. Having caught wind of the urban legend of Mister Romance from a lovestruck client, Eden is determined to publish a scathing expose on Max and his ability to swindle lonely society women out of their fortunes.

Desperate to protect his anonymity and his clients, Max challenges Eden to give him three dates. If she doesn't fall in love with him, she can run her story with his blessing. If she succumbs to his charms, the story dies.

Cynical Eden has no doubt she can resist his fake romance personas, but when the real Max admits he's falling for her, she has to decide if the professional liar is telling the truth, or if the passionate man with the mysterious past is just one more character designed to con her out of her career-making story.

Don't miss this sizzling new standalone from the internationally best selling author of Bad Romeo, Broken Juliet, and Wicked Heart.
Affiliate Disclosure: This post contains affiliate links. In plain English, this means that I may receive a small commission (at no cost to you) if you purchase something through the links provided. This small income goes back into my blog, so I can continue to create fun content for you. I appreciate my readers and make it my goal to be upfront and honest. Thank you for supporting my blog!
Find out what happens when a cynical journalist who doesn't believe in love and romance gets New York's most exclusive escort to lay his charm on thick for an exposé she's writing. MISTER ROMANCE is a sweet and sexy romance with a fantastic tension-filled build-up that I loved but the latter half of the novel felt a bit drawn out and cheesy at times.
Edie is employed at a Buzzfeed-like news outlet, where her brains are underutilized for fluff pieces. She gets one shot at being a featured reporter when her pitch to write an exposé on the famed "Mister Romance" is approved. She has a limited amount of time to find this mystery man and find out all his secrets. As you probably guess, this doesn't go according to plan because the real guy behind the mask is sweet, romantic, and falls head over heels for her. But is this professional liar who's paid by the city's wealthiest women to make them believe their fantasy just putting on a show for her too? Naturally cynical Edie doesn't know.
Leisa Rayven's knack for creating magnetic chemistry between two main leads is on full freaking display here. I really liked seeing Edie's hard exterior start to crack under the Max's swoon-worthy displays of affection and very real emotions. Even I was getting a little hearts in my eyes. Max is super sweet and I loved how he showed how much he cared. If I could take a gander, I'd guess that his love language is giving because he is very much someone who selflessly does things for others. He took care of Edie's grandma's pet duck, took care of Edie when she was sick, and always made she she felt comfortable and cared for. How sweet is that?
I love feeling the slow burn in romances and this book has that in spades, which I enjoyed! Edie and Max also have some great banter and dialogue that just made me enjoy their scenes together even more!
"You hate how much you're feeling for me, don't you?" he asks, his smile spreading.
"God, so much! It was just never in my life plan to feel like this."
But like many contemporary romances, once the couples get together there is always some sort of conflict that happens to create tension. The schtick of Edie being oblivious's to Max's feelings got a little stale. It was painfully obvious that he liked her, so her not noticing for so long and then not believing it when he told her got a tad annoying.
The male-female role reversal here was evident, but rather heavy-handed. Instead of the man being the playboy, we had Edie whose sister made it known that Edie had a revolving door of men every night that she picks up at the same bar. I don't like that blatant narrative in the more "traditional" gender roles and I didn't dig it here either.
The ending was cheesy. I personally don't like an exorbitant amount of fromage in my romances—I'm okay with a touch of cheese but I have my limits. So if you're like me, you might be rolling your eyes a little bit. But my issues, the book was overall quick romantic escapism and I will definitely be reading the next in the series, Professor Feelgood!
* I purchased this book myself.