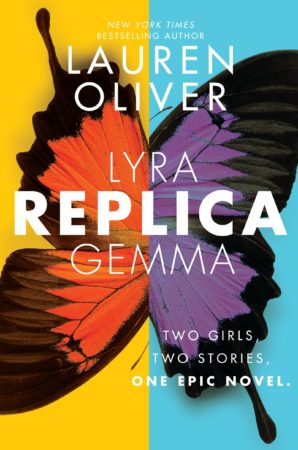 Replica
by
Lauren Oliver
Published by
HarperCollins
Publication date:
October 4, 2016
Genres:
Science Fiction
,
Young Adult
544 pagesFormat:
eARC
Source:
Publisher
From a distance, the Haven Institute, tucked on a private island off the coast of Florida, looks serene and even beautiful. But up close the locked doors, military guards, and biohazard suits tell a different story. In truth, it is a clandestine research facility where thousands of replicas, or human models, are born, raised, and observed.

But when a surprise attack is launched on Haven, two of its young experimental subjects–Lyra, or 24, and the boy known only as 72–manage to escape. As they make their way through a new and menacing environment, they meet a stranger named Gemma, who has embarked on a perilous quest of her own.

Gemma has been in and out of hospitals her whole life. A sickly child, she has grown into a lonely adolescent whose life is circumscribed by home, school, and her best friend, April.

But after she is nearly abducted by a stranger claiming to know her, Gemma starts to investigate her family's past and discovers her father's mysterious connection to the secretive Haven research facility. Hungry for answers, she travels to Florida, only to stumble upon two replicas, 24 and 72–and a completely new set of questions.

While the stories of Lyra and Gemma mirror each other, each contains breathtaking revelations critically important to the other story. Their narratives can be read separately or in alternating chapters. In either case, the two distinct parts of this astonishing novel combine to produce an unforgettable experience for its two young heroines–and for the reader.
Affiliate Disclosure: This post contains affiliate links. In plain English, this means that I may receive a small commission (at no cost to you) if you purchase something through the links provided. This small income goes back into my blog, so I can continue to create fun content for you. I appreciate my readers and make it my goal to be upfront and honest. Thank you for supporting my blog!
Lauren Oliver's Replica has an interesting and alluring premise with two girls—one who was manufactured in a lab and one who is not—learning the truth about their life. The book has some moments that will left me flipping to the next page but in the end felt somewhat unsatisfied.
Replica is actually two different stories in one: Gemma's story and Lyra's story. You can either read them both separately or read them by flipping back and forth. I chose to flip back and forth. I'm glad I chose to do it that way because, although there some repetition with the dialogue, you pick up on some of the clues that you may forget by reading one story straight through.
Unlike some of Oliver's other novels, I never truly felt fully engaged in the story or with the characters. I felt this strange disconnect with the two leads, especially Gemma. The most compelling thing about Gemma was her courage to leave her overprotective parents. But personality-wise, she was flat and boring. The romantic storylines were out of place, rushed, and, frankly unnecessary.
Between the two stories, I much preferred reading Lyra's story, mostly because her and 72's ignorance of the real world was interesting to read. I liked seeing the world through her eyes. I also quite liked seeing her learn to form relationships, explore what love means, and interact with others.
Both stories were fairly predictable from the beginning. While there was a good amount of action that moved the plot forward for most of the book, especially in the latter half of both stories, the ending was very abrupt and it felt like we were missing a resolution for both stories. Even though there is supposed to be a follow-up, the two endings to this story felt sudden, especially Lyra's.
* I received an advance copy from the publisher in exchange for an honest review.