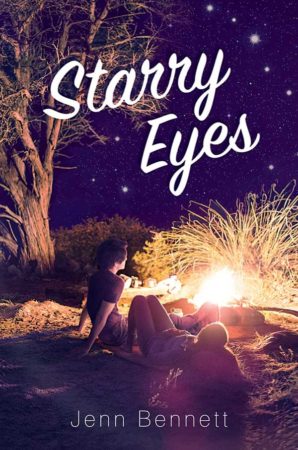 Starry Eyes
by
Jenn Bennett
Published by
Simon Pulse
Publication date:
April 3, 2018
Genres:
Romantic Comedy
,
Young Adult
432 pagesFormat:
eARC
Source:
Publisher
In this romantic dramedy from the author of Alex, Approximately, a teen girl's way-too-ordinary life is driven off the beaten path when she's abandoned in the wilderness with her worst adversary—the boy who broke her heart.

Ever since last year's homecoming dance, best friends-turned-best enemies Zorie and Lennon have made an art of avoiding each other. It doesn't hurt that their families are the modern day, Californian version of the Montagues and Capulets.

But when a group camping trip goes south, Zorie and Lennon find themselves stranded in the wilderness. Alone. Together.

What could go wrong?

With no one but each other for company, Zorie and Lennon have no choice but to hash out their issues via witty jabs and insults as they try to make their way to safety. But fighting each other while also fighting off the forces of nature makes getting out of the woods in one piece less and less likely.

And as the two travel deeper into Northern California's rugged backcountry, secrets and hidden feelings surface. But can Zorie and Lennon's rekindled connection survive out in the real world? Or was it just a result of the fresh forest air and the magic of the twinkling stars?
Affiliate Disclosure: This post contains affiliate links. In plain English, this means that I may receive a small commission (at no cost to you) if you purchase something through the links provided. This small income goes back into my blog, so I can continue to create fun content for you. I appreciate my readers and make it my goal to be upfront and honest. Thank you for supporting my blog!
I wanted to pick STARRY EYES up after reading Alex, Approximately last year. While I did enjoy the tension-filled angsty love story, the book didn't hold me captive like I was hoping.
Zorie and Lennon used to be best friends until trial period out of the friend zone went south, leaving Zorie with a broken heart. They grew up together and now their parents' businesses are right next door, which causes its own set of complications. Lennon's parents own a sex shop and Zorie's parents own a massage and acupuncture business, the latter of which is struggling. Zorie's dad blames the sex shop for their failing business.
Zorie's friend invites her on a camping trip that she reluctantly agrees to on. Upon arrival, she finds that Lennon was invited too, causing Zorie to regret her decision immediately. When things don't go as planned, their friends leave them stranded in the backcountry alone. These two frenemies are forced to face each other and speak the unspoken words held inside for so long.
I enjoyed the fusion of a romance and adventure story. The tension between the two leads was palpable and couldn't wait for them to just let everything out. Zorie and Lennon were both cute and witty, which made their dialogue really fun to read. With the action increasing while they attempt to find their way out of the backcountry, I found myself becoming less interested. This is likely due to the novel's long length, which I definitely felt needed further editing.
I'm not a fan of sanitizing young adult and was pleased to see that this book didn't do that. However, I did feel like the anti-sanitization message was taken a bit to far with the characters owning a sex shop and be talking about dildos.
Readers who enjoy real teens falling in love, out of it, and back into it again will enjoy this young adult contemporary but may struggle at times with the novel's length.
* Thanks to Simon Pulse for providing me with an early copy for review.