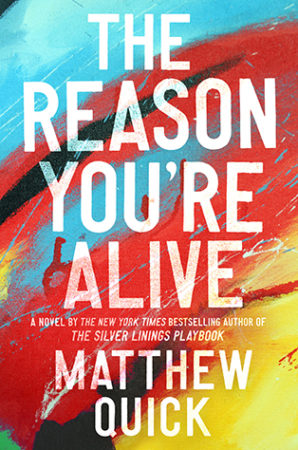 The Reason You're Alive
by
Matthew Quick
Published by
Harper
Publication date:
July 4, 2017
Genres:
Literary Fiction
240 pagesFormat:
eARC
Source:
Publisher
New York Times Bestselling Author
The New York Times bestselling author of The Silver Linings Playbook offers a timely novel featuring his most fascinating character yet, a Vietnam vet embarking on a quixotic crusade to track down his nemesis from the war

After sixty-eight-year-old David Granger crashes his BMW, medical tests reveal a brain tumor that he readily attributes to his wartime Agent Orange exposure. He wakes up from surgery repeating a name no one in his civilian life has ever heard—that of a Native American soldier whom he was once ordered to discipline. David decides to return something precious he long ago stole from the man he now calls Clayton Fire Bear. It might be the only way to find closure in a world increasingly at odds with the one he served to protect. It might also help him finally recover from his wife's untimely demise.

As David confronts his past to salvage his present, a poignant portrait emerges: that of an opinionated and goodhearted American patriot fighting like hell to stay true to his red, white, and blue heart, even as the country he loves rapidly changes in ways he doesn't always like or understand. Hanging in the balance are Granger's distant art-dealing son, Hank; his adoring seven-year-old granddaughter, Ella; and his best friend, Sue, a Vietnamese-American who respects David's fearless sincerity.

Through the controversial, wrenching, and wildly honest David Granger, Matthew Quick offers a no-nonsense but ultimately hopeful view of America's polarized psyche. By turns irascible and hilarious, insightful and inconvenient, David is a complex, wounded, honorable, and loving man. The Reason You're Alive examines how the secrets and debts we carry from our past define us; it also challenges us to look beyond our own prejudices and search for the good in us all.
Affiliate Disclosure: This post contains affiliate links. In plain English, this means that I may receive a small commission (at no cost to you) if you purchase something through the links provided. This small income goes back into my blog, so I can continue to create fun content for you. I appreciate my readers and make it my goal to be upfront and honest. Thank you for supporting my blog!
THE REASON YOU'RE ALIVE is another hit from Matthew Quick. Through an elderly right-wing, seemingly racist, Vietnam veteran and American patriot, Quick pens a story about finding common ground and unity in a politically polarizing world.
Like in Forgive Me, Leonard Peacock, Quick gives readers an unlikeable character in David Granger that you can't help but love at the turn of the final page. A compelling, hilarious, and brutally honest narrator, there is more than what's on the surface with David and his estranged son soon finds that out.
After having brain surgery, David Granger must swallow his pride and call his son Hank, to whom he hasn't spoken in quite some time. According to David, Hank is a tree-hugging, bleeding liberal who's obsessed with heart-healthy meals and maintaining his male model physique. He moves in with his newly-single son and his daughter Ella while he recuperates, but his mental state begins to deteriorate.
David has lived through a lot in his 68 years—the Vietnam war, subsequently losing his mind after the war, his wife's own mental unraveling and her untimely death. Throughout all of this, he's watched the world evolve and change in ways that go against what he values most. But he refuses to budge, which naturally leads to a good amount of emotional turmoil for him. He's not shy about expressing exactly what's on his mind, often in the most politically incorrect way possible.
Despite being entirely politically incorrect, I couldn't help but laugh at the often uncomfortable things going through David's mind and coming out of his mouth. This might be one of the funniest books I've ever read in a long time. (Though just because I laugh at what he says doesn't mean I agree with him. Let's get that straight). But in true Matthew Quick fashion, he blends fantastic wit and humor with a heavy dose of emotions. Towards the end of this novel, I had tears in my eyes.
Quick's ability to create completely vibrant characters is one of his greatest literary talents. David's voice is entirely distinctive and strong from the first paragraph. Give me five sets of dialogue from five different characters and I'd be able to pick out David, not because of his rather colorful language but because Matthew Quick truly brought this character to life.
What I loved about this novel was how Quick uses Granger as a vehicle for the novel's central theme of finding unity and commonalities. It can be easy to judge the people we see around us immediately at face value—we all do that. But upon digging beyond their exterior and delving deeper, there is always more to their story—just like in David.
In addition to David and Hank, there is also a great cast of characters in this novel, with their own stories and personalities. We meet Sue, David's "genetically Vietnamese" best friend. Then there's "Gay Timmy" and "Gay Johnny," David's spin class instructor and business partner, respectively.
Quick picks away at David's layers and what we see on the inside is surprising, especially to David's son Hank. I hope you enjoy getting to know David as much as I did and take the book's message to heart.
* Thanks to Harper for providing me with an early copy for review.