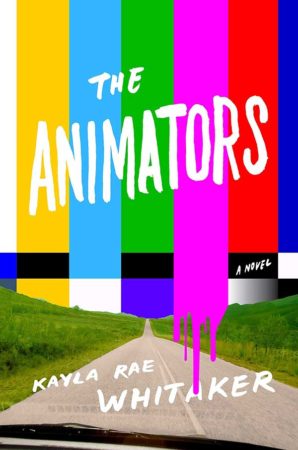 The Animators
by
Kayla Rae Whitaker
Published by
Random House
Publication date:
January 31, 2017
Genres:
Literary Fiction
Narrator:
Alex McKenna
Length:
15 hrs and 23 mins
384 pagesFormat:
Audiobook
Source:
Publisher
A debut novel about a life-changing friendship that collides with all-consuming creative ambition to explosive, can't-look-away effect.

In the male-dominated field of animation, Mel Vaught and Sharon Kisses are a dynamic duo, the friction of their differences driving them: Sharon, quietly ambitious but self-doubting, Mel, brash and unapologetic, always the life of a party. Best friends and artistic partners since the first week of college, where they bonded over their working class roots and obvious talent, they spent their twenties ensconced in a gritty Brooklyn studio. Now, after a decade of striving, the two are finally celebrating the release of their first full-length feature and stand at the cusp of making it big. But with their success comes doubt and destruction, cracks in their relationship threatening the delicate balance of their partnership. When the only other partner Sharon has ever truly known - her troubled, charismatic childhood best friend, Teddy - reappears, long-buried resentments rise to the surface, hastening a reckoning no one sees coming.
Affiliate Disclosure: This post contains affiliate links. In plain English, this means that I may receive a small commission (at no cost to you) if you purchase something through the links provided. This small income goes back into my blog, so I can continue to create fun content for you. I appreciate my readers and make it my goal to be upfront and honest. Thank you for supporting my blog!
Kayla Rae Whitaker's THE ANIMATORS is an absolutely stunning, visceral, and funny story about the friendship between two talented animators and business partners, Sharon Kisses and Mel Vaught, and their rise to fame in the world of animation and cartoons.
Kentucky native Sharon Kisses, gets a golden ticket out of her small town and away from her close-minded family by way of a prestigious scholarship to Ballister in New York City. There, she meets another hugely talented artist, Mel Vaught. This marks the beginning of a business and personal relationship that takes them on a ride to fame, notoriety, and debauchery in the world of entertainment
Their big breakout hit Nashville Combat takes them from starving artists to overnight successes. But the sudden fame takes its toll on them both, especially Mel, whose painful childhood was the inspiration and subject of the cartoon. Sex, drugs, and rock and roll was a way of life for Mel, until life served up a big dose of reality that shook Mel and Sharon's lives.
Sharon, the more reserved of the two, has spent most of her life trying to ignore her past and put it in a box, while Mel put hers on full display. Sharon's family have always seemed foreign to her—she can't really relate to her father, mother, brother or sister and her mother hasn't exactly been the most supportive person of Sharon's choice of career.
"Mom says you're sick?"
"Yeah."
"What happened?"
That same note of blame. I let my head fall back into the pillow. Jesus, Mary, and the fucking donkey.
Mel Vaught is an interesting character with a ton of layers. She is unapologetic and so completely herself all of the time. She seemingly doesn't care what anyone thinks of her or her choices, and I admired her for that. But her biggest vulnerability lies in her friendship with Sharon; there is a gentleness in Mel's heart when it comes to Sharon.
I change into a long, threadbare maxi, what Mel calls my "eatin dress." "You putting on your eatin dress, Mamaw?" she yells.
"It's not a fucking eating dress. It's a tunic."
"Listen to her," Mel says to the empty room, flopping down on the couch. "It ain't a fuckin eatin dress. That thing's a eatin dress if I've ever seen one. Not an eatin dress. A eatin dress. Who cares if you slop gravy down the front? It's a eatin dress."
I had a visceral reaction to these characters and the strong bond of their friendship. I didn't want this book to end. Mel and Sharon's relationship is tumultuous, but the one constant is their love. I have a feeling that these two will stay with me for awhile; there is just something special about them.
This book isn't a comedy by any means, but laughed so hard throughout most of it. Sharon is full of Southernisms and Mel is a firecracker; you don't know what's going to come out of either of their mouths at any time.
"Exactly. So think. How do we empower pads?"
Mel turned. Tossed the ball against the wall. It thocked, came back. "Make em fight."
"I'm not sure we should make them living things."
"Or should we? Dude. Vampire Kotex."
"Gross."
"Or this. Ladies and gals, on their cycles, in a brawl. Wearing super-absorbent Kotex while throwing down." She winged the ball up the wall again, harder. "One of em swinging a chain around like, YAAH! Kotex: Soak Up the Rage!"
The Animators is a story of forgiveness, redemption, and resurrection from deep-seeded pain. I wasn't expecting to feel so much in the end.  The story seemed so lighthearted and quirky until it wasn't either of those things anymore. Whitaker's writing is incredibly noteworthy, confident and strong. Her ability to craft flawed and likable characters is truly fantastic. She is someone in the world of fiction to look out for.
Deeply affecting and heartfelt, Whitaker's THE ANIMATORS is one I would read again, just so I can visit these characters again. I'm really going to miss the adventures of Sharon and Mel.
Audiobook Comments:
I have absolutely zero regrets for experiencing this novel through an audiobook. Narrator Alex McKenna was truly fantastic. I think her performance is one of my all-time favorite audiobook performance ever, definitely a favorite audiobook of 2017.
Sharon and Mel's wit is already sharp and giggle-inducing, but Alex's voice for both of them was perfect. Her Sharon was sweet and southern, but with a New York sass to it. Mel's voice was rough and gravely and completely brash. Her performance was especially compelling and impressive in its ability to balance the humorous moments with the heavy, emotional moments. I give this audiobook all the thumbs up in the world!
* Thanks to Penguin Random House Audio for providing me with the audiobook for review.