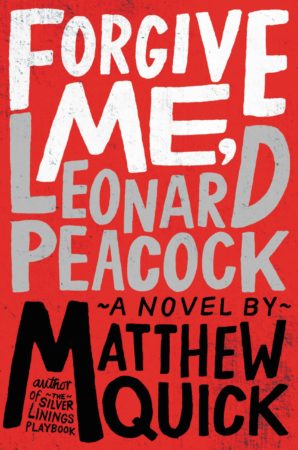 Forgive Me, Leonard Peacock
by
Matthew Quick
Published by
Little Brown Books for Young Readers
Publication date:
August 13, 2013
Genres:
Fiction
,
Young Adult
Narrator:
Noah Galvin
Length:
6 hrs and 19 mins
277 pagesFormat:
eBook
,
Hardcover
Source:
Purchased
In addition to the P-38, there are four gifts, one for each of my friends. I want to say good-bye to them properly. I want to give them each something to remember me by. To let them know I really cared about them and I'm sorry I couldn't be more than I was--that I couldn't stick around--and that what's going to happen today isn't their fault.

Today is Leonard Peacock's birthday. It is also the day he will kill his former best friend, and then himself, with his grandfather's P-38 pistol.

Maybe one day he'll believe that being different is okay, important even.
But not today.

The New York Times bestselling author of The Silver Linings Playbook, Matthew Quick, brings an unflinchingly eye to the impossible choices we deal with every day--and the light in us all that never goes out.
Affiliate Disclosure: This post contains affiliate links. In plain English, this means that I may receive a small commission (at no cost to you) if you purchase something through the links provided. This small income goes back into my blog, so I can continue to create fun content for you. I appreciate my readers and make it my goal to be upfront and honest. Thank you for supporting my blog!
Forgive Me, Leonard Peacock is an exceptional book. I'm at a loss for words. Matthew Quick's grasp on a lonely, depressed teenager "at the end of his rope" is realistic and incredibly sad. Getting to the core of Leonard Peacock broke my heart and I felt for him so deeply.
"I like to pretend I'm a prisoner kept in a dark, dank cell who's only allowed fifteen minutes in the yard, so that I remember to really enjoy looking."
I loved Leonard Peacock. I loved him from the first page. I loved him, knowing of the hurt he was going to inflict on someone else and on himself. You're probably thinking, "How in the world can you feel that way towards someone who is so seemingly unlikable?" I was able to like him because Matthew Quick made me understand why Leonard felt the way he felt. Why he had the thoughts he had.
"Because you start a revolution one decision at a time, with each breath you take."
Leonard Peacock's own account of his life is filled with his own brand of witty dark humor, his narration colored with a level of intelligence and awareness that is far beyond his years. Yet, Quick stays true to the voice of an 18-year old high school student. One who's likely had a lot of time for introspection due to his mother's neglect, a lack of social support, and a heavy, tangible pain. He's experienced more pain in his short life than I can even imagine.
Even though the subject matter is very dark, Leonard's sharp wit and humor made it less bleak. I even found myself laughing in several parts, but my laughter was outweighed by my sadness. The way he saw other people and interpreted the scenes around him was born from a level of maturity his peers lacked. He related to others differently and we was acutely aware of how different he was from others, which only seemed to alienate him further.
"It's a really depressing reality, how my classmates make love to their ignorance, and I mostly tune out and wait for class to end so I can give Herr Silverman his present and be closer to the Leonard Peacock finish line."
The format of the story is unique, one that only seems to accentuate his mental state. It's told in first person but Leonard often uses footnotes to expand on the points he tries to make, uses one word on a page, and even includes thoughts that are tabbed to the right for when he is most troubled.
"I feel like I'm broken—like I don't fit together anymore. Like there's no more room for me in the world or something. Like I've overstayed my welcome here on Earth, and everyone's trying to give me hints about that constantly. Like I should just check out."
The moments in the book that hit me hard emotionally were the "Letters From the Future," of which the significance to Leonard's story is not revealed until after you've read several of them. In every single one of those letters, I cried. [1]  The contents of these letters were some of the most enlightening pictures into Leonard's heart, and I couldn't hold in the tears.
"You have no idea how many interesting people you'll meet after high school's over. Your life partner, your best friend, the most wonderful person you'll ever know is sitting in some high school right now waiting to graduate and walk into your life—maybe even feeling all the same things you are, maybe even wondering about you, hoping that you're strong enough to make it to the future where you'll meet."
One of the best books I've read this year. I will remember Leonard Peacock.
[1] When I say I cried, I mean it. I don't throw around the "This made me cry" as a way to convince you that this is good or some crap like that.