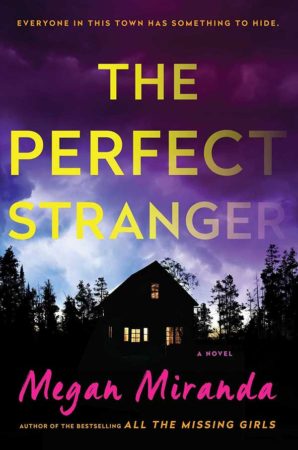 The Perfect Stranger
by
Megan Miranda
Published by
Simon & Schuster
Publication date:
April 11, 2017
Genres:
Suspense
,
Thriller
352 pagesFormat:
eARC
Source:
Publisher
Confronted by a restraining order and the threat of a lawsuit, failed journalist Leah Stevens needs to get out of Boston when she runs into an old friend, Emmy Grey, who has just left a troubled relationship. Emmy proposes they move to rural Pennsylvania, where Leah can get a teaching position and both women can start again. But their new start is threatened when a woman with an eerie resemblance to Leah is assaulted by the lake, and Emmy disappears days later.

Determined to find Emmy, Leah cooperates with Kyle Donovan, a handsome young police officer on the case. As they investigate her friend's life for clues, Leah begins to wonder: did she ever really know Emmy at all? With no friends, family, or a digital footprint, the police begin to suspect that there is no Emmy Grey. Soon Leah's credibility is at stake, and she is forced to revisit her past: the article that ruined her career. To save herself, Leah must uncover the truth about Emmy Grey—and along the way, confront her old demons, find out who she can really trust, and clear her own name.

Everyone in this rural Pennsylvanian town has something to hide—including Leah herself. How do you uncover the truth when you are busy hiding your own?
Affiliate Disclosure: This post contains affiliate links. In plain English, this means that I may receive a small commission (at no cost to you) if you purchase something through the links provided. This small income goes back into my blog, so I can continue to create fun content for you. I appreciate my readers and make it my goal to be upfront and honest. Thank you for supporting my blog!
Megan Miranda's All the Missing Girls was one of my favorite books of 2016. While Girls wasn't her first novel, it was the first of hers that I had read. When I so completely enjoy an author's work it can be a little nerve-wrecking to pick up their next one. With THE PERFECT STRANGER, Megan Miranda plots a creepy and twisty thriller that certainly left me guessing and questioning everything. I couldn't put it down!
THE PERFECT STRANGER is an eerie cautionary tale about the people we allow to become a part of our lives and those that force their way in without permission. What kind of unknown dangers are lurking around the corner, behind our backs, or sleeping right next to us?
One of the things I found so compelling about Miranda's All the Missing Girls was her ability to make the setting its own character, drawing the reader into a place the reader may not have been to but have now. In THE PREFECT STRANGER, Miranda brings readers to a lonely house near a lake in small town Pennsylvania with townsfolk who aren't so accepting of newcomers.
Miranda's restraint and control in her storytelling is most impressive with the way she methodically reveals Leah and Emmy's past in small increments. She slowly feeds the reader bits and pieces of information throughout the story, allowing the reader to be their own detective along the way. There is a lot going on plot-wise towards the latter half of the novel (my bit of criticism), but Miranda's talent is evident in her ability to write with clarity and simplicity.
This book is in all sense of the word a page-turner. That might sound completely cliché but I don't even care. I was glued to the pages from the time I woke up until I turned the last page. I had to know what happened with Emmy, who was responsible for Bethany's brutal beating, and what's to come for Leah. I was so affected by the book that I went to bed and had some pretty vivid nightmares (eeek!). Megan Miranda is a force in the world of mystery and thrillers and is an author that I will pick up again and again! Is it bad that I'm already hankering for her next thriller?
I haven't listened to the audiobook of this one yet, but I'm so tempted to buy it because 1.) Rebekkah Ross narrates it and I love her and 2.) I sort of want to re-read it.
* Thanks so much to Simon & Schuster for providing me with an early copy for review. It was such a joy to read!