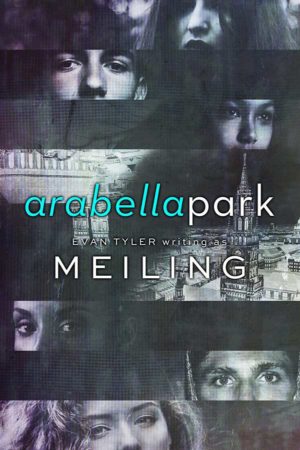 Arabella Park: Season 1
by
Evan Tyler
,
Meiling
Series:
Arabella Park #1
Published by
Self-Published
Publication date:
October 9, 2017
Genres:
Thriller
,
Young Adult
368 pagesFormat:
eARC
Source:
ARC via author
Everyone knows that losing friends is a natural part of the high school experience. It's all a game of musical chairs, really. Yet, what happens when a friend doesn't intentionally "go ghost" but is abruptly taken away? Kameron, Grayson, Mikey, Yasmin, and Jenna have been thick as thieves from childhood. Rightfully so—they make up the American minority in the German twin city of Arabella Park.

When one of the five suddenly turns up missing, the remaining friends must find a way to bring her back while keeping up the facade of leading ordinary small town lives. As they search for their missing friend, they discover things about themselves and one another that will catapult them into an explosive climax and the ultimate revelation of who done it.

A multi-faceted mystery, ARABELLA PARK brings to life what it means to endure the most frightful, profound time of one's life—the teenage years—while being stretched to the limits of what it means to be an adult, even a hero.
Affiliate Disclosure: This post contains affiliate links. In plain English, this means that I may receive a small commission (at no cost to you) if you purchase something through the links provided. This small income goes back into my blog, so I can continue to create fun content for you. I appreciate my readers and make it my goal to be upfront and honest. Thank you for supporting my blog!
"These teenagers really got themselves into some deep trouble." That's what I kept saying while reading this book. Evan Tyler's (writing as Meiling) young adult is a mystery that will keep you guessing until the very end. Mimi Nvarro disappears without a trace, and her best friends must piece together their last memories of her to get to the truth. And let me tell you, the truth really hurts here.
The novel is told through the viewpoints of a core group of friends—Mikey, Jenna, Kameron, Grayson—a priest, and a new girl in school, London. It's set in a small German-American city in Georgia called Arabella Park. Everyone has at least one secret, one is life-changing. It's getting to the truth of it all that was the most compelling part of the story.
Religion is a theme woven throughout this book. The story is set in a Catholic school, but not all the characters hold tight to faith. Kameron is an atheist, while her step-brother, Grayson, finds comfort in faith and the belief in a higher power. Mikey's dad used to be a priest until he broke his vows, but as you'll see he still holds on to the virtues of priesthood. There is also what appears to be a nod to the story of Cain and Abel here.
I wanted to keep reading just to find what happened. The characters themselves all have different upbringings and burdens to carry. Kameron struggles with her self-confidence. Mikey projects the image of a ladies' man to everyone at school but there will only be one lady for him, his pregnant best friend. Jenna is a mother at seventeen, is having great difficulty bonding with her little girl, and has parents who are more interested in their music industry career than their own daughter. Grayson struggles with his own identity and origins, while reconnecting with his incarcerated father. I think the author did a good job creating interesting backstories for all of these characters. There were some candid moments between the characters that just made my heart ache.
However, there was very little distinction between the character voice. Perhaps, it was due to the conversational tone of the narration—it reads like the narrators are telling you a story. Because of that, there were several repetitive words used by all characters, which was distracting and made all the voices to blend together. For example, I lost count how many times the word "anyway" was used at the beginning of sentence to get the character back on the subject at hand.
While the whodunit ultimately did hold my attention, there were several moments during the story when my interest waned. This book just felt very long. Several of the flashback scenes and even some scenes in the present, could have been editing out entirely or cut down for length without losing its message.
As far as the mystery goes, there are some red herrings in this story. I did feel like a couple of them were a little far-fetched. With a storyline like this, you have to suspend disbelief a little bit in order to enjoy it. Most kids, even after a threat of death of a friend if they disobeyed, would go to the police. But I just went with what we were given.
One more thing, the setting in one of the official German schools in America was new to me. I didn't know these things existed. Perhaps, the setting will hold more significance in future installments. However, I did find it to be more of a nuisance with all the characters having to clarify that they were speaking English or speaking broken German.
This young adult mystery reminded me of a co-ed Pretty Little Liars, with all the secrets among friends and lack of parental guidance. If you're a voracious reader of young adult novels and you want a little mystery in your life, you may want to check out this book. Meiling teases that the end is just the beginning, promising that a Season 2 of Arabella Park is on its way.
* Thanks to the author for providing me a copy for review.