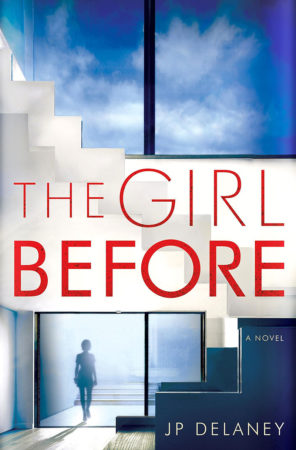 The Girl Before
by
J.P. Delaney
Published by
Ballantine
Publication date:
January 24, 2017
Genres:
Suspense
,
Thriller
352 pagesFormat:
eARC
Source:
Publisher
A psychological thriller that spins one woman's seemingly good fortune, and another woman's mysterious fate, through a kaleidoscope of duplicity, death, and deception—and the hottest title at the 2015 Frankfurt Book Fair.

A damaged young woman gets the unique opportunity to rent a one-of-a-kind house. When she falls in love with the sexy, enigmatic architect who designed it, she has no idea she is following in the footsteps of the girl who came before: the house's former tenant.

The eerie parallels in the two girls' lives lay bare an enthralling story…and make this novel the must-read thriller of the season.

Story Locale:London, UK
Affiliate Disclosure: This post contains affiliate links. In plain English, this means that I may receive a small commission (at no cost to you) if you purchase something through the links provided. This small income goes back into my blog, so I can continue to create fun content for you. I appreciate my readers and make it my goal to be upfront and honest. Thank you for supporting my blog!
"Please make a list of every possession you consider essential in your life."
J.P. Delaney's THE GIRL BEFORE has such an alluring premise and there moments where I couldn't put it down. But the far-fetched plot points, pseudo-sexual dominant storyline, and over-abundance of twists and turns left me feeling less than enthused about the novel overall.
The story follows Emma and Jane, two women separated by time. In the past, Emma, who is still suffering the effects of a recent home invasion, moves into One Folgate Street with her adoring boyfriend. In the present, Jane is recovering from the loss of her child and hoping to start anew in the house. Designed by renowned minimalist architect, Edward Monkford, One Folgate Street is well-known in the London renter's market. But its occupants—the ones who get through vigorous application process—must abide by an exhaustive list of terms and conditions. Jane becomes obsessed with finding out what happened to Emma, the girl before her. But the closer she gets to the truth, trouble follows her putting her life in danger. Is Edward a psychopath desperate for control? Or is there something else going on?
On one hand, I reached a point in THE GIRL BEFORE (albeit late in the novel) and I absolutely couldn't put it down. Like Jane, I was desperate to find out Emma's truth. What exactly happened to her? Why was Jane's experiences in the house almost identical to Emma's?
But what I wasn't expecting was to be given a dark sexual storyline (just FYI—it's not a romance), that came out of nowhere. It was bizarre. That aspect of the book really threw me for a loop and it wasn't something I enjoyed at all, especially all the "Yes, Daddy" talk.
I liked the duplicitous characterization that played out in the novel. That led to some interesting revelations for the reader. The transitions between the alternating points of view was seamless, but sometimes due to the characters' almost parallel storylines it was confusing at times to distinguish the two women's story arcs.
There was a time when One Folgate Street seemed like a calm, serene haven. Now it doesn't. It feels claustrophobic and mean. Like the house is angry with me.
Emma's chapters are written without quotation marks, something that was a deliberate choice of style. Though, I'm not sure what it was meant to accomplish. A form of minimalism? To emphasize that she no longer had a voice in the present time? This took some time getting used to and it made it a little more difficult to read. Had I completely understood this writing style choice, maybe I could be more forgiving, but it didn't really make sense to me. The ending felt really rush and, if I'm honest, contrived where Jane was concerned.. We're given almost no resolution with Edward's character, which was disappointing to me.
I can definitely see the commercial appeal of this novel and hence, why there is a movie deal. It's a blend of a dark sexual thriller and a whodunit with suspects and motives in every direction. But several plot points didn't work for me and didn't enjoy the book as a whole.
*  Thanks to Ballantine Books for the chance to read an early copy. Receiving this book for free did not affect my opinion.