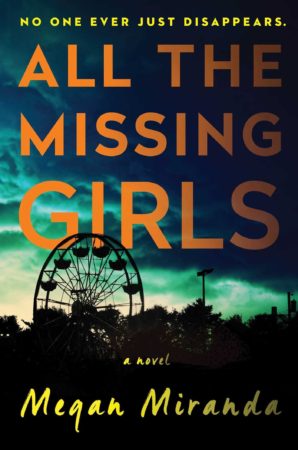 All the Missing Girls
by
Megan Miranda
Published by
Simon & Schuster
Publication date:
June 28, 2016
Genres:
Adult
,
Suspense
Narrator:
Rebekkah Ross
Length:
10 hrs and 4 mins
384 pagesFormat:
Hardcover
Source:
Publisher
It's been ten years since Nicolette Farrell left her rural hometown after her best friend, Corinne, disappeared from Cooley Ridge without a trace. Back again to tie up loose ends and care for her ailing father, Nic is soon plunged into a shocking drama that reawakens Corinne's case and breaks open old wounds long since stitched.

The decade-old investigation focused on Nic, her brother Daniel, boyfriend Tyler, and Corinne's boyfriend Jackson. Since then, only Nic has left Cooley Ridge. Daniel and his wife, Laura, are expecting a baby; Jackson works at the town bar; and Tyler is dating Annaleise Carter, Nic's younger neighbor and the group's alibi the night Corinne disappeared. Then, within days of Nic's return, Annaleise goes missing.

Told backwards—Day 15 to Day 1—from the time Annaleise goes missing, Nic works to unravel the truth about her younger neighbor's disappearance, revealing shocking truths about her friends, her family, and what really happened to Corinne that night ten years ago.

Like nothing you've ever read before, All the Missing Girls delivers in all the right ways. With twists and turns that lead down dark alleys and dead ends, you may think you're walking a familiar path, but then Megan Miranda turns it all upside down and inside out and leaves us wondering just how far we would be willing to go to protect those we love.
Affiliate Disclosure: This post contains affiliate links. In plain English, this means that I may receive a small commission (at no cost to you) if you purchase something through the links provided. This small income goes back into my blog, so I can continue to create fun content for you. I appreciate my readers and make it my goal to be upfront and honest. Thank you for supporting my blog!
Quietly suspenseful with an ending that left me glued to the page, All the Missing Girls was an absolute hit for me. The draw of this book is its non-linear narrative, a mystery told in reverse, a countdown to the beginning. I didn't know how it was going to work, but Megan Miranda pulled it off well.
Ten years ago, Nic's best friend, Corrine went missing, seemingly gone without a trace. Without any solid leads, the case went cold. After returning to Cooley Ridge to prepare her childhood home for sale, the memories of what happened ten years prior inevitably come rushing back. Then, Annaleise Carter goes missing, forcing Nic to delve into a past she tried to repress. To solve one case is to solve them both.
I had to focus, make sense of this house, and get out. Before the past started creeping out from the walls, whispering from the grates. Before it unpacked itself from that box, layer after layer, all the way back to the start.
The structure of the story was one that I wasn't entirely sold on initially. Is it a gimmick used to attract readers? I didn't think so. In the end, I really liked the way the author used this unconventional device to tell this story. Normally with mysteries like this one, the reader is fed clues chronologically and left to draw conclusions based on the evidence gathered—whether those conclusions are right or wrong. But here, the reader is given conclusions or part of a finality and then asked to reverse engineer it.
Nicolette is haunted by her hometown. She carries it with her everywhere she goes. That feeling of being emotionally tethered to a town and the people in it. I felt those emotions, that ever-present heaviness that Nic felt, which is a testament to Miranda's writing.
Missing girls had a way of working their way into someone's head. You couldn't help but see them in everyone—how temporary and fragile we may be. One moment here, and the next, nothing more than a photo staring from a storefront window.
I really enjoyed the deconstruction of Corrine's personality throughout the novel. Corrine, Bailey and Nic were almost like the small town mean girls, with Corrine being the ringleader. Over the years, Nic romanticized Corrine and their friendship, shaping her into a fictional character who didn't exist.
I think Corrine believed that life could break even somewhere. That there was an underlying fairness to it all. That the years on earth were all a game. A risk for a payoff, a test for an answer, a tally of allies and enemies, and a score at the end. I know now that everything we did or said, and everything we didn't was kept in a ledger in her mind—and almost int he back of ours, too.
Reading this book was definitely a brain exercise, as I was constantly trying to hold on to information. I can't imagine how hard this was to plot and construct. New information still had to be introduced in an order the reader would understand, but also in an order that makes sense chronologically. Since I wasn't given information in order, I tended to look way too far into things that didn't matter because I didn't know they wouldn't matter. In the end, there were still several questions that were left unanswered or plot points whose importance were lost in the shuffle that I wish were given more explanation. (karen on Goodreads outlined these beautifully in her review)
All in all, this book was a well-written mystery about how the truth, lies, and omissions shaped their lives and change the trajectory of their future. For a good portion of the book, I could NOT put it down, especially the countdown to the last few days. Holy crap! There were some surprises on the way that left me applauding Miranda's cleverness.
I really want to read this book in chronological order. I wonder what I would focus on this time. Highly recommend this book!
Audiobook Comments: 
That's right, I read this book twice. The audiobook for this book was really great! Rebekkah Ross (you might also know her as Elizabeth Louise) is one of my absolute favorite narrators. Her delivery is always done perfect, drawing you right into the scene. For you audiobook junkies, I listened to this book at 2x speed with no problem.
* I received an advance copy and audiobook from the publisher in exchange for an honest review.