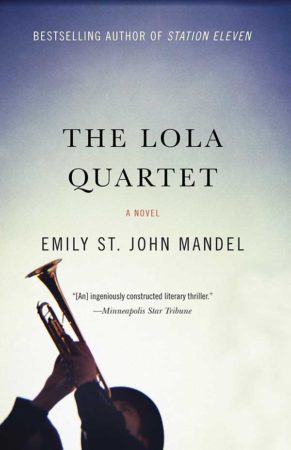 The Lola Quartet
by
Emily St. John Mandel
Published by
Random House Audio
,
Vintage
Publication date:
July 16, 2012
Genres:
Literary Fiction
,
Thriller
Narrator:
Sarah Scott
Length:
9 hours and 18 minutes
288 pagesFormat:
Audiobook
Source:
Publisher
Gavin Sasaki was a promising young journalist in New York City until the day he was fired for plagiarism. The last thing he wants is to sell foreclosed real estate for his sister Eilo's company in their Florida hometown, but he's in no position to refuse her job offer. Plus, there's another reason to go home: Eilo recently met a ten-year-old girl who looks very much like Gavin and has the same last name as his high-school girlfriend, Anna, who left town abruptly after graduation.

Determined to find out if this little girl might be his daughter, Gavin sets off to track down Anna, starting with the three friends they shared back when he was part of a jazz group called "The Lola Quartet." As Gavin pieces together their stories, he learns that Anna has been on the run for good reason, and soon his investigation into her sudden disappearance all those years ago takes a seriously dangerous turn.
Affiliate Disclosure: This post contains affiliate links. In plain English, this means that I may receive a small commission (at no cost to you) if you purchase something through the links provided. This small income goes back into my blog, so I can continue to create fun content for you. I appreciate my readers and make it my goal to be upfront and honest. Thank you for supporting my blog!
An exquisitely constructed literary thriller that pulls you in from its striking opening scene and holds your attention until the end, THE LOLA QUARTET is another solid novel from Emily St. John Mandel about the ripple effect of our decisions and their affects on unintended victims.
The opening scene of the novel is short but concentrated, the catalyst for the entire novel. We find 17-year old runaway, Anne, sitting in a park with her newborn baby with $118,000 strapped to the bottom of the stroller. Like in Station Eleven where Arthur Leander's death was the starting point, this moment with Anne is the catalyst here.
Anne was Gavin's high school sweetheart who disappeared after one of his concerts, running away with Gavin's friend Daniel after finding out she was pregnant. Years later, Gavin is a reporter at a New York newspaper, but loses his job after his boss discovers that he has fabricated quotes in stories he covered. This happened after his sister Eilo informed him that she saw a child who bore a striking resemblance to him at a home her company was foreclosing upon. Destitute and alone, he's forced to move back to his hometown in Florida with his sister and the search to solve the mystery of Anne and his daughter begins.
He starts with the members of his high school band, The Lola Quartet, and strangely enough they have a part in this complicated mystery going back ten years. We meet Jack the talented saxophonist whose life took an unexpected detour after Vicodin took over his life in college; Sasha, Anne's half-sister, who is now a waitress at a small diner trying to escape her own vices; and Daniel the reformed cop fighting for his own redemption.
Mandel's plot construction in this novel is absolutely stunning. There are an abundance of coincidences and character connections, sure, but it didn't ring false to me or feel forced. The story of Anne's disappearance and what led to her stealing all that money is told non-linearly through the point-of-view of the members of The Lola Quartet. The band's last concert—and last sighting of Anne—is replayed multiple times through different lenses as we learn what really happened.
"How far would you go for someone you love?"
The backdrop of the novel is desolate—the collapse of the housing market and the prescription pill epidemic. The bleak and oppressively sweltering Florida setting echoes the desperate and dire circumstances in which Gavin finds himself after losing his girlfriend, his unborn child, and his job in a short amount of time. Mandel uses Florida's swampy setting as a literary device, with the wildlife stalking out of their habitats and into ours, much like the way the characters' decisions come back to haunt them throughout the novel.
The novel has an almost-nostalgic feel to it, as Gavin and the members of the quartet are forced to revisit their past. I am so impressed with how this novel was crafted. There is something special about Mandel's writing style. While the writing and storytelling in this novel wasn't as strong as it was in Station Eleven, the story was so well-written and beautifully told.
* Thanks to Penguin Random House Audio for providing me with this audiobook for an honest review.