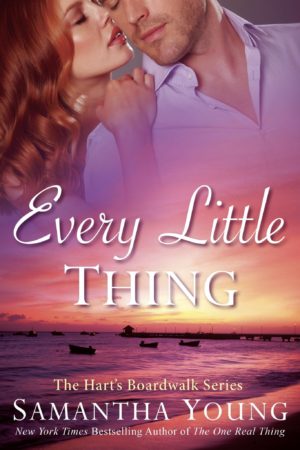 Every Little Thing
by
Samantha Young
Series:
Hart's Boardwalk #2
Published by
Berkley
Publication date:
March 7, 2017
Genres:
Contemporary Romance
Narrator:
Angelica Lee
,
Tad Branson
Length:
11 hrs and 33 mins
368 pagesFormat:
Audiobook
,
eARC
Source:
Publisher
After Bailey Hartwell discovers her boyfriend cheating on her, she makes the decision to start fresh. But as she begins to reinvent herself, she discovers that she's drawn to the one person in town she would rather avoid.

New York transplant Vaughn Tremaine wouldn't mind that the people of Hart's Boardwalk don't think of him as one of their own were he not undeniably interested in Bailey—and desperately unsure of how to win her respect, much less her heart.

Bailey and Vaughn soon realize their attraction can't be denied. But after Vaughn breaks things off, she uncharacteristically retreats. Once Vaughn begins to realize he's made the biggest mistake of his life, he has no choice but to fight to convince her their love was real.
Affiliate Disclosure: This post contains affiliate links. In plain English, this means that I may receive a small commission (at no cost to you) if you purchase something through the links provided. This small income goes back into my blog, so I can continue to create fun content for you. I appreciate my readers and make it my goal to be upfront and honest. Thank you for supporting my blog!
Despite my issues with The One Real Thing, I wanted to read EVERY LITTLE THING because I really liked Bailey and Vaughn. Young created a decent backstory for this couple in first book and I couldn't wait to see where their relationship went, as it was seemingly full of animosity and unspoken attraction.
I have to be honest—up to this point, this series has left me feeling entirely underwhelmed and disappointed, particularly with the execution of the premises of both novels. Every Little Thing had some of what its predecessor didn't—good romantic chemistry that wasn't forced. But, unfortunately, it also had cliches built on top of cliches—the rich, mercurial alpha male who addresses every person he comes in contact with Ms. This or Mr. That; a heated sexual encounter to alleviate some of the sexual tension that ended in him shutting the relationship down before it even started due to his fear commitment, the little sister who is such a caricature she didn't feel real.
Bailey and Vaughn's inevitable hook-up was teased quite a bit in the first book, so I was dying to see what event finally pushed them into admitting that they liked each other. As the owner of a quaint bed and breakfast, Bailey is highly respected in the small, quaint coastal Delaware town in which she lives. But once businessman Vaughn Tremaine moved into town and built a luxury hotel smack dab in the heart of downtown, it was war. There was great sexual tension between these two business enemies and on top of that Bailey had a long-term boyfriend.
The romantic tension was cut too soon with Bailey and Vaughn hooking up early on in the novel and then playing cat-and-mouse for more than half the novel, for a rather flimsy reason. Young has done this before in a sense with Joss in On Dublin Street, and it worked. Joss was understandably scared to commit to Braden due to the trauma she suffered losing her parents and best friend. The author gives us a somewhat similar set-up for Vaughn, which is meant to give us explanation for his reasons for staying out of relationships. But the difference here is that I didn't feel emotionally attached to Vaughn, which is due to a lack of character development. Suffice it to say, I didn't like the unnecessary angst in this book, which really stinks because I liked this couple.
Samantha Young has written some novels with great romantic chemistry, witty dialogue with a conversational flow, and interesting plot lines with depth. But for me the Hart's Boardwalk series has seriously lacked a good dose of those key elements, which I personally need at least some of each to truly enjoy the book. I've given this series two books to try and hook me. Sadly, I'm going to bow out after this one. Judging from where this one ended, I'm not that interested in reading about the next couple (Emery and a mystery man I won't reveal). The numerous mentions in the first two books of how shy Emery is and how she blushes so deeply when a man looks her way wasn't subtle and I don't think I want to read more recitations of those things.
Audiobook Comments:
I switched back and forth between the book and the audiobook. I really liked Angelica Lee and Tad Branson's performances in the audiobook.  There wasn't anything about their voices that distracted from the book, which is a positive. If you're looking to buy this one to listen to, feel safe to purchase because the narrators are good.
* Thanks to Berkley for sending me the book and audiobook for review.