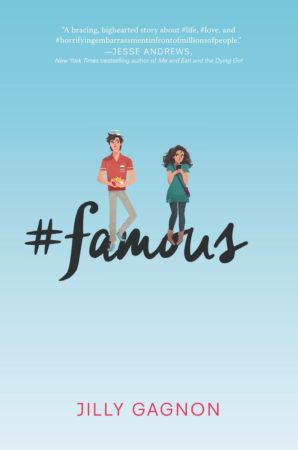 #famous
by
Jilly Gagnon
Published by
Katherine Tegen Books
Publication date:
February 14, 2017
Genres:
Young Adult
384 pagesFormat:
eARC
Source:
Publisher
Debut teen author Jilly Gagnon bursts onto the scene with a smart and funny contemporary romance, brimming with heart, that begins when a girl's jokey picture of her crush goes viral.

In this modern-day love story, Girl likes Boy, Girl takes photo of Boy and posts it online, Boy becomes accidentally insta-famous. And what starts out as an innocent joke spirals into a whirlwind adventure that could change both their lives and their hearts forever. But are fame and love worth the price?

Told in alternating points of view, #famous captures the out-of-control thrill ride of falling for someone in front of everyone.
Affiliate Disclosure: This post contains affiliate links. In plain English, this means that I may receive a small commission (at no cost to you) if you purchase something through the links provided. This small income goes back into my blog, so I can continue to create fun content for you. I appreciate my readers and make it my goal to be upfront and honest. Thank you for supporting my blog!
Debut author Jilly Gagnon's young adult novel is a teen romance with a modern flair. Told in alternating perspectives, Kyle and Rachel's story is the result of what happens in the age of viral videos and photos mixes with teenage crushes. While the premise was cute, the writing quality and the characterization was not up to snuff and I wanted more depth and eloquence.
Rachel has had a crush on Kyle for quite a long time. When she surreptitiously snaps a picture of him while he was work and posts it on Flit, a social networking site, she doesn't expect anyone except for her best friend, Mo, to see it. In a matter of hours, the photo goes viral, making Kyle an instant celebrity and Rachel want to hide. The cyberbullies come out in droves but Kyle is there to speak up for her. When the Laura Show comes calling, both agree to a series on her show. But before they know it, they're falling for each other. Is it all for the cameras or could Kyle really be falling for Rachel?
I had a really hard time with the character voice. The things Kyle said and thought did not sound like that of an 18-year old boy. ("What in Pete's name is going on?", BFFLs, and "Quadruple crap"—just to name a few) The dialogue was extremely hokey and stilted. It made me cringe several times because it just didn't sound natural.
The writing style was problematic for me as well, with the author often using the same word choices within a few sentences. It seemed really repetitive.  The writing needed to be much more polished and refined. For example,
"The whole thing that been . . . terrifying. It had been kinda terrifying, all of them staring at me . . . ."

"Two girls had been lying in wait." And a few sentences later, "Something worth lying in wait to photograph."
In the novel, Rachel is a teen who struggles with her self-esteem. I mean, what teenage girl doesn't have self-doubt or self-esteem issues at some point? But Rachel's constant mutterings about how Kyle couldn't possibly want her, how weird she is, or show she's not as pretty as other girls was repetitive and unnecessary. I think readers would get the point and understand Rachel without the constant verbal reminder that she feels that way.
The writing lacked the nuance and eloquence that look for in books. I think young readers who don't read for character voice and writing style like I do might find enjoyment in the plot. I didn't enjoy this book at all because I didn't care about the characters and the quality of writing was poor.
* I received this book from the publisher in exchange for an honest review.