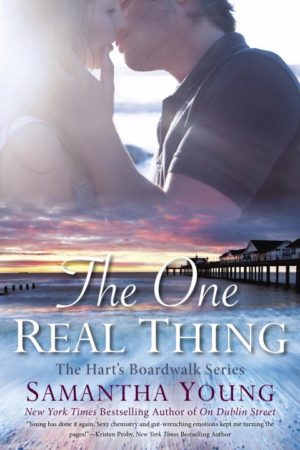 The One Real Thing
by
Samantha Young
Series:
Hart's Boardwalk #1
Published by
Berkley
Publication date:
September 6, 2016
Genres:
Contemporary Romance
Narrator:
Angelica Lee
,
Tad Branson
Length:
12 hrs and 27 min
384 pagesFormat:
Audiobook
,
eARC
The New York Times bestselling author of On Dublin Street is back with the first in a sexy new romance series set in a small town on the Delaware coastline.

Welcome to Hartwell, a quiet seaside escape where uncovering old secrets could lead one woman to discover the meaning of a love that lasts…

While Doctor Jessica Huntington engages with the inmates at the women's correctional facility where she works, she's always careful to avoid emotional attachments in her personal life. Loss and betrayal taught her that lesson long ago. But when she comes across a set of old love letters in the prison's library and visits the picturesque town of Hartwell to deliver them to their intended recipient, she finds herself unable to resist the town's charm—and her attraction to the sexy owner of a local bar proves equally hard to deny.

Since his divorce from his unfaithful ex-wife, Cooper Lawson has focused on what really matters: his family and the boardwalk pub they've owned for generations. But the first time Jessica steps into his bar, Cooper is beyond tempted to risk his heart on her.

Yet as their attraction grows hotter and Jessica remains stubbornly closed off, he begins to realize it will take more than just passion to convince her there's only one real thing in life worth fighting for….
Affiliate Disclosure: This post contains affiliate links. In plain English, this means that I may receive a small commission (at no cost to you) if you purchase something through the links provided. This small income goes back into my blog, so I can continue to create fun content for you. I appreciate my readers and make it my goal to be upfront and honest. Thank you for supporting my blog!
* Audiobook comments are below. I switched back and forth between the eBook and the audiobook. 
The One Real Thing is the first in Samantha Young's new contemporary romance series, Hart's Boardwalk.  I've been looking forward to reading this, especially since I've really enjoyed most of Young's previous novels. It pains me to say that The One Real Thing missed the mark almost entirely, for reasons I will explain below.
This novel is set in a small coastal town where everyone knows each other's business. After uncovering letters hidden away for forty years that were never delivered, Dr. Jessica Huntington decides to seek out the intended recipient and provide closure. This leads her Hartwell, Delaware. There, she must face the ghosts of her past while she deciding what she wants out of her life and unexpectedly falls in love with the town, its people, and the cute bar owner, Cooper.
There is one common thread in many of Young's books: her writing has an ease and flow to it. That trait was not found in this book. In fact, as I read I couldn't see her literary fingerprint in this novel at all. None of the characters were compelling, interesting, or particularly memorable (it really hurts to say this). The way it was written felt unnatural and awkward at times.
Perhaps the most problematic element, as this is a romance, was the relationship between Jessica and Cooper. It was completely forced, hurried, and lacking in chemistry and tension. It felt so heavy-handed. There was entirely too much telling, almost like the author wanted to convince the reader that there was romantic chemistry. The reader is bombarded with repeated mentions of the "zings," the "tingles," and signals to various body parts. But I didn't buy or feel any romantic tension or build up at all.
"Cooper felt what was almost like a warning tingle on the back of his neck. And it wasn't the cold."
"The doc was someone worth getting to know. He felt it in that damn tingle."
"Just as he was about to hurry up the boards, he felt that tingle…"
"That tingle shot down his spine. His blood turned hot."
"My insides went mushy at the compliment. I was glad he'd felt the zinging between us, too."
"Every time his arm accidentally brushed mine it was like his touch sent signals to my breasts, and my breasts sent shooting tingles down my stomach to between my thighs."
Regarding the awkward writing, after a briefly meeting Jessica twice, Cooper is already making presumptions about her stating, "she was probably an independent woman and [he] had never dated a woman like that before" and "Jessica struck him as a different sort of woman…Not only did she probably take care of herself, she took care of other people." What? You got that she was independent and strong based on a couple of short encounters? And let's not forget the repeated uses of "chuckling," "chortling," and "guffawing" in this novel.
In the first few pages alone, I lost count how many times the heroine made note of the hero's blue eyes or the fact that he was wearing a blue flannel shirt.
"Warm blue eyes met mine. Blue, blue eyes. Like the Aegean Sea that surrounded Santorini."
Cooper was just as enamored with Jessica's brown eyes as she was with his blue ones. In fact, the trend of "gazing into each others' eyes" was almost a literary theme in this book, it was so overused. It did nothing to build chemistry or the romance for me.
To save herself the time of calling him "blue-eyed, rugged, flannel guy," Jessica decides to internally abbreviate his nickname to "BRF guy." Seriously? Jessica's voice was that of a teenager when we're supposed to believe she's a thirty-three year old woman. She likes to have sex when she's feeling "fris-frisky" and calls the act of sex "a little something something." Let's not forget the "prehistoric-dragonfly-sized butterflies" she gets at one point.
Jessica is harboring a secret, one that she is afraid to tell anyone. This is a source of conflict for the book—opening up to Cooper. Once the secret was revealed, it didn't make sense at all why she was afraid to tell Cooper this in the first place.
In an effort to create the feel of a small town, the author had to introduce the reader to the people of Hartwell. The characters were dumped on the reader at a rapid pace, rather than being organically introduced—Iris and Ira, Vaughn, Ollie, Hug, Shelley, Paulie, Cat, Bailey, Mona, Old Archie, Dana, Emery, Riley, Jack, Lily, Kit, Jace, Crosby, Isla, Bryn, and many more.
I really wanted to believe what the author wanted me to—be charmed by the town and its townsfolk, fall in love with Jessica and Cooper, sympathize with Jessica's reluctance to reveal her dark secret. But I wasn't able to. In all honesty, there were very few things in this novel I liked. One of the things I did enjoy was simmering chemistry between a couple of the side characters. I have high hopes that the second novel featuring these two characters will deliver in the ways this one didn't.
Audiobook Comments:
I switched back and forth between the book and audiobook while reading this one. I hadn't heard an audiobook narrated by either Tad Branson or Angelica Lee before. Tad Branson did a really great job differentiating between all of the different characters. Usually a guy doing a female voice sounds a little hokey but Tad's "Jessica" voice was actually not annoying. Angelica Lee's delivery was good. Though her "Cooper" voice was a little over-the-top with its husky, bedroom tone. These narrators were great at 2x speed, too! 🙂
* I received an advance copy and the audiobook from the publisher in exchange for an honest review.