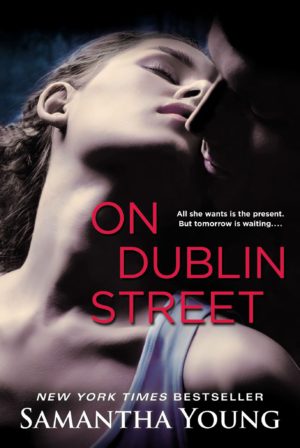 On Dublin Street
by
Samantha Young
Series:
On Dublin Street #1
Published by
NAL
,
Penguin
Publication date:
August 31, 2012
Genres:
New Adult
,
Romance
Narrator:
Paula Costello
372 pagesFormat:
Audiobook
Source:
Purchased
Jocelyn Butler has been hiding from her past for years. But all her secrets are about to be laid bare…

Four years ago, Jocelyn left her tragic past behind in the States and started over in Scotland, burying her grief, ignoring her demons, and forging ahead without attachments. Her solitary life is working well—until she moves into a new apartment on Dublin Street where she meets a man who shakes her carefully guarded world to its core.

Braden Carmichael is used to getting what he wants, and he's determined to get Jocelyn into his bed. Knowing how skittish she is about entering a relationship, Braden proposes an arrangement that will satisfy their intense attraction without any strings attached.

But after an intrigued Jocelyn accepts, she realizes that Braden won't be satisfied with just mind-blowing passion. The stubborn Scotsman is intent on truly knowing her… down to the very soul.
Affiliate Disclosure: This post contains affiliate links. In plain English, this means that I may receive a small commission (at no cost to you) if you purchase something through the links provided. This small income goes back into my blog, so I can continue to create fun content for you. I appreciate my readers and make it my goal to be upfront and honest. Thank you for supporting my blog!
Book Review:
I have talked about this book so much in numerous posts and videos. It was high time I put down my thoughts in the form of a review. It's no secret that I love this book. I read it back when it was self-published in late 2012. To this day, it remains one of my favorite new adult contemporary romances. Joss and Braden's story may not be anything groundbreaking in terms of originality, but it is most definitely a romance you will feel and remember.
Jocelyn Butler is an American transplant living in Edinburgh Scotland. After losing her entire family and best friend, she moved from Virginia to Scotland to escape the nagging pain she felt being around where her family lived. As a recent graduate from university, Joss moves to a flat Dublin Street in response to an advertisement for a roommate, Ellie Carmichael, who just happens to have a very hot businessman brother.
Guys, Braden Carmichael is my kind of alpha male. He is domineering without being a manboy control freak. He is sweet, sexy, and funny. He has everything compelling that you would want in a sexy hero. Joss and Braden meet in an unconventional way and immediately have this sizzling attraction between them, knocking both of them off balance.
Not long after meeting Joss, Braden breaks up with his girlfriend, leaving him free. Joss has her own set of issues and doesn't want anything to do with a relationship. Their solution is to have a few months of mind-blowing sex with no expectations of anything else. You can see where this is going, right?
He really was going to sleep! I tried to wiggle but his muscles just flexed in warning and I wasn't strong enough to get away.
So I lay there, waiting.
I was wonderfully exhausted by all the amazing sex, and sleep sounded like heaven, but I was determined I was not falling asleep in his arms. That was just a little too…relationshippy.
In addition to the budding romance, Joss is thrown into Braden and Ellie's life, introducing her to their family and friends. She gains a whole new family, bringing on who whole new set of issues. Fear of loss. Fear of experiencing the type of pain she knows all too well. Her only defense is to push people away, but she finds out how hard it is to let go when you love someone.
Even though this book was very formulaic, I loved it. Predictable isn't necessary a dirty word. I have read so many books where I have figured out what is going to happen and still enjoyed the book. This is one of those books. Part of what made On Dublin Street such an enjoyable read is the way Samantha Young built these characters and their relationship. I could feel Joss and Braden falling in love through pages, despite what either of them wanted.  Joss fought her feelings for Braden tooth and nail and I could feel her pain as she went to war with Braden.
Something happened there with Braden when he looked at me, when we kissed.
It wasn't just sex.
I needed to get out of there.
I loved Joss, as frustrating as she was. Considering the amount of pain she went through, her reactions to certain situations made sense to me as a reader. One of my favorite scenes that I have read and reread over and over again was the kitchen scene towards the end of the book. Joss had left Ellie during a really hard time and subsequently hurt Braden in the process. The amount of anger, hurt, and sexual tension in that kitchen was palpable. Joss's emotional breakdown remains one of my all-time favorite book scenes.
I would recommend this book to anyone who wants a fun and sexy read with a insanely hot hero. Braden is one of my all-time favorites.
Audiobook Comments:
This book is narrated by the great Paula Costello. You might ask, "Why do you say the 'great' Paula Costello?"  Well, my answer to you would be to go listen to the sample. She does such a fantastic job, not only with Joss's character, balancing her sense of humor with this armor of pain, but she also does a beautiful job with the Scottish accents. While her accent may not be the most accurate, it definitely makes you swoon.  Yes, folks, the female narrator did such a great job I'm swooning over her male narration skills. In all seriousness, she is incredible and my only complaint is that it was too short.
Paula if you read this, please know that I fangirl over you. Always and forever. Call me.
4 stars
Amazon: US • UK • CAN | iBooks | GR