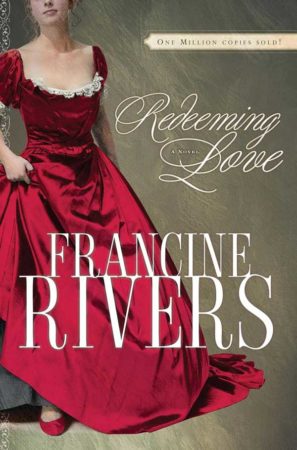 Redeeming Love
by
Francine Rivers
Published by
Multnomah
Publication date:
November 1, 1991
Genres:
Historical
,
Romance
Narrator:
Kate Forbes
Length:
17 hours and 17 minutes
482 pagesFormat:
eBook
Source:
Borrowed
California's gold country, 1850. A time when men sold their souls for a bag of gold and women sold their bodies for a place to sleep.

Angel expects nothing from men but betrayal. Sold into prostitution as a child, she survives by keeping her hatred alive. And what she hates most are the men who use her, leaving her empty and dead inside.

Then she meets Michael Hosea, a man who seeks his Father's heart in everything. Michael obeys God's call to marry Angel and to love her unconditionally. Slowly, day by day, he defies Angel's every bitter expectation, until despite her resistance, her frozen heart begins to thaw.

But with her unexpected softening comes overwhelming feelings of unworthiness and fear. And so Angel runs. Back to the darkness, away from her husband's pursuing love, terrified of the truth she no longer can deny: Her final healing must come from the One who loves her even more than Michael does…the One who will never let her go.

A powerful retelling of the story of Gomer and Hosea, Redeeming Love is a life-changing story of God's unconditional, redemptive, all-consuming love.
Affiliate Disclosure: This post contains affiliate links. In plain English, this means that I may receive a small commission (at no cost to you) if you purchase something through the links provided. This small income goes back into my blog, so I can continue to create fun content for you. I appreciate my readers and make it my goal to be upfront and honest. Thank you for supporting my blog!
REDEEMING LOVE is a powerful love story between a former prostitute and a farmer but it's also an allegory of God's love. This retelling of the Book of Hosea is set during the height of the Gold Rush. Emotional, heart-wrenching, and rich in love, this story captured my heart just like it did millions of readers across the world.
Over the last several years, I've seen this book pop up on my Goodreads feed so many times. Readers who read diversely across all sorts of genres, many of whom have stated that they don't generally read Christian fiction, have enjoyed this beautiful love story.
I am a Christian and my faith is an important part of my life, so this book really spoke to me on so many levels. But even if you aren't a Christian, there is a message of resilience and strength anyone can benefit from. I think we all can see parts of ourselves in Sarah.
For many years, Angel (Sarah) tries to live her life the way she wants, with fear and self-loathing dictating her path. When Michael walks into her life, she is immediately distrustful. Hardened by years of abuse at the hands of men and her employers, she has no reason to take anyone at their word. But Michael is persistent and incredibly patient.
I have never read any Christian romantic fiction before. Though this book definitely has some racier content than one might think considering the genre. Francine Rivers tells Michael and Sarah's story without sensor. What Angel has gone through is something I can never even imagine.
This book is a saga and takes place over several years, which allowed their relationship to build slowly. Michael and Sarah's relationship is an uphill battle and anything but a walk in the park.  Their love that starts from nothing—not even friendship—and grows into an all-consuming romance, something that even a hardened Sarah can no longer deny.
I read a review on Goodreads and the reviewer said something to the effect of, "Forget book boyfriend. Michael would be my book husband." Reviewer, I have to agree with you. He was incredibly and exceedingly patient with a woman whose very nature was to run away, push away, and defy him at ever turn. He remained steadfast and consistent. He loved her deeply, despite where she came from. He loved her for who she was.
Throughout this whole book, I couldn't fight this sense of foreboding, that something horrible was going to happen to these characters that I loved. I was constantly on edge. I'm not sure if that was the author's intent or just my cynical nature waiting for the other shoe to drop. Did anyone else who read this book feel this way?
This book was very powerful. Even though I did feel like the writing wasn't as strong as I had hoped, I was still affected by the story and its message. I think the historical setting added to much to the context here, something we may not get in a similar contemporary retelling. The fact that Sarah overcame her the horrific things she experienced from childhood to adulthood with love in her heart is a miracle.
* I borrowed the audiobook and eBook from my local library.
Audiobook Comments:
Kate Forbes narrated the audiobook. I listened to most of this book and read the rest on eBook. Kate Forbes performance was not my favorite. Her delivery is rather flat and not as engaging.