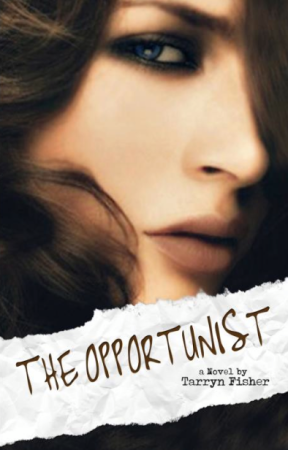 The Opportunist
by
Tarryn Fisher
Series:
Love Me With Lies #1
Published by
Self-Published
Publication date:
November 14, 2011
Genres:
Contemporary Romance
427 pagesFormat:
eBook
Source:
Purchased
Olivia Kaspen has just discovered that her ex-boyfriend, Caleb Drake, has lost his memory. With an already lousy reputation for taking advantage of situations, Olivia must decide how far she is willing to go to get Caleb back. Wrestling to keep her true identity and their sordid past under wraps, Olivia's greatest obstacle is Caleb's wicked, new girlfriend; Leah Smith. It is a race to the finish as these two vipers engage in a vicious tug of war to possess a man who no longer remembers them. But, soon enough Olivia must face the consequences of her lies, and in the process discover that sometimes love falls short of redemption.
Affiliate Disclosure: This post contains affiliate links. In plain English, this means that I may receive a small commission (at no cost to you) if you purchase something through the links provided. This small income goes back into my blog, so I can continue to create fun content for you. I appreciate my readers and make it my goal to be upfront and honest. Thank you for supporting my blog!
My Review:
I originally read The Opportunist in May 2012, but decided to reread it before Dirty Red (Book #2) was release. As I reread this book….
I expected to be angry.
I expected to feel love.
I expected to feel sad.
I did not expect to cry and feel this depth of shock all over again.
Even though Olivia did some pretty horrible things, I still loved her. I loved her self-centeredness. I loved her, despite the lies that spewed from her mouth. My heart broke for her. For years, she hated herself for what she did. She couldn't forgive herself. She lived in a self-imposed prison.
"I'm sorry I've been such a horrible person," I say pressing my face against his chest. "I'm so sorry."
"What are you talking about?" he grabs my chin lifting my face to look at him. "You're a good person."
"No, no I'm not," I shake my head violently from side to side. "I'm desperately wicked."
Olivia and Caleb's love for each other made me just feel. I won't look at airport blue, pressed pennies, and camping trips the same way.
I loved Caleb. His love for Olivia is timeless and deep.
"I loved him with everything in me. He taught me who I was, something I never would have known, without his deft handling of my personality."

"Olivia," he begins. I look at him in mock surprise. Then suddenly he is serious…or he seems so. I catch my breath. "You belong with me. Do you believe me?" I feel my sweat glands open."

"Holding my breath, I nod. This is supposed to be for laughs, but it doesn't sound funny, it sounds like something I will be replaying years from now—when I am sitting alone in a room full of cats."
And…Leah.
I will keep my mouth shut about her. Just know that I am not a fan of the red beast. Dirty Red will be in Leah's POV. I guess it's only fair to hear her side.