My Last Continent
by
Midge Raymond
Published by
Scribner
Publication date:
June 21, 2016
Genres:
Literary Fiction
,
Romance
Narrator:
Cassandra Campbell
Length:
8 hrs and 55 mins
320 pagesFormat:
Audiobook
,
eARC
Source:
Publisher
An unforgettable debut with an irresistible love story, My Last Continent is a big-hearted, propulsive novel set against the dramatic Antarctic landscape—"original and entirely authentic love story" (Graeme Simsion, author of The Rosie Project).

It is only at the end of the world—among the glacial mountains, cleaving icebergs, and frigid waters of Antarctica—where Deb Gardner and Keller Sullivan feel at home. For the few blissful weeks they spend each year studying the habits of emperor and Adélie penguins, Deb and Keller can escape the frustrations and sorrows of their separate lives and find solace in their work and in each other. But Antarctica, like their fleeting romance, is tenuous, imperiled by the world to the north.

A new travel and research season has just begun, and Deb and Keller are ready to play tour guide to the passengers on the small expedition ship that ferries them to their research destination. But this year, Keller fails to appear on board. Then, shortly into the journey, Deb's ship receives an emergency signal from the Australis, a cruise liner that has hit desperate trouble in the ice-choked waters of the Southern Ocean. Soon Deb's role will change from researcher to rescuer; among the crew of that sinking ship, Deb learns, is Keller.

As Deb and Keller's troubled histories collide with this catastrophic present, Midge Raymond's phenomenal novel takes us on a voyage deep into the wonders of the Antarctic and the mysteries of the human heart. My Last Continent is packed with emotional intelligence and high stakes—a harrowing, searching novel of love and loss in one of the most remote places on earth, a land of harsh beauty where even the smallest missteps have tragic consequences—"Half adventure, half elegy, and wholly recommended" (Karen Joy Fowler, author of We Are All Completely Beside Ourselves).
Affiliate Disclosure: This post contains affiliate links. In plain English, this means that I may receive a small commission (at no cost to you) if you purchase something through the links provided. This small income goes back into my blog, so I can continue to create fun content for you. I appreciate my readers and make it my goal to be upfront and honest. Thank you for supporting my blog!
Midge Raymond's debut, My Last Continent, is an ode to Antarctica with a unique and emotional love story. Raymond's rich and descriptive narrative, while at times overly used, takes readers on a harrowing journey to a land rarely traveled.
Deb has dedicated her life to research and studying the colonies of penguins in Antarctica. For the last several years, she has spent part of her year working for the Antarctic Penguin Project. While in the Southern Hemisphere, she splits her time between researching on neighboring islands and working as a naturalist crew member on the small cruise ship that provides the transportation for the Project. One year she meets Keller, a divorcee former lawyer turned dishwasher, looking to turn over a new leaf after his life took an unexpected turn. The two form a quick bond when he starts helping her with her research. But their romance is fleeting, encumbered by Keller's newfound love for the continent and Deb's work at home in Eugene. Just when they figure things out, Keller doesn't show up on the ship. Deb learns that he is on a neighboring cruise ship that's taking on water fast.
The romance in this story takes a backseat to the picturesque and incredible third character in this novel: Antarctica. The amount of research that Raymond had to do to so vividly describe not only the scientific intricacies, but also all of the nautical references had to have been astounding. All of her hard work makes it easy for the reader to feel like they are right there with Deb, Keller, and the rest of the crew. It's abundantly clear that conservation and global warming are two things that are near and dear to the author's heart. These messages are woven throughout the novel, though a little heavy handed.
The writing style of this book was very heavy on long, narrative passages, with little dialogue. Much of the narrative is devoted to descriptions of the continent and the various kinds of penguin colonies. There were also some chapters of backstory that didn't feel entirely necessary.
While I really enjoyed the educational aspect of the book, the novel felt slow and needed more plot to help with the pacing. Further, the metaphors and comparisons made about how Deb identified with the penguins and how she felt connected to the continent were repeatedly mentioned. An active reader can pick up on those things without them needing to be brought up over and over again.
Despite issues with the writing style, My Last Continent is certainly unique in its setting and storyline. I felt like I was reading a more modernized version of the movie Titanic once I got to the shipwreck. I was absolutely glued to the pages when Deb learns of . The search and rescue was riveting and completely terrifying.
Audiobook Comments:
I listened to this book after I read it initially because sometimes I like to reread through audiobooks without the concern of zoning out while I'm driving. I really liked Cassandra Campbell's narration. Her voice adds an almost romantic quality to the book's beautiful ambiance. Highly recommended audiobook!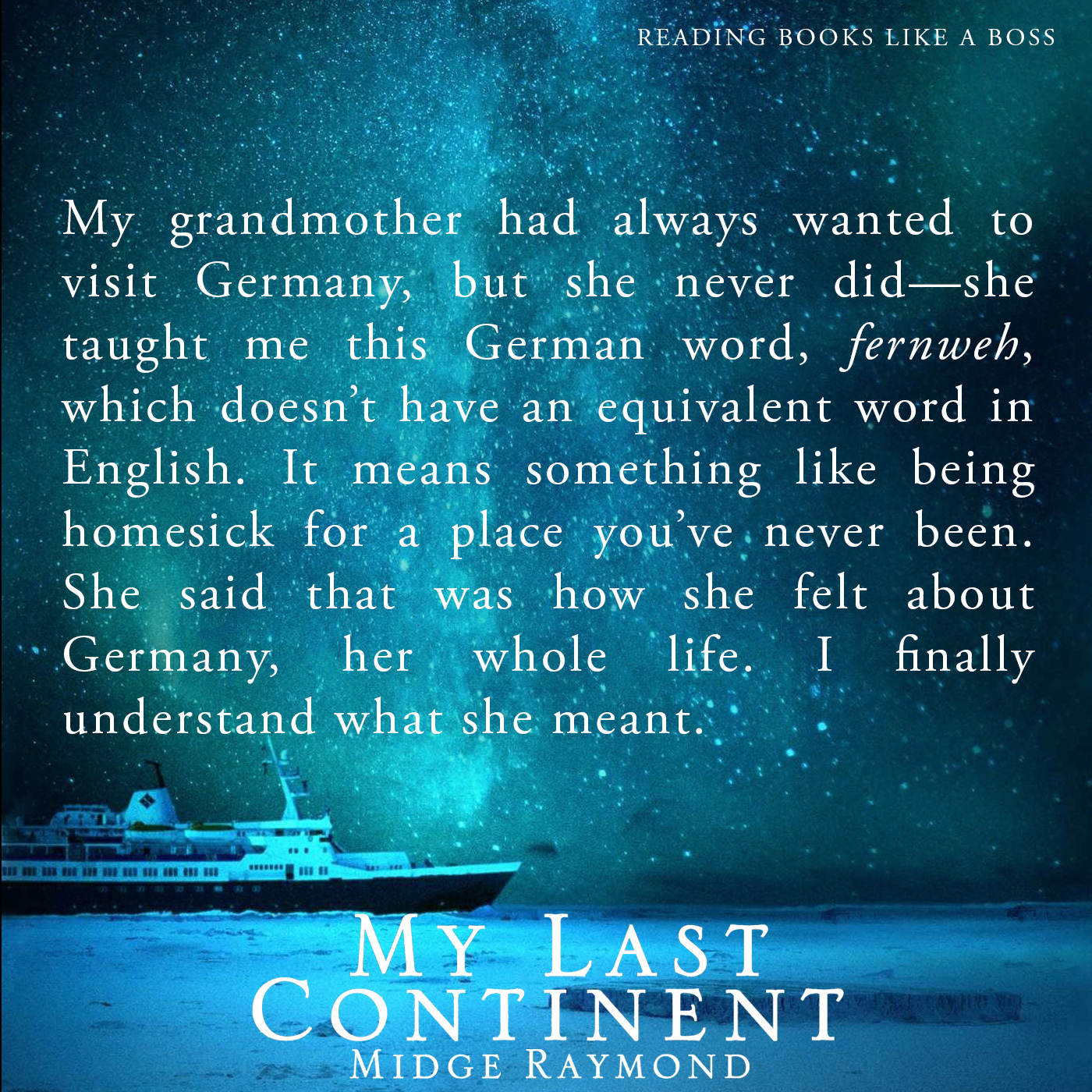 * I received an advance eCopy and the audiobook from the publisher in exchange for an honest review.