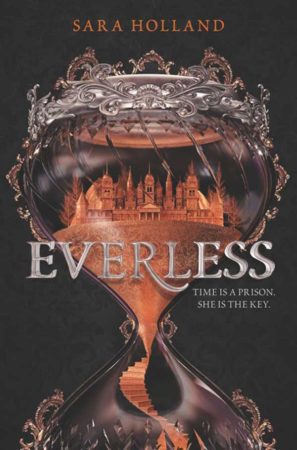 Everless
by
Sara Holland
Series:
Everless #1
Published by
Harper Teen
Publication date:
January 2, 2018
Genres:
Fantasy
,
Young Adult
368 pagesFormat:
eARC
Source:
Publisher
Time is a prison. One girl holds the key. This is a thrilling, high-stakes new fantasy duology, perfect for fans of Red Queen, Three Dark Crowns, and Six of Crows.

In the kingdom of Sempera, time is extracted from the blood, converted into coins, and used as currency or consumed to add to one's lifespan. The rich aristocracy amass eons in their vaults, while the poor are forced to cut their futures short in order to survive in the present. And few families are richer than the Gerlings, who lord over the peasants from Everless, their palatial estate.

A fateful accident once spurred Jules and her father to flee Everless in the dark of night. But ten years later, in order to save her dying father, Jules must secretly return. Everless holds more temptations—and dangers—than Jules thought possible. Soon, she's caught in a tangle of violent secrets, and finds her heart torn between two people she thought she'd never see again. Her decisions have the power to change her fate—and the fate of time itself.

This dazzling debut novel, starring a fierce heroine and rife with high-stakes adventure, engrossing mysteries, star-crossed romance, and captivating magic all set in a richly built world, will leave you counting down the seconds until the next installment.
Affiliate Disclosure: This post contains affiliate links. In plain English, this means that I may receive a small commission (at no cost to you) if you purchase something through the links provided. This small income goes back into my blog, so I can continue to create fun content for you. I appreciate my readers and make it my goal to be upfront and honest. Thank you for supporting my blog!
Sarah Holland's debut fantasy novel has fantastic mythology, rich lore, and brooding teenage boys with a hint of romance to come.  One of the best things about this book is that it doesn't take long to get hooked. You are pulled into the plot and the action right away, with Jules heading to the Everless estate and straight to dangerous ground.
The worldbuilding and mythology surrounding this novel is intricate, and Holland weaves this into the story really well, without info-dumping. Seventeen-year old Jules Ember is desperate to help her father stay alive and get them out of debt. Just shy of being able to sell her blood for blood-iron, she makes the difficult choice to take a job in the Everless estate, the place she grew up when her father was the blacksmith. She and her father left the comfort of the estate after witnessing an incident involving Lord Liam Gerling and his brother Roan, Jules's friend.
Once Jules gets to Everless, she soon loses someone very dear to her. To make make her situation more dire, she's given a warning to stay away from the Queen at all costs. She doesn't follow orders and gets a position as the queen's handmaiden. She has direct access to the Queen and all her secrets, like how she possibly steals the hearts of her daughters in order to stay alive.
Of course, I'm most excited to see what happens with the romance in this book. Jules's crush is out of her reach in terms of status and class but he's also getting married to the girl the Queen has chosen as her sole heir. The girl Jules has gotten close to. BUT BUT BUT, Jules is getting conflicted vibes from Liam, the dangerous brother. What if she was wrong about him? What if he's on her side?
Parts of this novel is heartbreaking to think of. The disparity between the aristocrats who live in Everless and the people in the surrounding towns is great. This was heartbreaking, and likely more so for because I just read The Hunger Games trilogy. The villagers are literally dying, selling their blood and thus, depleting their time left in life, just to survive. It's heartbreaking.
Like I said, I'm stoked to read the next book in this duology because I want to see what happens with the romance. There is not really any romance or love story in Everless, but there is definitely a BIG setup for something to happen in the next book.
My biggest reason for not rating this one a bit higher was partly because while Jules showed promise for being a fierce heroine, I felt like she didn't have much personality. There wasn't anything distinctive or particularly memorable about her. In fact, she felt generic. She could have been any YA fantasy heroine determined to save her family. To be honest, I can't name anything specific about her. This book also had a lot of moments that felt like filler. I appreciated the beginning and how it pulled me in but there were several moments in the middle that felt drawn out.
* Thanks to HarperTeen for providing me an early copy in exchange for an honest review.