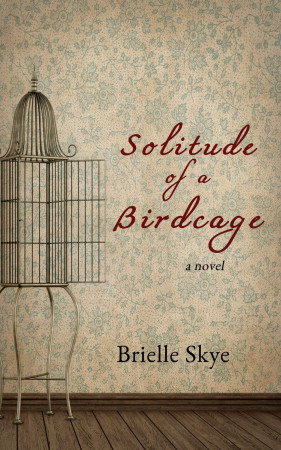 Solitude of a Birdcage
by
Brielle Skye
Published by
Gypsy Pen Publishing
Publication date:
September 13, 2014
Genres:
Romance
332 pagesFormat:
eARC
Source:
ARC via NetGalley
In the battle between duty and desire, there will be causalities. But when passion is blinding, morals are questioned, and loyalties are broken, can love conquer all?

Maxie Shannen and Savannah Trimmel are more than best friends. They're sisters, bound by a tragic past and an unbreakable bond. When Isaac, Savannah's boyfriend, falls victim to an act of violence that leaves him with no recollection of the prior eighteen months, both women tend to his recovery. For Savannah, it's simply an attempt to care for the man she loves.

For Maxie, it's a chance at redemption.

She tells Isaac nothing of the passionate secrets they'd been keeping from Savannah, nor of the unyielding feelings that nearly consumed them both.

But as the fragile wall obstructing Isaac's memory begins to crack, hidden truths slip through the fissures, and Maxie will once again be faced with an impossible choice—her loyalty, or her heart.(
Affiliate Disclosure: This post contains affiliate links. In plain English, this means that I may receive a small commission (at no cost to you) if you purchase something through the links provided. This small income goes back into my blog, so I can continue to create fun content for you. I appreciate my readers and make it my goal to be upfront and honest. Thank you for supporting my blog!
Review:
What drew me to this Solitude of a Birdcage was its premise.  The hero and heroine, Isaac and Maxie, are in love with one another.  The problem is that Isaac is dating Maxie's best friend.   After sneaking around for more than a year, Maxie and Isaac decide to come clean and tell Van about their affair when tragedy strikes.  Following a home invasion and attempted sexual assault, Isaac is shot in the head protecting Maxie.  The previous eighteen months are completely wiped of his memory.  He doesn't remember Maxie or Van at all.
If cheating is a trigger for you, then this book is not for you.  Books with cheating is not an instant turn off for me. It depends on how it's handled in the novel.  Initially, I was a bothered by the affair due to the fact that Isaac and Maxie had carried on this long-term affair under Van's nose.  But as I read more of the story and got to know more about Van and Maxie's friendship and history, it bothered me less.  Here's why:  Van is not the most likable person.  And while that doesn't make what Isaac and Maxie did right, it lessens the blow so to speak.
Maxie is a student at the prestigious performing arts school, Julliard, but her heart isn't in her dance.  Her dream is to open a restaurant and publish a cookbook.  As a teenager, Van's family took her in and adopted her as their own after her mom committed suicide and her father abandoned her.  Maxie is a very passive person and mindful of what Van's family has done for her.  As an adult, she lets Van's family walk all over her because she feels indebted to their kindness.  Her friendship with Van is also weighted with those feelings as well.  Van is a beautiful model and used to getting what she wants.
I didn't really like Van that much, but I believe that was the author's intention.  I felt a small amount of sympathy towards her just because she is in love with Isaac. But her possessive nature towards Maxie and her self-absorbed attitude made my feelings of sympathy dissipate the more I read.
The story is told in third person narrative alternating between the past prior to Isaac's memory lost and the present (the aftermath of his memory).  What kept me turning the pages was my mad desire to find out how Isaac and Maxie's affair started.  Many parts of this book dragged for me, most notably past storyline of Maxie and Isaac's affair.  It seemed to develop extremely slowly, too slowly for my taste.
The way Isaac's amnesia was handled in the book was an issue for me.  It was handled in a very unrealistic way. I didn't find it believable that anyone, especially those who care about him, would throw a party and thrust him back into a relationship when he didn't even remember his girlfriend.  The book ended in the perfect spot in preparation for book 2. I do want to know what happens next in the series.
3 stars
*I received a copy via NetGalley in exchange for an honest review.